Get the most out of your trackside experience at Silverstone for the British Grand Prix. The next race takes place on July 5-8, 2018.
The organizers always manage to pack in a full schedule of events at the British Grand Prix, so much so that the on-track action begins on Thursday again this year. In addition plenty of competitive on-track action, off-track activities include air displays, concerts, static displays and amusement rides. The circuit is celebrating its 70th anniversary this year, so there will be additional on-track parades and trackside events to celebrate.
It should be hot and sunny in the UK in July, so pack light clothing and some sunscreen. General Admission areas have plenty of shade available from trees and temporary buildings, and there's a choice of covered and uncovered stands. If the weather forecast predict any kind of rain, be sure to pack a light rain jacket or poncho and umbrella – hopefully wellies will not be required this year.
SILVERSTONE ACCESS & ORIENTATION
Read Getting There & Around for info about getting to Silverstone and circuit parking. The circuit is very well signposted and easy to navigate. Don't forget that you are not allowed to bring any glass bottles.
Thursday, July 5: 14:00-21:45
Friday, July 6: 07:30-21:45
Saturday, July 7: 07:30-22:15
Sunday, July 8: 06:30-20:00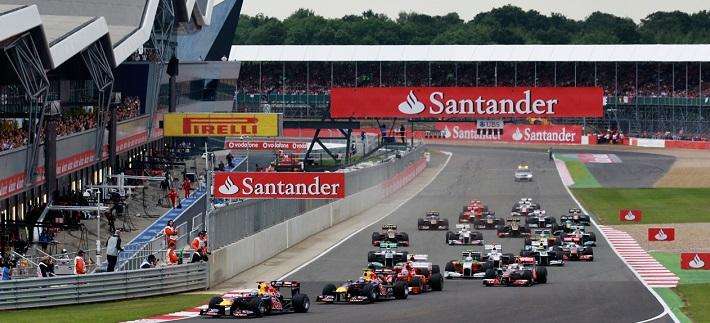 On-Track Action
In addition to 6+ hours of on-track F1 action over the weekend, there will also be a packed support schedule at this year's British Grand Prix featuring Formula 2, GP3, Porsche Supercup and Masters Historic racing. The feature races for Formula 2 and GP3 are held on Saturday afternoon after F1 qualifying, followed by a shorter sprint race for both categories on Sunday morning. Masters Historic will stage its first race on Saturday morning and its second race on Sunday morning. There's just one race for the Porsche Supercup cars, also on Sunday morning.
Thursday, July 5
15:30-16:10: Masters Historic practice
16:30-17:10: Williams Heritage demo
18:00-19:00: Sky F1 show live recording (International Pits Straight)
Friday July 6
08:35-09:20: GP3 practice
10:00-11:30: Formula 1 practice (FP1)

11:55-12:40: Formula 2 practice
13:00-13:25: Masters Historic qualifying
14:00-15:30: Formula 1 practice (FP2)
15:45-16:00: Silverstone 70th Anniversary Parade
16:10-16:40: Formula 2 qualifying
17:05-17:35: GP3 qualifying
18:00-18:45: Porsche Supercup practice
Saturday, July 7
08:45-09:15: Porsche Supercup qualifying
09:40-10:10: Masters Historic first race
11:00-12:00: Formula 1 practice (FP3)
12:15-12:30: Silverstone 70th Anniversary Parade
14:00-15:00: Formula 1 qualifying
15:45-16:50: Formula 2 feature race
17:45-18:30: GP3 feature race
Sunday, July 8
08:20-08:55: GP3 sprint race
09:30-10:20: Formula 2 sprint race
10:45-11:15: Masters Historic second race
11:40-12:15: Porsche Supercup race
12:20-12:30: Silverstone 70th Anniversary Parade
12:30-13:00: F1 Drivers' Track Parade
14:10-16:10: 2018 British Grand Prix

PIT LANE WALK FOR 3-DAY TICKET HOLDERS
A Pit Lane Walk for 3-day ticket holders is held on Thursday afternoon, but due to excess demand, access is granted via a ballot system and all successful fans are notified ahead of the event. Wristbands are strictly non-transferable, though many do appear online at high prices ahead of the race. Here are the times for 2018: 15:15-16:15: Gold wristbands / 16:15-17:15: Black wristbands / 17:15-18:40: Silver wristbands.
F1 FANZONE & TRACKSIDE ENTERTAINMENT
Take a wander around the track if you have the time, as there's plenty going on to keep the fans entertained throughout the weekend, notably the new and improved F1 Fan Zone, which is set to offer everything from bungee trampolines to segways. Most activities will also be free. Click here for more information about the trackside entertainment at Silverstone this year.
Silverstone Concerts
The main stage at Silverstone has played host to several big (and small) names in music over the years. There's no big-name concert requiring a separate ticket on Thursday night in 2018, but Katrina (from Katrina and the Waves) will be making an appearance. The post-race concert on Sunday evening will be headlined by Mel C, formerly of the Spice Girls. The F1 drivers will also be making several appearances on the Main Stage for the Fan Forum on Saturday after qualifying, and after the race on Sunday. Check the full lineup for the main stage below.
Thursday, 17:40:18:00: Suburban Symphony
Thursday, 19:00-20:30: Sara Cox Presents Just Can't Get Enough 80s
Friday, 19:00-19:30: Dodgy
Friday, 19:35-20:05: Heather Small
Friday, 20:10-21:10: Jo Wiley Presents 90's Indie Anthems
Saturday, 17:00-18:00: Formula 1 – Drivers Fan Forum
Saturday, 19:00-19:30: Ministry of Sound – Noughties Anthems
Saturday, 19:40-20:40: Sonique
Saturday, 20:45-21:45: Brandon Block
Sunday, 16:30-17:00: Furnace and the Fundamentals
Sunday, 17:00-18:30: Formula 1 – Drivers Appearances
Sunday, 18:30-19:30: Mel C
Food is pretty expensive at Silverstone, so be prepared to shell out or pack your own sandwiches. Bringing plenty of your own bottled water is never a bad idea either, especially with the potential heat and sunshine, and the need to stay hydrated whilst out and about all day. Expect to pay £10 for a large slice of pizza and a beer or soft drink from the many food stands at Silverstone. The same sort of price will get you a large pot of noodles and a drink, or a burrito and something sweet. The range of food on offer at Silverstone is getting better each year, and there's plenty to suit vegetarian visitors as well. Food stalls are dotted all over the place, but the main food arena at Silverstone is a large grassy area near the main stage with plenty of picnic tables and a friendly, festival feel. There are also one or two champagne bars and smarter places to sit, but again expect to pay over the odds for the privilege.
Been to Silverstone for the British GP? Leave a comment below with your trackside tips!
Planning a trip to Silverstone for the 2019 British Grand Prix on July 12-14? Read our budget planner to help plan the cost of your trip.
Tags: amenities silverstone, british formula 1 grand prix silverstone, british grand prix pitlane walk, food and drink silverstone, full-image, madness concert british grand prix, off-track action silverstone, trackside british formula 1 grand prix, trackside british grand prix