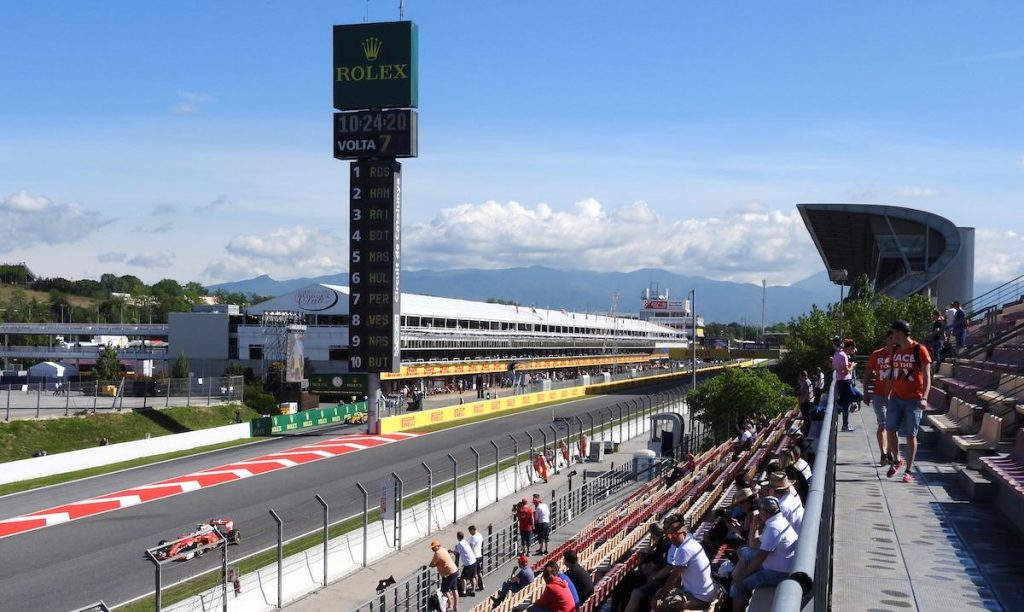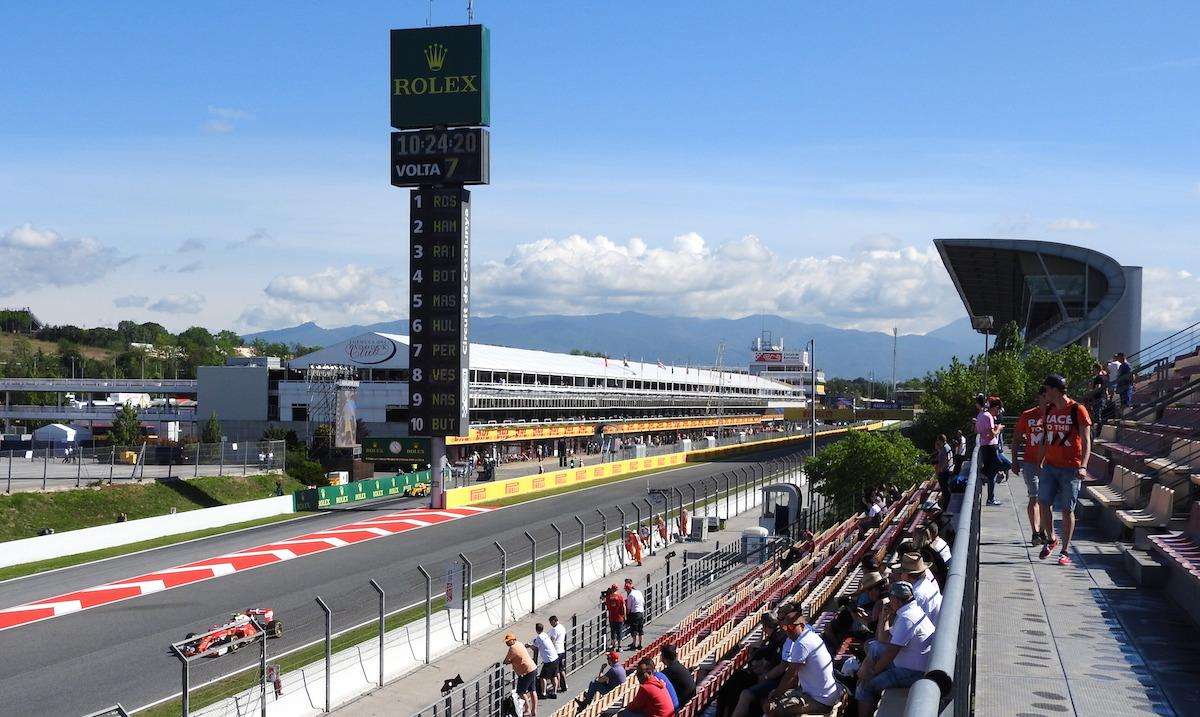 How to get the most out of your experience at Circuit de Catalunya for the Spanish Formula 1 Grand Prix. The next race takes place on May 10-13, 2018.
All images © f1destinations.com.

We only went to the Spanish Grand Prix for the first time in 2016, but Circuit de Barcelona-Catalunya on the outskirts of Barcelona has quickly established itself as our favorite European circuit! The natural amphitheater layout of the circuit makes for great spectating, the weather is normally warm and sunny and the race weekend is well organized. Don't forget to wear comfortable shoes for "Free Friday," when there's free access to all the grandstands, apart from N & E. There is little shade in the General Admission areas and the majority of Grandstands are uncovered, so don't forget to bring a hat and sunscreen.
CIRCUIT DE CATALUNYA: PARKING, ACCESS & ORIENTATION
There is ample parking available next to the circuit (approximately 26 000 spaces.) If you are driving in, be sure to know in advance which parking is the closest to your seats and follow the signs to that zone. Three-day parking tickets can be bought along with your tickets for €15-20 EUR. If you are not organized in advance, it's possible to buy parking tickets when you arrive at the circuit on Thursday or Friday. The Circuit de Catalunya website provides useful parking access maps.
The highway system close to the circuit is well signposted and congestion is limited on Friday and Saturday. Allow a bit more time on Sunday to get in and out of the circuit due to the larger numbers of spectators on race day. For more information on getting to Circuit de Catalunya, read Getting Around.
Seven gates provide entry for fans to Circuit de Catalunya. Check the circuit map to determine the best gate to enter based on where you will be siting. Remember that it is forbidden to bring in any glass or cans into the circuit.
SPANISH GRAND PRIX: ON-TRACK SCHEDULE
The full race program for the 2018 Spanish Grand Prix weekend features F1's two main feeder series, Formula 2 and GP3, both of which will stage two races over the course of the weekend. The schedule also includes Porsche Mobil 1 Supercup action. All these series are super competitive and should provide plenty of close racing.
Thursday, May 10
16:00-18:30: Pit Lane Walk for 3-Day Ticketholders
16:00-18:00: F1 Driver's Autograph Session (TBC)
18:30-19:00: Pit Lane Walk (F1 Experiences guests)
19:00-19:30: Drive the Track Tour (F1 Experiences guests)
Friday, May 11
09:30-10:15: GP3 practice
11:00-12:30: Formula 1 practice (FP1)

13:00-13:45: Formula 2 practice
15:00-16:30: Formula 1 practice (FP2)

16:55-17:25: Formula 2 qualifying
17:50-18:20: GP3 qualifying
18:45-19:30: Porsche Supercup practice
Saturday May 12
10:15-11:00: GP3 race one (22 laps)
12:00-13:00: Formula 1 practice (FP3)
13:30-14:00: Porsche Supercup qualifying
15:00-16:00: Formula 1 qualifying
16:40-17:45: Formula 2 race one (37 laps)
18:00-19:00: Fan Forum
19:00-20:00: Run the Track
Sunday May 13
10:25-11:00: GP3 race 2 (17 laps)
11:30-12:20: Formula 2 race 2 (26 laps)
12:45-13:20: Porsche Supercup race (14 laps)
13:30-13:50: F1 drivers track parade
15:10-17:00: 2018 Spanish Formula 1 Grand Prix (66 laps)
Additional activities
Fans with either three-day or Sunday tickets are entitled to participate in the pitlane walk on Thursday from 4pm-6:30pm. A driver's autograph session is also planned at this time (still listed as TBC), as is a "Karting Exhibition with F1 Drivers" at the Actividad Circuit. A Fan Forum is also scheduled for the stage in the F1 Fanzone (behind the Main Grandstand) from 6-7pm on Saturday evening, followed by the opportunity to "Run the Track" from 7-8pm.
Alcohol Ban
A full alcohol ban was introduced at the circuit in 2015 and remains in force. Don't bring any beer or alcohol into the circuit; you will be searched and it will be confiscated. Only non-alcoholic beer is on sale inside the circuit, but there are bars just outside entrance gates 1 and 6 where you can get the real thing.
Click here
for more information.
CIRCUIT DE CATALUNYA FACILITIES
The quality, value for money and selection of food on offer at Circuit de Catalunya is widely agreed by fans to just about the worst at any race in Europe. Visit a supermarket before you go to the track to stock up on food and drinks, but remember that you won't get into the circuit with glass or cans and that alcohol is prohibited inside the circuit. Water and soft drinks cost around €4 for 500ml with food starting at approx €8 for fast food such as hamburgers and hot dogs, more for pasta or other full meals. If you want a real beer and something to eat, you'll find bars and food trucks just outside most entrance gates (gate 1 and 6 for example); it's no problem to get a pass out and come back to the circuit.
There are plenty of toilet facilities that are generally well maintained and cleaned regularly throughout the weekend.
The new and improved F1 Village is located behind the Main Grandstand in the Eastern (yellow) section of the circuit. Fans can purchase merchandise from their favourite team as well as check out the displays from major sponsors or have something to eat or drink. The Boulevard of Champions (Avinguda dels Campions) is also located in this area, where you can see plaques commemorating the World Championship winning drivers (and Moto GP riders) who have competed at the circuit over the past 20-odd years.
Live commentary is available trackside over the whole F1 weekend in May. The frequency for English and French commentary is 103 FM and for Spanish and Catalan, 103.2 FM. Alternatively, with an internet enabled smart phone you can access live timing with the F1 app.
What are your trackside tips for the Spanish Grand Prix? Leave a comment below.
Plan the cost of your trip to the Spanish Grand Prix in Barcelona with our budget planner.
Tags: access circuit de catalunya, circuit de catalunya entry information, circuit de catalunya getting around, circuit de catalunya information, entry to circuit de catalunya, facilities circuit de catalunya, full-image, parking circuit de catalunya, trackside circuit de catalunya