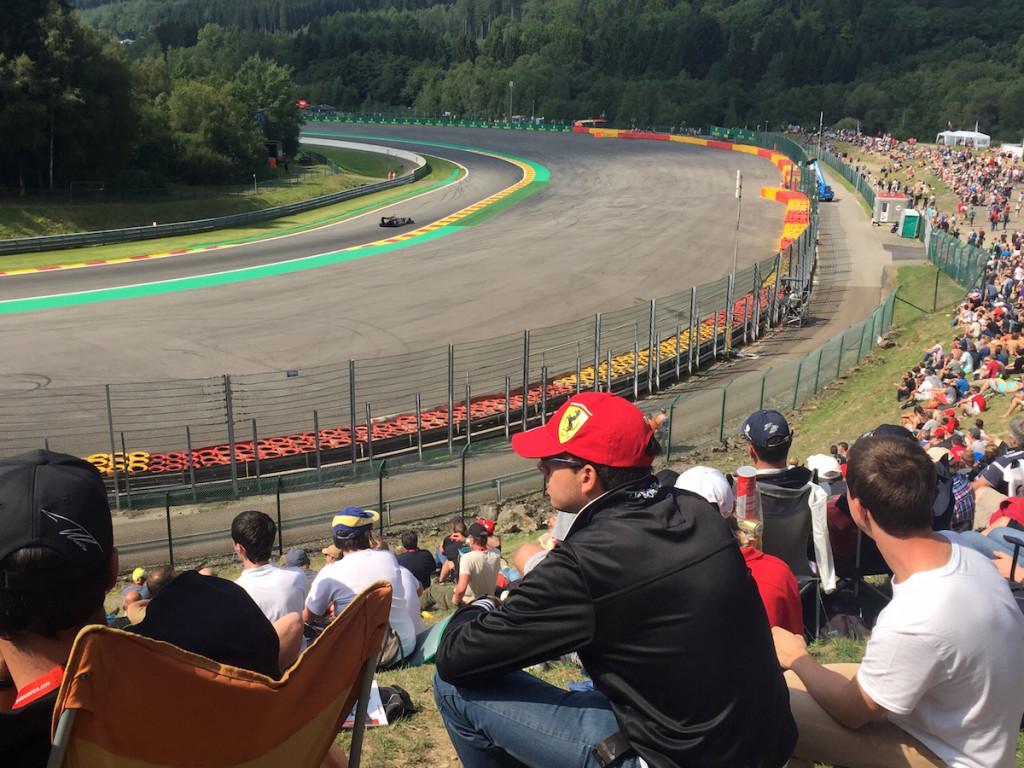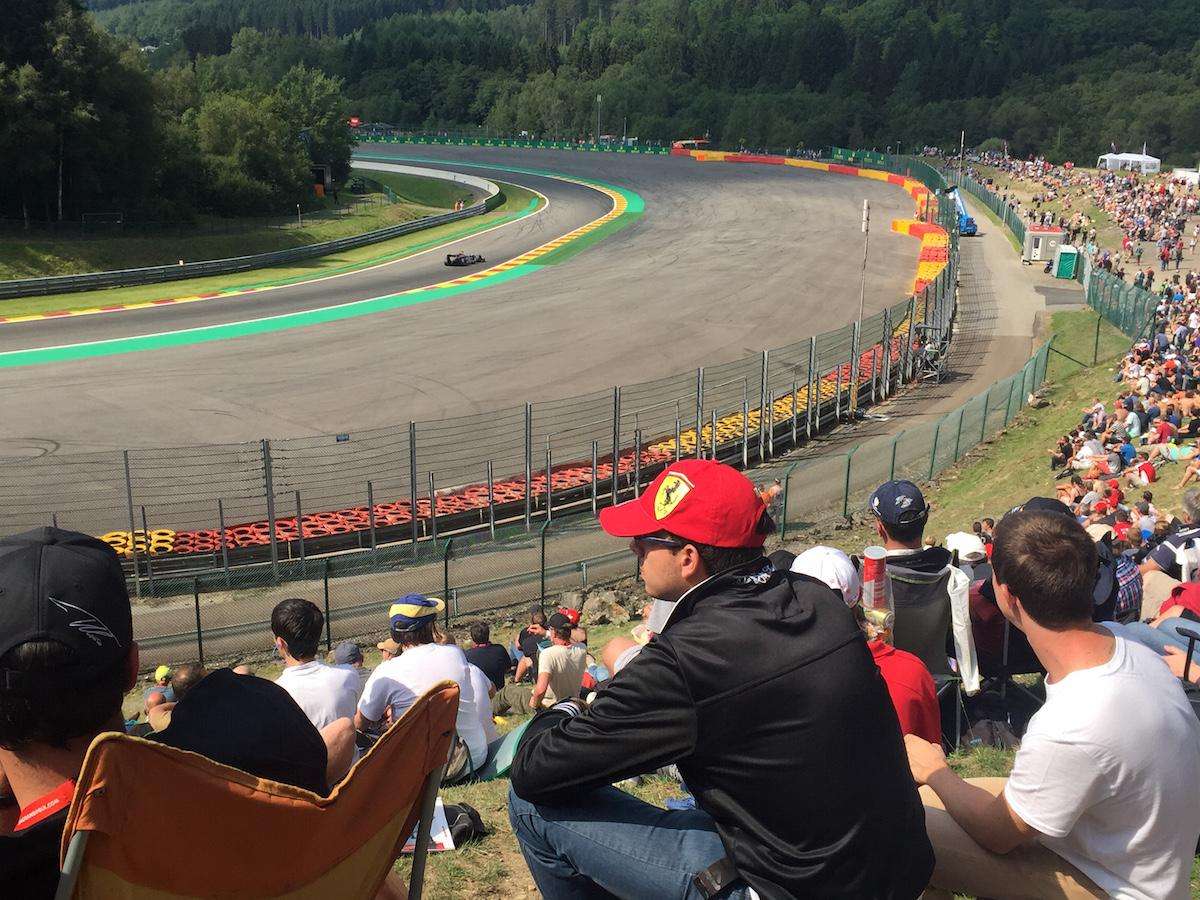 Your guide to getting the most out of your trip to Spa Francorchamps for the Belgian Formula 1 Grand Prix. The next race is on August 24-26, 2018.
All images © f1destinations.com.
Despite being the longest current F1 circuit at 7.004 kilometers (4.352 miles), Spa has a fairly low spectator capacity of 70,000 fans. Most grandstands are located close to the pit straight and opening Eau Rouge corner, with the rest of the circuit given over to General Admission viewing areas.
Whatever ticket you buy, be ready to cover lots of ground on foot, especially when entering and exiting the circuit. Comfortable, hard wearing shoes are a must to tackle the hills and dirt paths through the mountains at Spa. A decent level of fitness is also needed to get the most out of General Admission; the best spots also tend to get busier over the course of the weekend, so you need to get there early on race day to secure your spot. The weather is notoriously fickle in the Ardennes area. It's often warm and sunny when the race is held in late summer, but rain is never too far away. Pack for all conditions ahead of your trip, irrespective of the forecast.
Access & Orientation
There are four access gates to the circuit. The La Source and Ster entrances , which are close to each other, are best for most grandstands and also convenient for access to the F1 Fanzone near Eau Rouge. Check the best entrance gate for your ticket type:
La Source: Gold 1,2,3,4,6,7,8,9 – Silver 1,2 & Bronze (General Admission)
Ster: Gold 1,2,3,4,6,7,8,9 – Silver 1,2 & Bronze
Combes: Bronze and Silver 4
Blanchimont: "17-27" and Bronze
Parking at Spa Francorchamps
You'll need to buy a parking pass if you are planning to drive to the circuit. There are three offical parking zones: Yellow is close to La Source and best for most grandstands, Green is close to Les Combes and Red is next to Blanchimot. Tickets cost 16 EUR per day from the circuit website. More details in
Getting There & Around
.
What can you bring into Spa Francorchamps?
The security checks upon entering Spa never used to be the most thorough, but have been stepped up in recent years due to the increase in terror attacks in Western Europe.
Allowed: food for personal use, alcohol (but no glass bottles), foldable chairs, strollers, walkers and wheelchairs
Not Allowed: ladders/stepladders, large parasols, barbecues, glass items, firearms, knives etc, electrical equipment that requires a generator, animals (except guide & service dogs), bicycles & motorbikes
Thursday pitlane walk for 3-day ticket holders
The pitlane walk for 3-day ticket holders takes place on Thursday, August 23 from 16:00-18:00. Enter via the La Source gate. With larger attendances in recent years, we recommend getting there early as the queue will be substantial. Please also be aware that the pitlane area is quite narrow and can get very congested.
2018 Belgian Grand Prix Timetable
As with most European rounds this year, the on-track schedule at Spa also features action from Formula 2, GP3 and Porsche Supercup. F1's two main feeder series both feature two races over the course of the weekend (a longer feature race on Saturday afternoon and a sprint race on Sunday morning), as well as practice and qualifying. The Formula 2 races in particular are worth catching for some very close racing.
Friday, August 24
09:30-10:15: GP3 practice
11:00-12:30: Formula 1 free practice 1 (FP1)
12:55-13:40: Formula 2 practice
15:00-16:30: Formula 1 free practice 2 (FP2)
16:55-17:25: Formula 2 qualifying
17:50-18:20: GP3 qualifying
18:45-19:30: Porsche Supercup practice
Saturday, August 25
09:35-10:20: GP3 race (17 laps / 40 mins)
10:45-11:15: Porsche Supercup qualifying
12:00-13:00: Formula 1 free practice 3 (FP3)
15:00-16:00: Formula 1 qualifying
16:45-17:50: Formula 2 race (25 laps / 60 mins)
18:00-19:00: F1 Fan Forum
Sunday, August 26
09:35-10:10: GP3 sprint race (13 laps / 30 mins)
10:50-11:40: Formula 2 sprint race (18 laps / 45 mins)
12:05-12:40: Porsche Supercup race (11 laps / 30 mins)
13:00-13:10: Jacky Ickx Laps
13:30-14:00: F1 Drivers' Track Parade
14:00-14:15: Starting Grid Presentation
15:10-17:10: 2018 Formula 1 Belgian Grand Prix (44 laps / 120 mins)

Merchandise, Food, Drink & Facilities
The biggest concentration of merchandise stalls, plus food and drink, can be found on the outside of the circuit near Eau Rouge. There is also good catering close to Pouchon, plus smaller food and drink stalls dotted around the circuit. The prices for trackside F1 merchandise is uniformly expensive around the world; at Spa, you'll pay €30 for a team hat, €40 for a t-shirt and €80 EUR for a shirt. Food and drink was disappointingly overpriced at Spa; water was €3 and a half-liter beer cost €5. Fries with mayonnaise were €4, hamburgers/hotdogs cost €6-7, and fish and chips or doner kebabs were €10. (Information from our 2015 Belgian Grand Prix trip report)

Spa Francorchamps: good to know
Bring along a portable radio to tune into Radio Grand Prix on 99.1 FM and 104.5 FM
Check out our Spa GP Tickets guide for the best places to watch the action in General Admission
Bring your own food and drinks if you are on a budget.
There's a handful of permanent and temporary toilet blocks costing €0.70 to use or free 'porta potties'.
Been to Spa Francorchamps? Leave a comment with your trackside tips!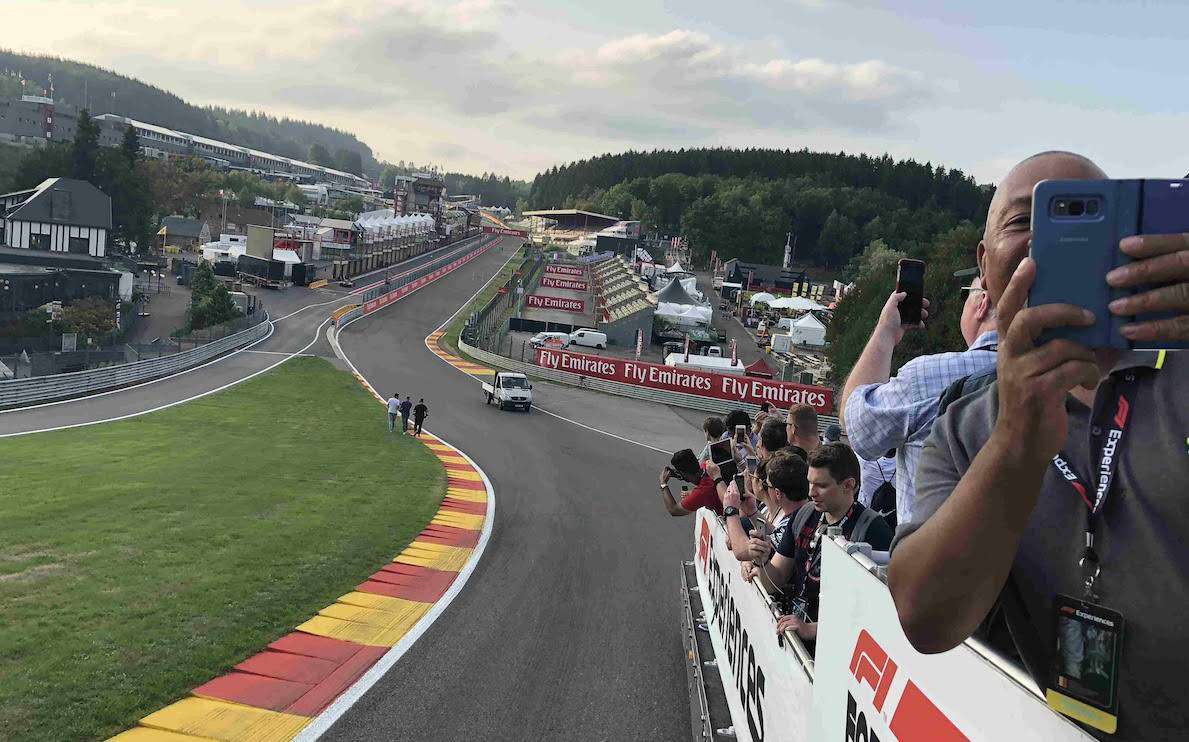 The best ways to get to Spa Francorchamps for the 2019 Belgian Grand Prix on August 30 to September 1.
Tags: belgian grand prix guide, belgian grand prix schedule, belgian grand prix travel guide, entrance gates spa francorchamps, full-image, spa francorchamps guide, trackside guide to spa francorchamps, trackside spa francorchamps