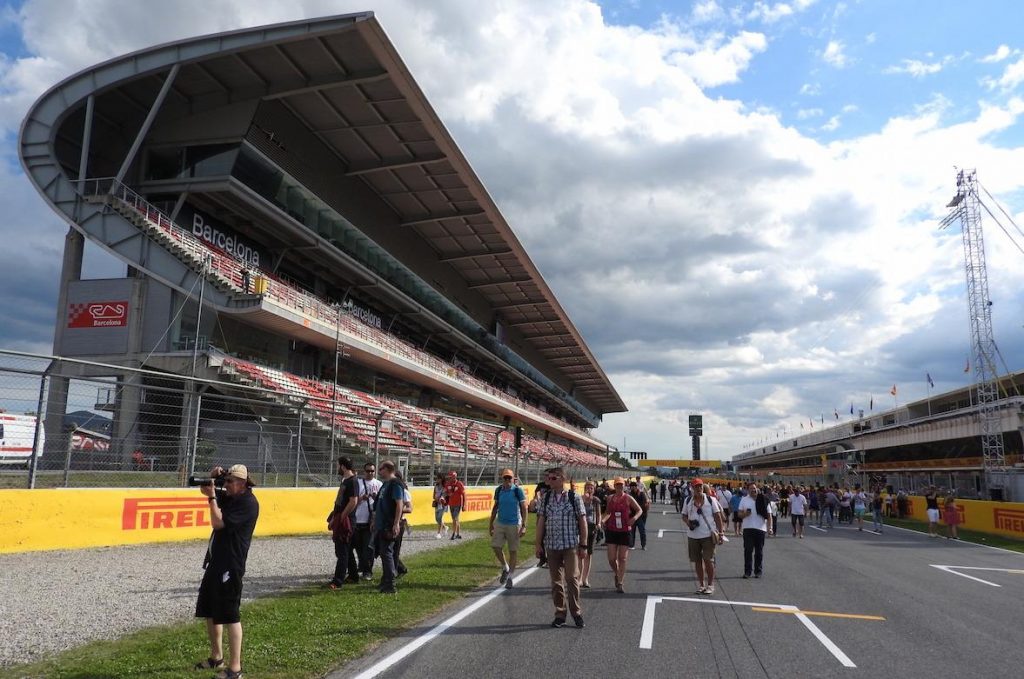 Advice on flights to Barcelona for the Spanish F1 Grand Prix, getting around in the city and information on how to get to Circuit de Catalunya.
The great thing about the Spanish Grand Prix is that you can easily combine your F1 trip with a city break in Barcelona, which is really well served by a range of flight routes  (both short and long-haul) and airlines, including lots of discount carriers.
Barcelona Airports
Barcelona International Airport (BCN) is located in El Prat de Llobregat, 10km south west of the city centre. Long-haul and flag carrier airlines all fly into BCN, and this is the best airport to fly into if you have the choice. If you are on a budget and looking to save, budget carriers fly into the regional airports in either Reus (REU) or Girona-Costa Brava (GRO), both of which are actually located approximately 100km from Barcelona. If you want to couple your trip to the Spanish Grand Prix with a beach holiday, your best bet is to fly into Girona (GRO) near the Costa Brava.
European flights
There's a huge selection of flights from the UK to Barcelona. Ryanair flies to BCN, REU and GIR whilst easyJet flies to just BCN, as does British Airways, Jet2, Iberia and Monarch. Expect to pay around £100-200 for return flights.
As an international hub, Barcelona receives flights from all over Europe on a daily basis. Among flag carriers, Aer Lingus, Alitalia, Swiss Air, KLM all fly into BCN. Many budget airlines in addition to the aforementioned Ryanair and easyJet also operate from European cities into Barcelona.
Long-haul flights
There's plenty of good deals on the New York – Barcelona route, with the cheapest return flights costing less than $1000 USD. Among the airlines flying this route direct, good deals can be had with Finnair, US Airways, Air Europa and Air France. Other well-priced carriers include Lufthansa, United Airlines, American Airlines, Delta & BA.
From Australia, return flights cost upwards of $1500 AUD from large hubs such as Sydney and Melbourne. Most trips involve more than one stop and a total travel time in excess of 30 hours. Emirates fly from Australia with only one stop in Dubai;  Other carriers with good availability and prices on routes from Australia include Singapore Airlines & Lufthansa.
Trains to Barcelona
Barcelona is well connected by train to many major European centres. The high-speed train network in Spain is Europe's second largest. If you are coming from London, you can book the Eurostar from St Pancras to Paris Gare du Nord, and then a high speed train all the way to Barcelona for as little as £120 and a travelling time of 6 hours. More information on Seat 61.
Drive yourself
Driving to Spain can be a good option if you want to keep costs down. The drive from London, for example, could take as little as fourteen hours, though it would be safer to break up the journey  somewhere in France, like Dijon or Orleans. Having your car in Barcelona also means that you can drive to and from the circuit each day – there is ample parking (26000 spaces) at the Circuit de Catalunya. Affordable 3-day parking tickets cost between €15-20. There are five parking zones (A, B, C, D, F) – check in advance which zone is closest to your grandstand. Read more about parking in Trackside.
You can also hire a car inexpensively while you stay in Spain –  the most convenient way to do this is to pick up and drop off at the airport. For a small three door vehicle, you can expect to pay under €120 for one week's hire. If you decide to stay near the beach on the Costa Brava, hiring a car is the best way to get to the circuit each day.
Taking Barcelona's Metro
Barcelona has a world-class metro system and trains tend to be clean, punctual and cheap. Consider buying a T10 card for up to ten single journeys on the metro, trains, buses and trams in the city centre. A ticket costs €10, more than halving what you'd pay for buying individual singles each time you travel. One T10 ticket is valid for any journey up to 75 minutes in duration, but doesn't include airport transfers or travel to the circuit. Validate your T10 ticket every time you enter the metro station – the machine will stamp and return it each time.
Alternatively, you can buy a Hola BCN!  travel card, which gives you unlimited travel on Barcelona public transport for 2, 3, 4 or 5 days with a single ticket. Two-day tickets cost €14.50, three-day tickets €20.50, four-day tickets €26.50 and five-day tickets €32. Click here to download a Barcelona metro map.
How to get to the circuit
The Circuit de Catalunya is approximately 30km north east of central Barelona. It's located between two major highways, making it easy to get to if you are driving. There are regular bus and train services from the city to the circuit on race weekend as well.
Taking the train is a popular way to get to and from the Circuit de Catalunya each day. The closest station to the circuit is Montmelo, which is on the regional train network, not the metro. This means you need to purchase a separate ticket, which costs around 4 EUR return (you can also purchase for multiple days). Take the Renfe R2 (dark green) or R2 Nord (light green) train from either Sants Estacio, Passeig de Gracia or El Clot in the direction of Granollers or Saint Celoni.
The train itself takes around 20-30 minutes, but allow yourself a further 30-45 minutes or so to walk from the Montmelo station to the circuit. There's also a shuttle bus from Montmelo to the circuit (tickets cost around 2 EUR each way) but it leaves from the center of the town, about 10 minutes walk from the train station in the direction of the circuit. It will drop you off near turn 1, around 10 minutes walk from entrance gate 5.
The bus from the city centre to the Catalunya circuit takes around 45 minutes and costs €12 return. The service is operated by Sagales from Estació del Nord and drops you off just 300 metres from the circuit entrance (as opposed to 2km for the train). The frequency of the buses increases over the course of the weekend (from every 30 mins on Friday, to every 15 mins on Saturday and every 10 mins on Sunday. Click here to find out more about buses to the circuit and to purchase advance tickets.
Barcelona Taxis
Official Barcelona taxis, which are black and yellow with a green light on their bonnets, are an affordable way to get about. Always insist on the meter being used and expect to pay around €10 per fifteen minute journey. You may have to pay a surcharge for luggage, but tipping is not expected. Bear in mind that the metro can be a better choice. in the pedestrianized city center.
Barcelona Buses
Barcelona has a massive bus network and a night bus operation too. The popular T10 card can be used on buses, too. You can grab a bus to the metro station and travel across the city by metro, then jump on a bus at the other end – all for the cost of one ticket if the journey takes less than 75 minutes.
Bus Tours
Buying a day pass for one of Barcelona's hop-on hop-off bus tours is an easy way to see a lot of the city's attractions in a short period of time. You can also sit upstairs and watch the world go by if the weather is good!  There are two services to choose from in Barcelona: City Tour Barcelona or Barcelona Bus Turistic. They both have several routes covering the city and adult tickets starting at around €28 per day, less if you buy online in advance.
From El Prat (BCN) Airport to the city
You'll not struggle to find a taxi at the airport. Expect to pay €30-40 for travel into the city centre, and make sure the fare is metered. Knowing a little bit of Spanish will help here.
Aerobus runs a slick service every ten to fifteen minutes during the day and drops passengers off at Plaza Catalunya for around €6 each way.
Aeropuerto station is a five minute walk from the terminals, and trains run into the city every thirty minutes. Less frequent than buses, but the journey can take as little as eighteen minutes and costs €3 each way. The train from the airport stops at Sants, Passeig de Gracia and Clot stations, and you can transfer onto the Metro at any of these. You can also travel from the airport on the same line (R2 or R2 Nord) all the way to the circuit at Montmelo.
If you're travelling in a group or simply want to take the stress out of arriving, private transfers and minibuses can be booked in advance online. You'll get an English-speaking driver and a door-to-door service for a little more than you'd pay a regular airport taxi. Opt for a shared transfer to save even more money – it can cost as little as €8 each. Click here to book.
Click here for information on getting from Girona airport (GRO) to Barcelona
Click here for information on getting from Reus airport (REU) to Barcelona
Your guide to buying tickets and watching the action at Circuit de Catalunya-Barcelona for the Spanish Formula 1 Grand Prix
Tags: get from barcelona to montmelo, getting around barcelona, getting to circuit de catalunya, getting to montmelo f1, how to get to circuit catalunya, how to get to circuit de catalunya, public transport barcelona, spanish f1 transport