Your guide to buying tickets for the 2021 Azerbaijan Grand Prix on June 4-6, including the best grandstands at Baku City Circuit.
05/03/2021 UPDATE: The 2021 Azerbaijan Grand Prix on June 4-6 will take place behind closed doors with no spectators in attendance. Fans who purchased tickets from official agents for last year's cancelled event and rolled their ticket over to this year are expected to be able to do the same for 2022 with no additional cost. This guide will be updated for 2022 when more information is available.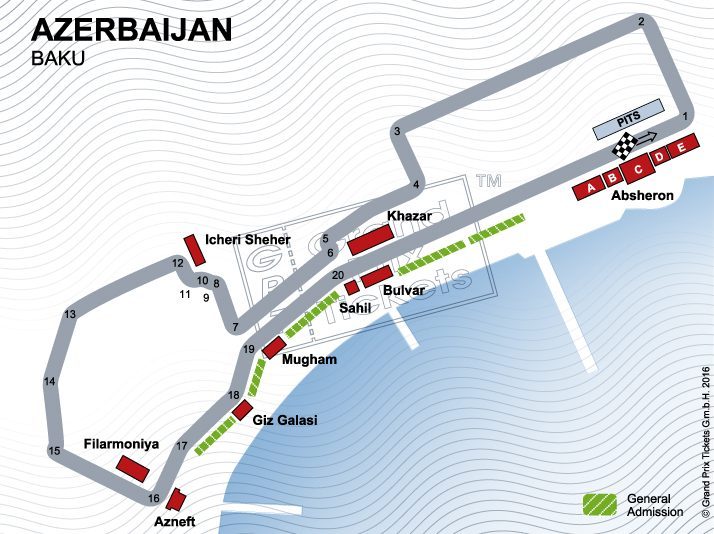 Single-day & Children's Tickets
You can also buy single-day roaming tickets to the Azerbaijan Grand Prix. These are priced at $60 on Friday, $80 on Saturday and $110 on Sunday (no early-bird discounts). If you plan on going for more than one day, you are better off buying a seat in one of the cheaper grandstands (e.g. Filharmonia) as you still get access to the general admission areas.
Children's tickets are available in all grandstands for children aged 16 years or younger. The average discount on the price of an adult ticket is approximately 30%. Child tickets can only be purchased together with adult tickets, and a maximum of 2 children's tickets are allowed per adult ticket.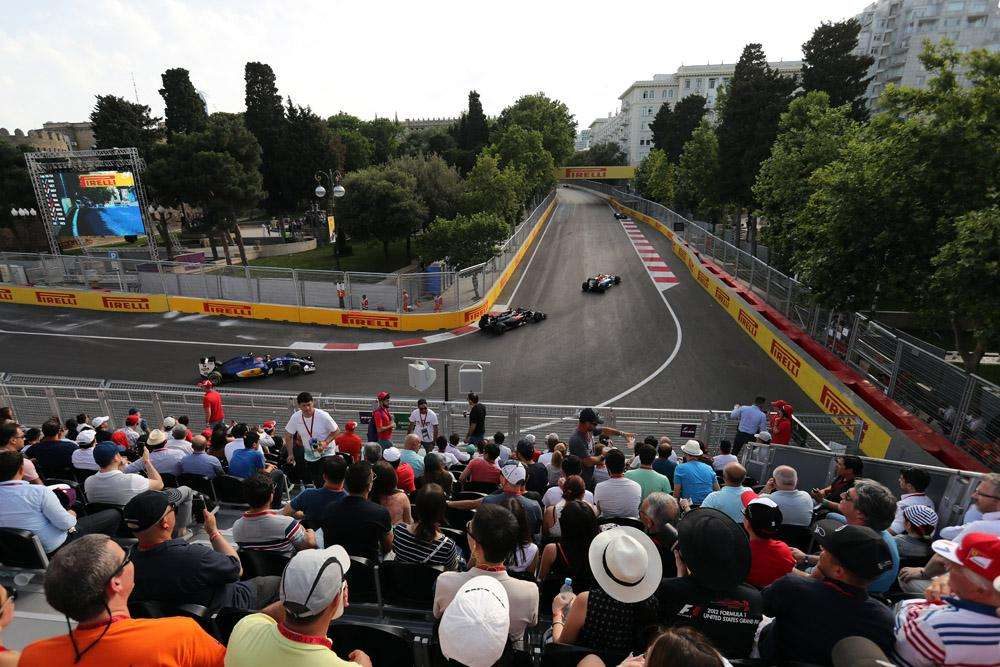 Best grandstands at Baku City Circuit?
The pricing of the grandstands normally provides decent guidance on which will provide the best views. After the Main grandstand, the second best is Azneft overlooking turn 16. Special mention for the cheaper Icheri Sheher grandstand, which is located at the exit of the tricky series of turns near the old city walls (see pictures of both grandstands above).
Interested in the pits action, start and finish? Go for a seat in the most expensive Absheron (Main) grandstand, which is also the only covered grandstand in Baku.
Two sections of the track (between turns 6-7 and 19-20) use the same section of road, so you can see both sections when you are seated in the Mughum, Sahil, Boulevard & Khazar grandstands near these sections.
Some fans complained about trees restricting the views from the Sahil and Bulvar grandstands
Been to the Baku City Circuit? Leave a comment with your favorite grandstand!