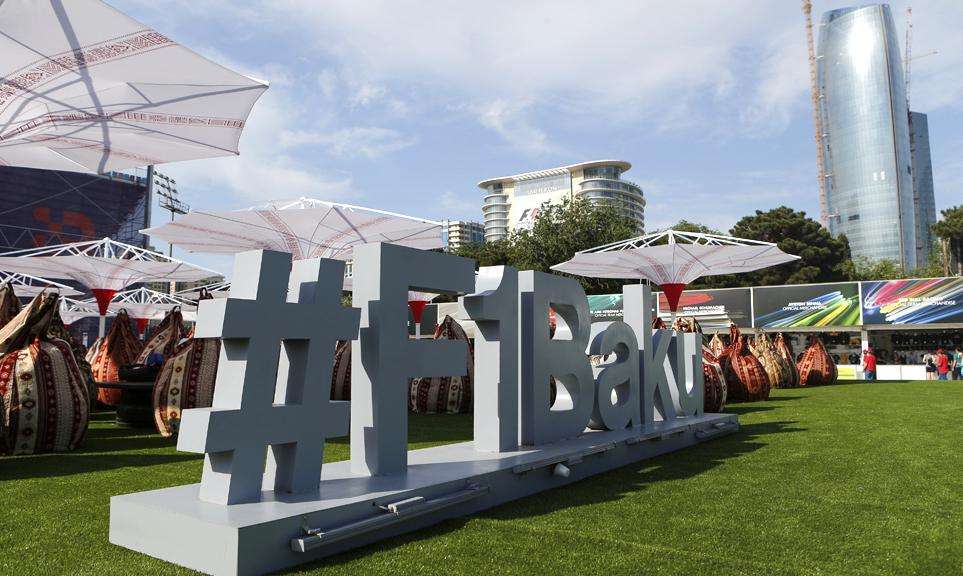 How to get to Baku for the 2021 Azerbaijan Grand Prix on June 4-6, plus useful information on getting around in the Azerbaijani capital.
05/03/2021 UPDATE: The 2021 Azerbaijan Grand Prix on June 4-6 will take place behind closed doors with no spectators in attendance. This guide will be updated for 2022 when more information is available.
Much like the other most recent addition to the F1 calendar (Sochi in Russia), it's not actually that easy for most international fans to get to Baku for the Azerbaijan Grand Prix. The city is well connected with ex-Soviet states, but not so well serviced by flights from Western Europe or the USA. Once on the ground however, it's much easier! As the name suggests, the Baku City Circuit is centrally located and easy to reach from most parts of the city. We recommend staying downtown within walking distance if possible.
Baku's main airport – Heydar Aliyev International Airport (GYD) – is 20 km from Baku city center and served by major airlines including flag carrier Azerbaijan Airlines (AZAL), Aeroflot, Turkish Airlines, Lufthansa and Qatar Airways. Aeroflot is probably the best option for getting to Baku from Europe, with cheap and plentiful flights transferring through Moscow every day. Discount airline Wizz Air also has direct flights from Budapest, but they are not so frequent.
Flights from Europe
Expect to pay from €300-600 return with flight times averaging 3-6 hours. Direct routes include Wizz Air from Budapest, Lufthansa from Frankfurt, Aeroflot from Moscow-Sheremetyevo and Azerbaijan Airlines from Berlin, London, Paris & Prague.
Flights from the USA
Expect to pay from $800-1500 USD with flight times from 11 hours (direct) up to more than 24 hours (2 stops). Direct flights with Azerbaijan Airlines from New York or cheaper deals with Turkish Airlines (via Istanbul) and Aeroflot (via Moscow).
More flights to Baku
Other notable connections to Baku include Dubai (flydubai, 3 hours), Qatar (Qatar Airways, also 3 hours), Tbilisi in Georgia (Azerbaijan Airlines, 1 hour) and many other cities in the region.
Baku Airport to City
Public transport is very good in Baku so you can avoid taxi travel altogether if you so wish. An express minibus shuttles tourists from the airport to the city every half hour and costs just pennies, though taxi drivers will insist that the service no longer runs (it does – just ask airport staff if you're unsure where to catch the bus from.) Alternatively, head for Koroglu station which is the closest metro stop to the airport. You may need to hop in a taxi to Koroglu station but there is no need to take a taxi all the way to your hotel as the metro system is clean, modern and efficient. If you do opt to take a taxi all the way, haggle (politely) for your price before you ride, as the first price quotes will undoubtedly be inflated several times over…the fare should cost around 25 AZN ($15 USD).
Getting Around in Baku
Baku's F1 race track is a street circuit in the city center, so you'll likely travel to and from your grandstands on foot, by metro or by bus. Last year, public transport was stepped up in Baku for the Grand Prix weekend to operate 20 hours per day, with buses running as frequently as every three minutes to certain points on the circuit. Metro stations 28th May, Sahil and Icheri Sheher are all within walking distance of the track. Metro and bus tickets cost just 0.30 AZN per journey in Baku. For the metro, you must get yourself a BakuCard  and load it with credit like a normal metro pass or Oyster card
Been to Baku? Leave a comment with your tips on getting around in the city.