Your trackside guide to the Red Bull Ring for the Austrian Formula 1 Grand Prix. The next race is on July 7-9, 2017.
This post will be fully updated around 2-4 weeks before this year's race. We've left last year's content below for reference; much of the advice will remain unchanged.
The Red Bull Ring offers one of the best trackside experiences for fans of any current F1 track.  The staff are friendly and professional, there's no queues for food or the toilets, and the Legends Parade is a real highlight. The organizers also put on concerts (mainly for the campers) and there's no shortage of Red Bull products on sale, in case you need an energy boost. Don't forget to read our 2015 Austrian Grand Prix trip report to learn more about the fan experience at the Red Bull Ring.
Parking, Access & Orientation
The good news if you are driving to the circuit is that parking is FREE. Check the map for locations. Last year, we parked for the first few days in the area closest to Grandstand Nord; this is also good for the General Admission areas at the top of the track. On race day, we parked in one of the areas on the other side of the S36 motorway for a quicker getaway after the race.
There's only four access gates to the Red Bull Ring; two at the top of the circuit (for General Admission and Grandstand Nord) and two at the bottom of the circuit, for most other grandstands. As with all F1 circuits, avoid bringing in any glass as it could be confiscated by security. You shouldn't have any issues bringing in plastic bottles or your own food.
The public Pitlane Walk (for fans holding 3-day tickets only) takes place on Thursday, June 30 from 15:15-18:15.
On-Track Schedule
In addition to around 6 hours of F1 on-track action, the Austrian Grand Prix also features racing from F1's main feeder series, GP2 and GP3. There two races apiece from these super competitive series, plus one race from the Porsche Supercup series.
Legends Parade
The Legends Parade, one of the highlights of the race for us last year, returns in 2016. This year, a host of racing greats will take to the track in cars from the short-lived BMW Procar series, which pitted the best drivers of the day (1979-80) against each other in identical BMW M1 cars.
The following drivers will be on track this year: Niki Lauda, Gerhard Berger, Dieter Quester, Sepp Manhalter, Jos Verstappen, Hans-Joachim 'Strietzel' Stuck, Jochen Mass, Leopold Prinz von Bayern, Christian Danner, Harald Grohs, Marc Surer, Jan Lammers  and Johnny Cecotto. The best time to get up close and personal with the drivers is on Saturday afternoon in the Fan Zone before they hit the track for the first time (from 16:00-18:00).
Friday, July 1
10:00-11:30: Formula 1 (practice 1)
12:00-12:45: GP2 (practice)
14:00-15:30: Formula 1 (free practice 2)
15:55-16:25: GP2 (qualifying)
16:45-17:30: Porsche Supercup (practice)
17:50-18:35: GP3 (practice)
Saturday, July 2
09:45-10:15: GP3 (qualifying)
11:00-12:00: Formula 1 (free practice 3)
12:25-12:55: Porsche Supercup (qualifying)
14:00-15:00: Formula 1 (qualifying)
15:35-16:40: GP2 Race 1 (40 laps)
17:10-17:55: GP3 Race 1 (24 laps)
18:05-18:45: Legends Parade (track familiarization)
Sunday, July 3
09:15-09:50: GP3 Race 2 (18 laps)
10:25-11:15: GP2 Race 2 (28 laps)
11:35-12:10 Porsche Supercup Race (16 laps)
12:30: Formula 1 Driver's Track Parade
12:40: Legends Parade
13:00-13:15: Flying Bulls (air show)
14:00-16:00: Formula 1 GROSSER PREIS VON ÖSTERREICH 2016 (71 Laps)
Fan Zone & Concerts
The Fan Zone is located close to the South West and Red Bull Grandstands, about ten minutes walk from the Main Grandstand. You'll find the best choice of food, drink and merchandise, plus a small stage with autograph sessions over the weekend. It's also the location for the pits area of the Legends Parade, where you can get a closer look at the BMW M1s they will be driving this year.
The concert stage is located down the hill, but within a short walk of the Fan Zone. The Red Bull Ring can't compete with the likes of Singapore and Abu Dhabi in terms of attracting international A-list acts, but does offer some names familiar to local fans (Nena, Wanda) and Scottish singer Amy McDonald is headlining on Saturday night. This year's race also coincides with the Euro 2016 football championships; quarter final matches will be shown on the big screen on Thursday, Friday and Saturday night from 21:00.
Food & Drink
The best selection of food and drink can be found in the Fan Zone. We survived last year on a trackside diet of tasty Austrian fare; schnitzel burgers and bratwurst were reasonably priced at €6 and cheaper options were available. Large beers (500ml) were €4.50 and there was an array of Red Bull products for around €3. Away from the fan zone, there are fast food outlets located to most grandstands.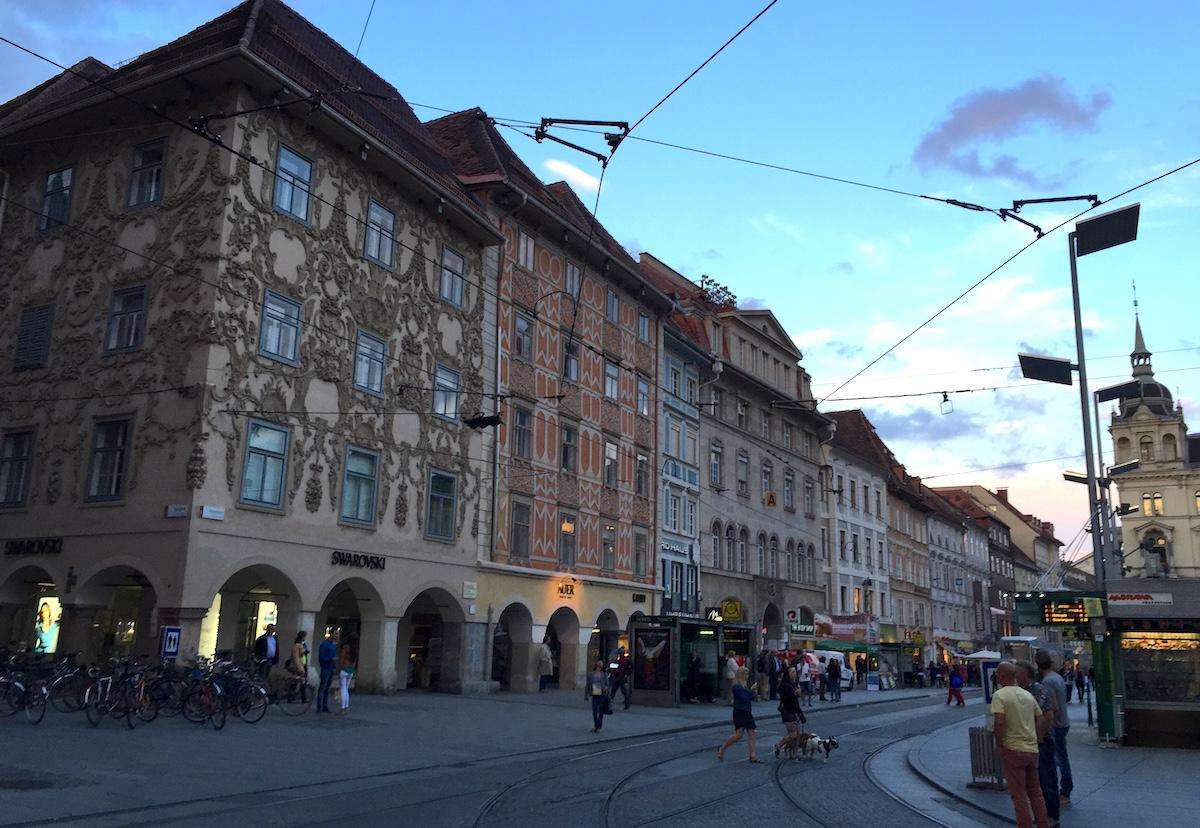 The lowdown on off-track activities at the Austrian Grand Prix, including things to do in Graz and the region of Styria.
Tags: 2016 austrian grand prix schedule, austrian grand prix, fan zone red bull ring, red bull ring, tickets austrian grand prix, timetable austrian grand prix, trackside at red bull ring