Your trackside guide to the Red Bull Ring for the Austrian Formula 1 Grand Prix. The next race is schedule for the weekend of June 29 to July 1, 2018.
The Red Bull Ring offers one of the best trackside experiences for fans of any current F1 track. The staff are friendly and professional, there's limited queues for food or the toilets, and the Legends Parade is a real highlight. The organizers also put on concerts (mainly for the campers) and there's no shortage of Red Bull products on sale, in case you need an energy boost. Don't forget to read our Austrian Grand Prix trip report to learn more about the fan experience at the Red Bull Ring.
Bring a friend on Thursday and Friday! If you've bought a 3-day ticket, you are entitled to bring along one additional person for the pitlane walk on Thursday and the racing (and concerts) on Friday. There's free seating in your grandstand on Friday, provided the holder of the ticket to the respective seat is not requesting to use it.
RED BULL RING: PARKING, ACCESS & ORIENTATION
The good news if you are driving to the circuit is that parking is FREE. Check the map for locations. In 2015, we parked for the first few days in the area closest to Grandstand Nord; this is also good for the General Admission areas at the top of the track. On race day, we parked in one of the areas on the other side of the S36 motorway for a quicker getaway after the race.
There's only four access gates to the Red Bull Ring; two at the top of the circuit (best for General Admission) and and two at the bottom of the circuit, for the grandstands. As with all F1 circuits, avoid bringing in any glass as it could be confiscated by security. You shouldn't have any issues bringing in plastic bottles or your own food. Check the maps below for parking and access gates.
On-Track Schedule
In addition to around 6 hours of F1 on-track action, the Austrian Grand Prix also features racing from F1's main feeder series, Formula 2 and GP3. There will be two races apiece from these super competitive series, plus one race from the Porsche Mobil 1 Supercup series. The Legends Parade is also back for 2018 and this year the focus is on cars from the Deutsche Rennsport-Meisterschaft (DRM) touring car series, which ran from 1972 to 1985. Drivers who will be taking the wheel of the original cars from the series include Niki Lauda (BMW 3.6 CSL), Gerhard Berger (Porsche 935), Hans-Joachim Stuck (Porsche 956) and Christian Danner (BMW M1 Group 5). Full line up and more info here.
2018 AUSTRIAN GRAND PRIX SCHEDULE
Friday, June 29

09:35-10:20: GP3 Series practice
11:00-12:30: Formula 1 practice (FP1)
13:00-13:45: FIA Formula 2 practice
15:00-16:30: Formula 1 practice (FP2)
16:55-17:25: FIA Formula 2 qualifying
17:45-18:15: GP3 Series qualifying
18:35-19:20: Porsche Supercup practice
Saturday, June 30
10:15-11:00: GP3 Series race one (TBC laps)
12:00-13:00: Formula 1 practice (FP3)
13:25-13:55: Porsche Supercup qualifying
15:00-16:00: Formula 1 qualifying
16:45-17:55: Formula 2 race one (40 laps)
18:40-19:10: Legends Parade (track familiarization)
Sunday, July 1
10:00-10:35: GP3 Series race two (18 laps)
11:10-12:00: FIA Formula 2 race two (28 laps)
12:20-12:55 Porsche Supercup Race (16 laps)
12:30-12:40: Formula 1 Driver's Track Parade
13:00-13:20: Legends Parade
13:30-14:00: F1 Drivers' Track Parade
14:05-14:25: Flying Bulls Air Show (TBC)
15:10-17:10: Formula 1 EYETIME GROSSER PREIS VON ÖSTERREICH 2018 (71 Laps)
F1 Fan Zone
The Fan Zone is located close to the South West and Red Bull Grandstands, about ten minutes walk from the Main Grandstand. You'll find the best choice of food, drink and merchandise, plus a small stage with autograph sessions over the weekend. It's also the location for the pits area of the Legends Parade, where you can get a closer look at this year's machinery.
Red Bull Ring Concerts
The concert stage is located down the hill, but within a short walk of the Fan Zone. The Red Bull Ring can't compete with the likes of Singapore and Abu Dhabi in terms of attracting international A-list acts, but does offer a program of local Austrian talent on Saturday night. Learn more here or check the concert schedule.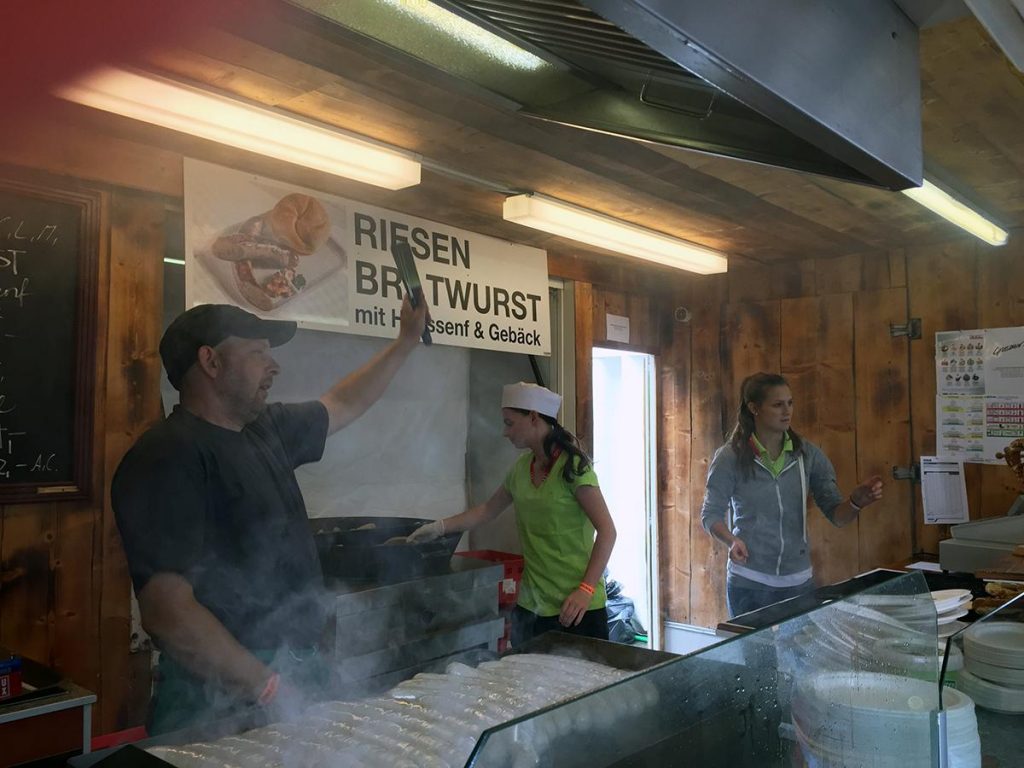 Food & Drink
The best selection of food and drink can be found in the Fan Zone. We survived last year on a trackside diet of tasty Austrian fare; schnitzel burgers and bratwurst were reasonably priced at €6 and cheaper options were available. Large beers (500ml) were €4.50 and there was an array of Red Bull products for around €3. Away from the fan zone, there are fast food outlets located behind most grandstands.
Have you been to the Red Bull Ring? Leave a comment with your trackside tips!
Work out the cost of your weekend at the Red Bull Ring for the Austrian Grand Prix.
Tags: 2016 austrian grand prix schedule, austrian grand prix, fan zone red bull ring, full-image, red bull ring, tickets austrian grand prix, timetable austrian grand prix, trackside at red bull ring