Advice on getting to Budapest and the Hungaroring circuit plus general advice on getting around at the Hungarian Grand Prix. The next race is on July 28-30, 2017.
Budapest benefits from a convenient location in the heart of Central Europe. Whether you fly, take the train or drive yourself, it's easy to get to the Hungarian Grand Prix in July. Budapest has a well-developed public transport network with an efficient three-line Metro serving most central parts of the of the city. Taxis are plentiful and new regulations have largely (though not totally) eliminated dishonest drivers. If you are flying into Budapest Ferenc Liszt International Airport, it's relatively cheap and easy to get to the centre via public transport, taxi or shuttle bus. The Hungaroring circuit is 20km to the northwest of the centre and can be reached fairly easily by train, bus or taxi.
Flights to Budapest
Budapest Ferenc Liszt International Airport (BUD) is located 16km southeast of the city centre and serves a range of international destinations, mainly in Europe, but also further afield. Hungary's national flag carrying airline, Malev, collapsed under crippling debts in 2012, which reduced some of the long-haul destinations served from Budapest. More successful is the Hungarian budget airline, Wizz Air, which is based in Budapest and flies to a large number of European destinations and also further afield.
Other budget carriers to fly to Budapest from several European destinations include EasyJet, Ryanair, German Wings and Jet2. Major European flag carriers also regularly fly direct to Budapest including British Airways, Air France, Lufthansa, LOT, Turkish Airlines and Aeroflot. You should also consider flying into Vienna or Bratislava if you want to see more of the region and potentially save a few Euros; both cities are just a few hours from Budapest.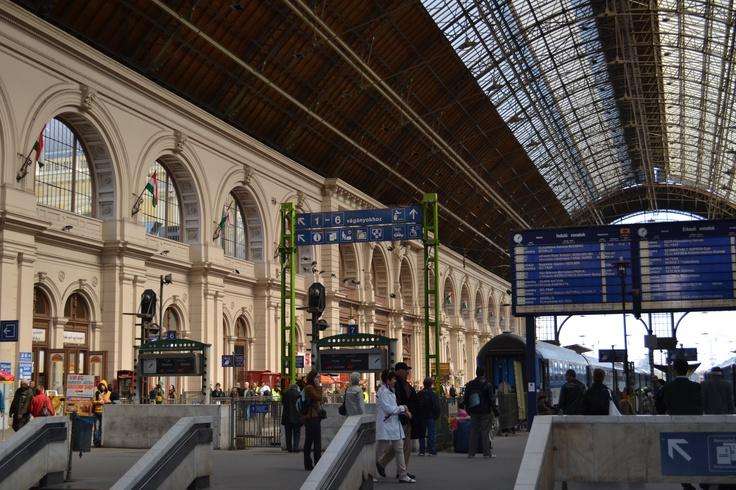 Trains to Budapest
If you have a little more time and want to see some of the countryside, taking the train to Budapest is a great choice. The city is well connected to Europe's extensive rail network and there are day and overnight trains available. Seat 61 is a great source of information on trains to Budapest. You can book online via the Hungarian rail company, Mav Start. Here's some routes, journey times and prices:
Vienna or Bratislava (3 hours), from

€

19
Prague (6 hours), from

€

19
Munich (7 hours) from

€

29
Krakow (10 hours), from

€

49 in two-bed sleeper
Berlin (12 hours), from

€

39
Buses to Budapest
On a budget? Regular buses connect Budapest with a wide range of cities in Western, Central and Eastern Europe, even as far afield as the UK. The main international bus station in Budapest is called Népliget – it's close to the city centre and on the Metro. Check out Eurolines or Orangeways for more information and to book tickets. Here's some routes, journey times and prices from the latter:
Bratislava (2.5 hours), 4000 HUF (

€

13)
Vienna (3 hours), 3200 HUF (

€

11)
Prague or Krakow (6-7 hours), 6000 HUF  (

€

20)
Berlin (12 hours), 9000 HUF (

€

30)
Getting to the Circuit
Depending on where you are staying and your chosen mode of transport, the 20km trip from Budapest to the Hungaroring will take anywhere from 30-90 minutes. If a helicopter transfer is beyond your budget, then the next most effective way to get to the track is via taxi, which only takes 30 minutes but costs €40 each way. Alternatively, if you don't mind a trip which takes more like 90 minutes and involves at least 30 minutes of walking, then you can take the free bus or the cheap metro/train option.
> Metro/Train
It's not too difficult to take the metro and then train to the circuit. Depending on where you stay in the city, the trip will take anywhere from 60-90 minutes. The last 30 minutes involves a cross country walk to the track.
First, get the metro to the last station on the eastern end of the red metro line (M2), Örs vezér tere. If you are staying near a station on one of the other metro lines (M1 or M3), you will first have to get to the main central interchange station, Deák Ferenc tér and change for an eastern-bound M2 train. It's only 6 stops from Deák Ferenc tér to Örs vezér tere which should take around 15 minutes.
Once you have reached the end of the M2 line at Örs vezér tere, you need to exit the station and cross to the opposite corner of the intersection (via an underpass), where you will find a small suburban train stop. A ticket office is nearby and there is also a large shopping centre with a supermarket where you can stock up on water and food if you haven't already.
Trains only go in one direction from here, as it's the end of the line – you need the train to Gödöllő. Tickets cost 250 HUF each way (less than €1) and trains run regularly on Grand Prix weekend. You can purchase your ticket before you get on the train or buy from the conductor after you have set off. The trains are pretty old and hardly luxurious, but get the job done and within about 25 minutes, you will have arrived at the special Hungaroring stop which is only used on Grand Prix weekend. Alternatively, you can get off one stop earlier at Szilasliget or one stop later at Mogyoród.
After you get off the train, it's about a 30-40 minute cross-country walk to the track. Just follow the crowds, you won't get lost. Taxis are available as well if you don't fancy the walk, but make sure the driver uses the meter or agrees to a reasonable fare upfront. Be patient if you are using the train to get home on Sunday after the race; the trains can be overcrowded and uncomfortable at the busiest times.
> Free Grand Prix Bus
The organisers put on free buses to the circuit from the centre of  Budapest on Grand Prix weekend. As long as you have a valid ticket for the race, you can take the bus. In Budapest, the buses leave from the Volánbusz bus station on the Pest side of the Árpád bridge (Árpád híd). This is also a stop on the M3 (blue) metro line, five stops north of Deák Ferenc tér. The bus takes around 45 minutes, but doesn't actually get you to the circuit proper.
You will get dropped off in nearby Mogyoród (Templom tér), from where its around a 40 minute walk to the circuit. The service is pretty orderly and hassle free for most of the weekend, but you should be prepared to queue for the bus back to Budapest after the race on Sunday. You can find the timetable for buses to and from the circuit on the Hungaroring circuit website.
> Taxi
Official Hungarian Grand Prix taxi companies: Taxi 2000 (+36 12 000 000), 6 x 6 Taxi (+36 16 666 666), City Taxi (+36-1-2-111-111)
Fares from the city to the circuit used to be fixed price, but this is no longer the case. However, the following guide prices are given: 33 EUR from the center (Deák Square), 49 EUR from the airport. Use one of the official companies or you run the risk of paying a lot more (and the trip will take longer, see below).
At the circuit, there is a taxi stand next to the main entrance to the circuit (near turn 1). Official taxis use a special VIP access road, so are less likely to get stuck in traffic jams near the circuit and the total trip shouldn't take longer than around 30 minutes. If you are travelling as a group, or just tired and don't fancy the long walk to the bus or train, taking a taxi is a good choice.
> Helicopter
Planning to do the Hungarian Grand Prix in style this year? Several companies offer transfers from either downtown Budapest or the airport to the Hungaroring. Expect to pay €300-400 per person for a return helicopter transfer to the circuit. Details/bookings: Fly 4 Less or Hidroplan Nord
> Drive Yourself
The Hungaroring is located just off the M3 motorway which heads northeast out of Budapest. Don't forget that you will need to buy a pass to use the motorway, which is known as a vignette. A weekly pass costs around €10 and can be purchased at service stations. More details here. There is a 0% blood alcohol limit for driving in Hungary – do not drink and drive.
Access to the circuit is well signposted and the drive from central Budapest should only take around 20 minutes, but be ready for traffic delays, particularly when leaving the circuit on Saturday and Sunday. The roads around the circuit are narrow and were not designed to handle the volume of traffic the area experiences on Grand Prix weekend.
Trackside parking is free for ticket holders. Check the map opposite to see how to access the circuit and where the free parking is located. If you have purchased a minimum of 4 Super Gold tickets, then you are entitled to park in a special parking zone within the circuit and close to your grandstand.
General Advice on Getting Around in Budapest
Taxis
Taxis used to be a bit of a lottery in Budapest, with a big variation in rates between companies and lots of drivers out to fleece tourists. Luckily, things have improved since September 2013, when a new law came into force which regulates taxi fares. There is a new fixed tariff of 280 HUF per km ( €0.95/km) in addition to the one-off basic fee of 450 HUF ( €1.50. Look for licensed taxis (normally yellow) which have a clearly identified price list on the window.
Airport to the City
Bus nr 200E travels from Terminal 2 to Kõbánya-Kispest metro stop, which is the southern terminus of the blue M3 metro line. From there, you can reach Deák Ferenc tér, the main central interchange metro station. The total travelling time is around 40-50 minutes. You will need two individual tickets for each leg of the journey which cost 290 HUF (less than €1) each. An official Főtaxi airport taxi from the airport to central Budapest should cost around €20. Beware of unlicensed taxis at the airport. More information here. There's also an airport minibus, which offers a door-to-door service costing 3000 HUF (€10) one way or 5000 HUF ( €17) return. Look for the desk in the arrivals hall. More information here.
Budapest Metro & Public Transport
The metro is a great way to get around the city, and there are also trams, trolley buses and regular buses. If you are planning on using a lot of public transport when you are in town, it makes sense to purchase a travel card which is valid for either 24, 48 or 72 hours. There are two types of card to choose from:
> Budapest Travelcard, which is good for unlimited journeys on all forms of public transport within the city limits. Valid for 24 hours (1650 HUF / €5.50) or 72 hours (4150 HUF / €13.70).
> Budapest card, which offers the same benefits as the Travelcard, but also includes extras such as free entry to museums and the famous Szent Lukács Thermal Baths as well as lots of discounts. Valid for 24 hours (4500 HUF / €15), 48 hours (7500 HUF / €25) or 72 hours (8900 HUF / €30)
Single tickets on public transport cost 350 HUF (just over €1) and you can also buy a book of ten individual tickets for 3000 HUF ( €10). Don't forget to validate your ticket as the public transport inspectors in the city have a fearsome reputation and have been known to shake down tourists. Read more information about public transport in Budapest here.
You guide to buying tickets for the Hungarian Grand Prix. Where to sit and where to watch the action at the Hungaroring circuit.
Tags: access to hungaroring, budapest to hungaroring circuit, driving to hungaroring, free bus to hungaroring, getting around budapest, how to get to the hungaroring, train to hungaroring