Read our budget planner to help plan the cost of your F1 holiday to Suzuka for the Japanese Grand Prix. This year's race is on October 6-8, 2017.
In general, Japan is an expensive tourist destination. Whilst you can go to the Japanese GP on a budget, the cost of an F1 holiday in Japan can quickly add up, making the Japanese Grand Prix one of the more expensive destinations overall.
Main image courtesy Rob McAuley. Average costs are per person based on a stay of 3 nights in Nagoya on Grand Prix weekend with race tickets, accommodation, cost of getting to and from the circuit and spending money. The budget does not include flights (or other travel costs) required to reach Japan.
Cheap Charlie
Weekend cost approx $318 USD (35,500 JPY)
3-day Spoon corner (General Admission) ticket = $78 USD
Dorm bed at hostel in Nagoya (3 nights) =  $60 USD
Daily return train to circuit from Nagoya ($20 x 3) = $60 USD
Spending money ($40 x 3) = $120 USD
The Cheap Charlie stays in a hostel, buys the cheapest weekend ticket (General Admission),  takes their own food and drink to the race, doesn't drink alcohol trackside and either makes their own food away from the track or eats at budget restaurants such as McDonalds. If possible, the Cheap Charlie will look to eliminate the cost of accommodation altogether and either stay with friends or couchsurf.
Average Joe
Weekend cost approx $835 USD (93,200 JPY)
Mid-range grandstand ticket (3-days) = $250 USD
Mid-range hotel in Nagoya for 3 nights (per person, twin/double share) = $225 USD
Daily return Express train to circuit from Nagoya ($40 x 3) = $120 USD
Spending money ($80 x 3) = $240 USD
The Average Joe buys a low to mid-range Grandstand ticket for the weekend, stays in a 3-star hotel or apartment, buys food and drink trackside, and can afford a reasonably priced restaurant meal at night as well as a few drinks at the pub. Average Joe's budget doesn't stretch to anything more than the cheapest of the merchandise items on sale at the track.
Extravagant Eddie
Weekend cost approx $1955 USD (218,000 JPY)
V2 Upper (Pit Straight) grandstand ticket (3 days) = $680 USD
5-star hotel in Nagoya for 3 nights (per person, twin/double share) = $525 USD
Spending money, including private circuit transfers ($250 x 3) = $750 USD
The Extravagant Eddie buys the most expensive Grandstand seat on offer, stays in a decent hotel and goes out to some of the city's best restaurants and clubs. They will take taxis rather than public transport and spend up big on merchandise at the track. They may risk blowing their budget with a trip to the trackside Casino.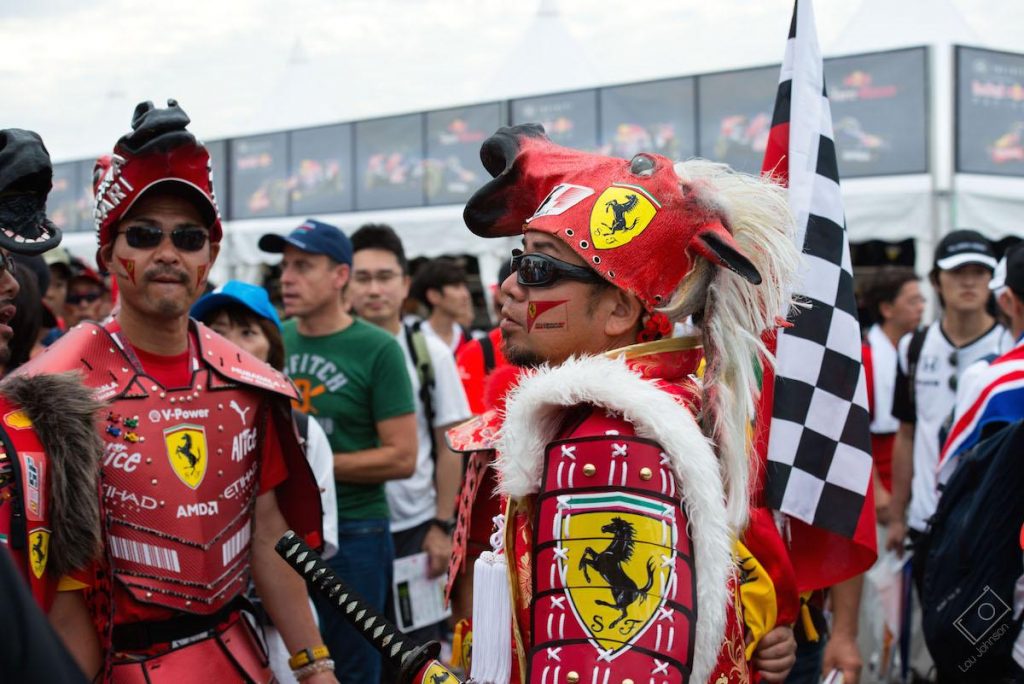 Click here for a breakdown of average daily travel costs in Japan? Have you been to the Japanese F1 Grand Prix at Suzuka? Add a comment below and tell us your tips on saving money!
Your trackside guide to the Suzuka circuit, home of the Japanese Formula 1 Grand Prix.
Tags: 2015 japanese grand prix, budget japanese grand prix, cost of japanese grand prix, how much cost trip to suzuka circuit, japanese grand prix holiday cost