Everything you need to know about attending Circuit Zandvoort for the 2022 Dutch Grand Prix on September 2-4.
The Editor attended the 2021 Dutch Grand Prix at Circuit Zandvoort. All images © F1Destinations.com
After an absence of 36 years, the Dutch Grand Prix finally returned to the Formula 1 calendar at Circuit Zandvoort in 2021. Despite being run with only 2/3 spectator capacity, the race was a huge success. The grandstands were packed with orange-clad Dutch fans, who went home happy after local hero Max Verstappen won the race for Red Bull Racing.
Despite being the first F1 race at Circuit Zandvoort since 1985, the organization was excellent. A very well executed mobility plan that encouraged fans to arrive at the circuit by bicycle or public transport, and banned most vehicles from the vicinity, is just one example of the creative thinking and excellent organization for which the Dutch are renowned.
The spectator zones at the circuit were also well planned, though the organizers were helped by the good weather experienced on race weekend this year – it would have been a very different story had it rained and the unsealed paths around the circuit had turned to mud! Some of the fanzone areas behind the grandstands (especially on the pit straight and in the Arena section) were also too narrow and became heavily congested at peak times, but no doubt there are plans to improve the overall spectator experience in 2022.
Circuit Zandvoort: Entry & orientation
Four entrance gates provided access to Circuit Zandvoort at the 2021 Dutch Grand Prix – see the circuit map above. With a larger attendance expected in 2022 (and General Admission zones open), it's likely that additional gates will be made available.
2022 Dutch Grand Prix Schedule
In addition to all the F1 action across the weekend, the support schedule at Zandvoort in 2022 will feature both Formula 2 and Formula 3. The full on-track schedule won't be released until around 4 weeks before race weekend, but we've published the expected F1 timings below.
11:30-12:30: Formula 1 free practice (FP1)
15:00-16:00: Formula 1 free practice 2 (FP2)
12:00-13:00: Formula 1 free practice 3 (FP3)
15:00-16:00: Formula 1 qualifying session
13:20-13:50: Formula 1 drivers' parade
15:00-17:00: 2022 Formula 1 Dutch Grand Prix (72 laps or 120 mins)

The main F1 Fanzone at Circuit Zandvoort is located behind the final corner – see map above. It's also very close to Gate 2, the main entry point for fans arriving from the train station in Zandvoort. As well as lots of food and drink outlets and all the usual interactive displays and merchandise stalls, there was also a large ferris wheel – rides cost €6 and provided excellent panoramic views of the circuit and coast. Plans to erect a large stage for concerts in 2021 were thwarted by local health regulations, but you can expect a bigger and better Fanzone in 2022.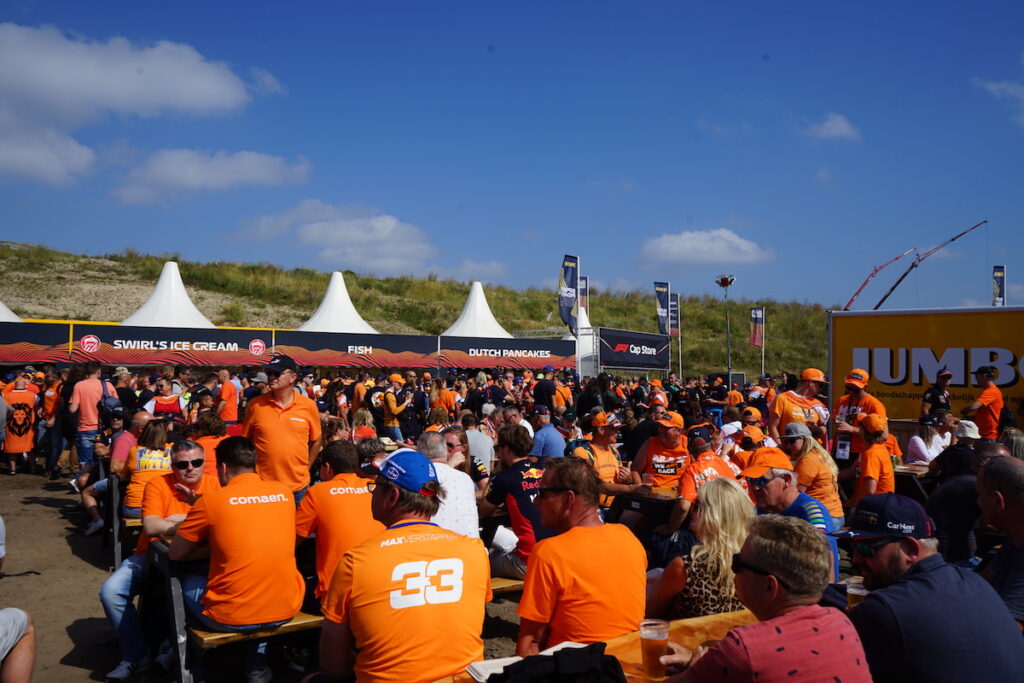 Food & drink at the Dutch Grand Prix
There was a good selection of food on offer at Circuit Zandvoort in 2021, though the queues at peak times were lengthy. As well as usual circuit fare like fries, sandwiches, hot dogs, fish and chips and burgers, the organizers also brought in specialist food trucks serving pizzas, Mexican and Asian cuisine. Drinks were priced at €5.25 for a large Heineken beer and €3.25 for mineral water and soft drinks. Free drinking water stations were also located around the fan areas.