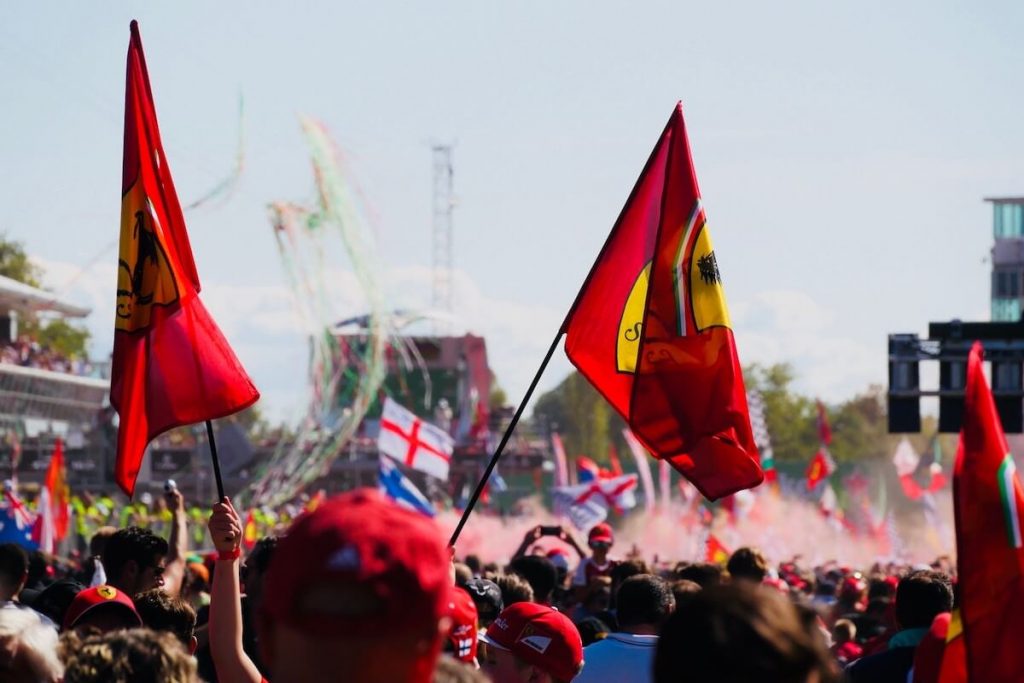 Get the most out of Monza at the 2021 Italian Grand Prix on September 10-12. Advice on entrance, trackside activities and things to see and do.
This guide will be fully updated for 2021 when the event schedule is available, normally around 1 month before race weekend. In the meantime, most of the information below remains relevant. All images F1Destinations.com. The Editor attended the 2014 & 2018 Italian Grand Prix.

The Monza circuit  is located within the 4th largest city park in Europe, measuring 688 hectares. Unless you are being whisked by private car to the Paddock Club, you'll cover a lot of ground on foot over the weekend; the distances from the shuttle drop-off points to the entrance gates are long, and you'll also have to walk to your seat inside the circuit. The experience for fans at Monza is a little disorganized and chaotic, but that's the Italian way and it's part of the historic circuit's charm.
Going General Admission? Bring along a fold-up chair and/or a picnic blanked to make your day a little more comfortable. Binoculars are a good idea, particularly if you are a long way from the big TV screen and want to stay up to date with lap charts and leaderboards. The weather is generally hot and sunny at Monza in the late Italian summer, and most grandstands are uncovered, so don't forget to bring a hat and sunscreen and to wear light, comfortable clothing.
Monza Access & Orientation
Read the Getting There & Around section of our guide for detailed information on how to get to Monza, including parking at the track. Monza is open from 07:00-20:30 (subject to change for security reasons) from Friday to Sunday on 2019 Italian Grand Prix weekend. Once you have arrived, seven gates (Ingresso A-G) provide access for fans to the circuit (click here to download the 2019 Monza map):
Gates A, G & F: on the eastern side of the circuit, closest to Parabolica. This is also the area where the shuttle buses drop fans off.
Gates B & C: on the south side of the circuit, closest to the stands on the pit straight and the opening Variante del Rettifilo.
Gate D: on the northwest corner of the circuit, close to the Lesmo corners and the Biassono train station. Not the greatest entry point if you are sitting in any of the grandstands, as you'll have a very long walk.
Gate E: on the north part of the circuit, this is the best entry point if you are sitting in any of the grandstands on the Ascari chicane.
What can you bring into the circuit?
Please note: no luggage storage services are available at Monza. All objects that will be considered not suitable for entry to the circuit will be destroyed and will not be returned to the owners. Click here for more information.
Not Allowed: blunt or dangerous objects, drugs, harmful and inflammable substance, poisons; fireworks, smoke bombs, rockets, laser pointers, stadium horns; spray cans (deodorant, mosquito repellent, etc.); bags or backpacks larger than 15 litres; luggage and trolley; Cans, metal and glass bottles; Plastic bottles larger than 500 ml; stiff flasks; alcoholic drinks; power banks; rigid rods; beach umbrellas; musical instruments; drones and control aircrafts; tents, sleeping bags; bikes, scooters, skateboards;
Allowed: plastic bottles of 500 ml without cap; camel-bags of 500 ml; plastic baby bottle for children; umbrellas for rain; tripods, unipods for cameras and selfie sticks; photo cameras and lens; flexible plastic rods for flags; laptop or other electronic devices (tablet, e-reader, …) – at the entrance, the control staff will ask to switch on the device and show how it works; pocket lighters; electronic cigarettes; chairs and stools; strollers; wheelchairs; dogs with muzzle and leash (we do not recommend access with pets due to the high noise); mosquito repellent products in cream or soft plastic containers with original packaging
Friday

09:35-10:20: Formula 3 practice
11:00-12:30: Formula 1 free practice 1
13:00-13:45: Formula 2 practice
15:00-16:30: Formula 1 free practice 2
16:55-17:25: Formula 2 qualifying
17:50-18:20: Formula 3 qualifying
18:45-19:30: Porsche Supercup practice
Saturday

10:30-11:15: Formula 1 3 first race
12:00-13:00: Formula 1 free practice 3
13:25-13:55: Porsche Supercup qualifying
15:00-16:00: Formula 1 qualifying
16:45-17:50 Formula 2 first race
Sunday

09:30-10:15: Formula 3 second race
10:50-11:40: Formula 2 second race
12:05-12:40: Porsche Supercup race
13:30-14:00: Formula 1 Drivers' Parade
14:00-14:15: Starting Grid Presentation
14:57-14:59: Air Display – Frecce Tricolore TBC
15:10-17:10: Italian Grand Prix

17:10 (approx): Podium Ceremony
Monza Facilities
Monza is a historic track and hasn't received the investment it probably needs for upkeep. This means that the facilities are a little tired, but the picturesque park surroundings go a long way to making up for this. The toilets are mainly of the portable variety, but they are kept fairly clean and queues are infrequent, except at peak times on race day. There's also a fan village behind the pit straight grandstands with live music, displays and merchandise on sale, check out the pictures below.
The Old Banked Circuit at Monza
You can't visit Monza without checking out the historic banked circuit which still surrounds the current circuit. Access is supposed to be off-limits, but this is Italy and there are plenty of spots where you can sneak through the fence and take a look. The best time to do this is earlier in the weekend before the crowds descend and there is more security (e.g. on Thursday, when the fan's pitlane walk is on). A good place to enter is on the section at the eastern end of the circuit, close to the Parabolica.
Food & Drink at Monza

If you are on a budget, visit a shop before you head to the circuit to stock up on food and drink, but remember you cannot bring any glass, cans or alcohol. Being Italy, the food and drink on offer at Monza is better than at other circuits, but still overpriced. There are food and drink stalls located all around the circuit and prices vary. If you want to save a few Euros, there are also cheaper food and drink stalls just outside the circuit and passouts are available (near the Vedano gate, closest to Parabolica, for example).
Been to Monza? Share your trackside tips below!