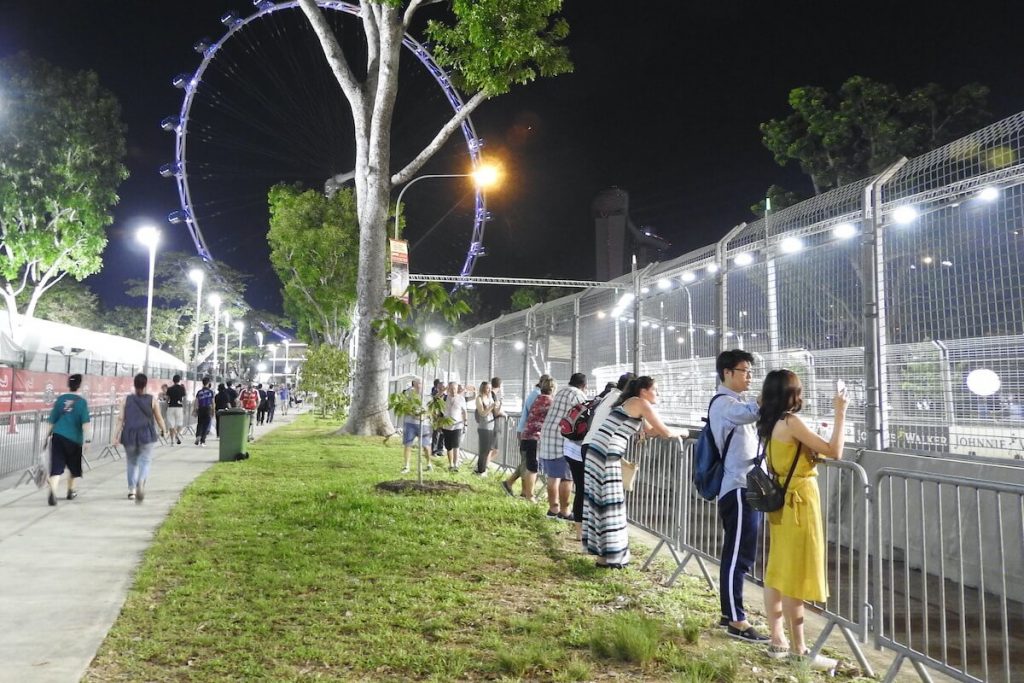 Get the most out of your trackside experience at the Marina Bay Street Circuit during the 2022 Singapore Grand Prix.

The 2021 Singapore Grand Prix (scheduled for October 1-3) has been cancelled "due to ongoing safety and logistic concerns brought about by the COVID-19 pandemic." Tickets had not yet gone on sale for the event. It's the second year in succession that the Singapore Grand Prix will not take place. As the current race contract expires this year, the return of the Singapore Grand Prix in 2022 is dependent on the signing of a new contract with Formula 1. Read the statement from the organizers.
More like a rock festival than a Formula 1 race, it's no wonder Singapore has firmly cemented itself as a fan's favorite since joining the F1 calendar in 2008. The trackside atmosphere at Marina Bay is electric and the organizers put on an big show which goes a long way to justifying the high ticket prices, including A-list concerts and a spectacular fireworks display after the race has finished.
Be prepared!
It's hot and humid in Singapore. Dress in light, loose clothing (leave your jeans at home), pack an extra top if you are prone to sweating a lot, and wear comfortable shoes. Don't forget to check the weather forecast for any signs of rain, as late afternoon storms are not uncommon at this time of year in Singapore.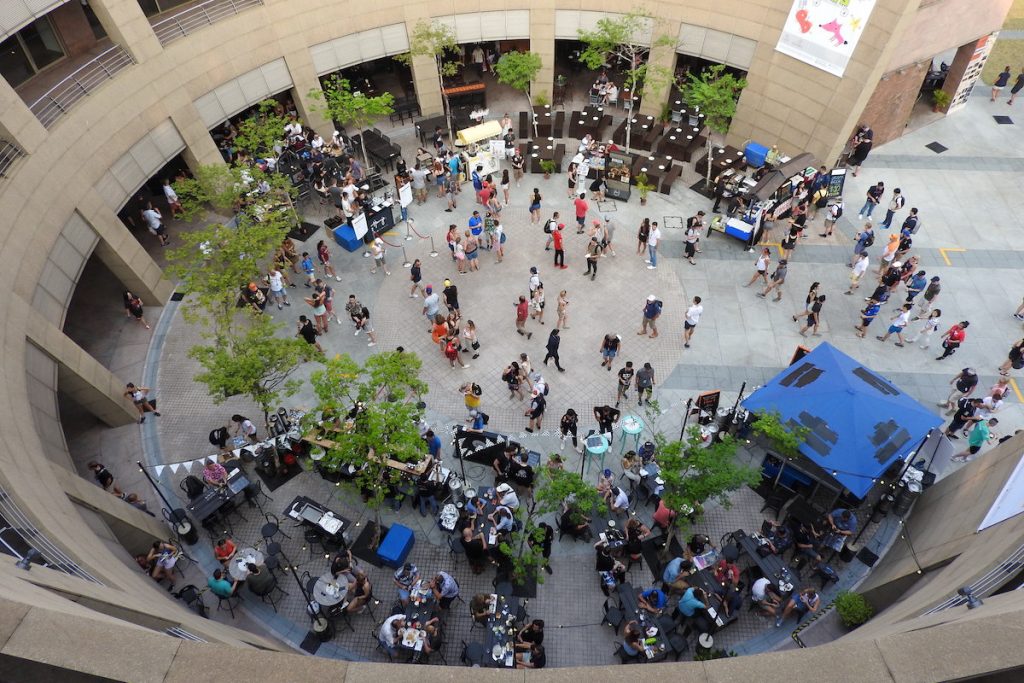 Access & Orientation
Download the Singapore Grand Prix app
Check the 2019 Marina Bay Street Circuit map
The circuit is open from 2:25pm to midnight on Friday and Saturday, and 3:30pm to 12:10am on Sunday.
There are ten access gates, each of which has an express lane if you are entering without a bag. If you are carrying a bag, you will need to queue to have it examined. Leave large items such as folding chairs are not permitted in the circuit. Food and drinks are also not permitted, apart from one plastic bottle of water or soft drink up to 600ml in size. See Clause 8 here for the full list of prohibited items.
Singapore is unique on the current Formula 1 calendar for the way in which the circuit is divided into four zones. Some tickets provide entry to all zones, whilst other tickets only provide entry to one zone. If you are also keen to see a particular concert, ensure that your chosen ticket provides access to the zone where the concert will be held. More entry about the different zones at Marina Bay is in the Tickets section of our guide.
Read our Getting Around guide for more information on the best way to get to the circuit, including the closest metro (MRT) station and recommended entry gate for your grandstand.
Singapore Grand Prix Schedule
In addition to around 6 hours of F1 action, Marina Bay hosts other minor racing series like the Porsche Carrera Cup Asia and Ferrari Challenge Asia Pacific. There's no other single-seat racing apart from Formula 1, which is a little bit disappointing. The schedule from the 2019 Singapore Grand Prix is included below for reference.
Friday

14:25-14:55: Ferrari Challenge (Practice)
15:15-15:45: Porsche Cup (Practice)
16:30-18:00: Formula 1 (Free Practice 1)
19:15-19:45: Ferrari Challenge (Qualifying)
19:30-20:30: Toots & the Maytals (Wharf Stage/Zone 1)
20:30-22:00: Formula 1 (Free Practice 2)
22:15-23:45: Swedish House Mafia (Padang Stage/Zone 4)
Saturday

14:55-15:25: Porsche Cup (Qualifying)
15:50-16:20: Ferrari Challenge (Race 1)
16:45-17:20: Porsche Cup (Race 1)

18:00-19:00: Formula 1 (Free Practice 3)
19:15-20:45: Fatboy Slim (Wharf Stage/Zone 1)
19:45-21:00: Gwen Stefani (Padang Stage/Zone 4)

21:00-22:00: Formula 1 (Qualifying)
22:15-23:45: Muse (Padang Stage/Zone 4)
Sunday

15:50-16:20: Ferrari Challenge (Race 2)
16:45-17:20: Porsche Cup (Race 2)
17:45-19:15: Fatboy Slim (Padang Stage/Zone 4)
18:30-19:00: F1 Drivers' Track Parade
19:00-19:15: Starting Grid Presentation
18:00-19:30: Hans Zimmer (Wharf Stage/Zone 1)
20:10-22:10: SINGAPORE GRAND PRIX

22:30-24:00: Red Hot Chili Peppers (Padang Stage/Zone 4)

Concerts & Entertainment
Marina Bay feels more like a music festival than a motor race at times! You'll find multiple stages around the circuit plus roving performers from all over the world, including illusionists, theater and circus-cabaret acts. The main Padang stage in Zone 4 hosts the biggest headline concerts which close out the program on all three days of the weekend: Swedish House Mafia on Friday, Muse on Saturday and Red Hot Chili Peppers on Sunday. Padang also features earlier concerts from Gwen Stefani and Fatboy Slim on Saturday and Sunday respectively. The smaller Wharf stage in Zone 1 also hosts concerts from Toots & the Maytals, Hans Zimmer and other artists over the weekend. A whole host of other acts are set to appear this year on multiple other stages this year; read more here.
Food, Drink & Amenities at Marina Bay

Food and drink stalls are dotted around the circuit, with the biggest concentration in the Padang area of Zone 4 and near the Singapore flyer in Zone 1. Look out for the 'hawker' villages which sell a range of tasty Asian fare, including satays, noodles and curries. Prices are reasonable at around $10-15 SGD for a plate of food. A large beer will set you back around $12 SGD, cheaper than at the majority of bars outside the circuit, whilst 500ml soft drinks cost around $4-5 SGD. Here's some recent trackside menus: example 1, example 2, example 3, example 4.
If you are on a budget, there are plenty of cheaper outlets for food and drink just outside of the circuit if you want a quick break, some of which are air-conditioned. Just remember you can't bring back any food or alcohol back into the circuit. There are even a few regular supermarkets where you can stock up within the circuit, including near the Singapore flyer in Zone 1. Toilets are mostly of the portable type, but they are clean and queues are uncommon, even on race day.
Been to the Singapore GP? Tell us your trackside tips in the comments.