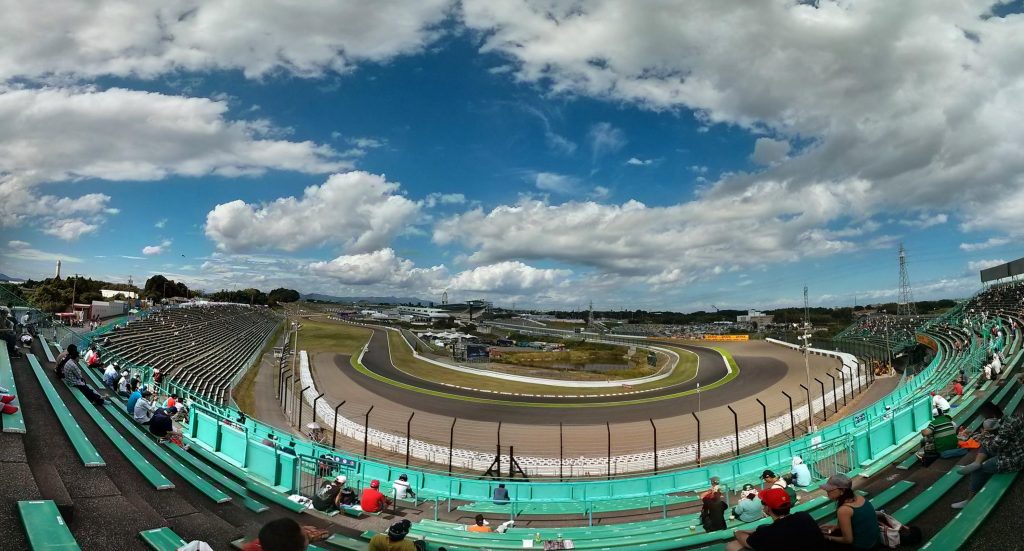 Your guide on where to sit at the Suzuka Circuit for the 2018 Japanese Grand Prix on October 5-7. Advice on buying Japanese F1 tickets for all budgets.
Tickets for the 2018 Japanese Grand Prix are not yet on sale; we expect sales to commence in March. This guide will be updated after tickets go on sale. Many thanks to Rob McAuley for his advice in preparing this guide and for letting us use some of his Suzuka images
With 3-day tickets starting at under $100 USD and Free Friday (open seating on all grandstands for the first day of action), Japan offers real value to the F1 fan. Ticket prices are also down across the board for 2017, in most cases by around 10%. Remember that the Japanese Grand Prix is a popular event and the best value grandstands do sell out well in advance, so it pays to plan ahead for your trip to Suzuka.
The organizers have staggered the launch of ticket sales for 2017 based on the following dates:
March 12: Family tickets on sale
March 19: Grandstand tickets V, A, B, C on sale
March 26: Grandstand tickets D, E, I, Q, R on sale
July 9: General Admission, West area tickets on sale
2017 Suzuka F1 Tickets & Prices
Grandstand
Zone
Price in $USD
Grandstand V1 Lower
Zone 1,2,3
$555
Grandstand V2 Upper
Zone 1,5
$609
Zone 2,3,6,9
$573
Zone 4,8
$645
Zone 7,10,11,12
$680
Stand A1
$367
Stand B1 Lower
$385
Stand B2 Upper
Zone 1,2,3
$511
Stand C Lower
Zone 1,2,3
$250
Zone 4,5,6
$287
Stand D
Zone 1,2,3
$161
Zone 4,5
$331
Stand E
Zone 1
$125
Zone 2
$260
Stand I
$313
Stand Q1 Lower
$260
Stand Q2 Upper
Zone 1,2,3
$430
Stand R
$394
G,L,M,N,O (General Admission)
Free Seating
$78
Need to know
Suzuka operates "Free Friday", which means you can sit in any grandstand you wish on Friday, with the exception of the most expensive V2 upper grandstands.
Individual seats are only available in the main grandstand (V1 and V2). All other grandstands offer bleacher style seating without backs; bring a cushion!
Family seats are available in Grandstand S (just after the final turn), but the views from this grandstand are not recommended. If you are bringing children, we purchase a child's ticket (for ages 3-15) for your chosen grandstand instead. They are reasonably affordable at around $40-80 USD for 3 days.
Our Top 5 Suzuka Grandstands
Grandstand B (1-2) on the opening corner, great for the start and lots of passing activity
Grandstand Q (1-2) on the chicane before the last corner, an opportunity to see the cars take the low speed chicane before the end of the lap
Grandstand D (Zone 5 is best) at the beginning of the 'S' curves with excellent panoramic views of the first section of the circuit.
Grandstand C (Lower or Upper, any zone) is a good mid-range grandstand on the exit of turn 2, always sells out quickly
General Admission tickets! Not a grandstand at all, but free seating in five separate areas around the Spoon Curve (G,L,M,N,O) including access to all grandstands on Friday.
Main Straight Suzuka Grandstands (V1-2, A1-2)
As with most Grands Prix, the main straight grandstand tickets are the most expensive at Suzuka. They are good for pits action, the race preparations, start and podium. If you want to see on-track action such as passing, choose another place to sit. The large permanent grandstand opposite the pits is covered (unlike most grandstands at Suzuka, which are exposed to the elements) and is comprised of two main sections, V1 and V2, plus different zones. The V1 tickets are the cheapest and occupy the lower, less elevated part of the grandstand. The highest of the V2 seats (Zones 10-12) are best. The uncovered A grandstand is located closer to turn 1 and is a good mid-range choice at Suzuka.
First & Second Corner Suzuka Grandstands (B&C)
Two large grandstands – B & C – wrap around the first and second corners at Suzuka. Both grandstands have a cheaper lower section and more expensive upper section. Grandstand B offers better views and is more expensive. The views from Grandstand C are still good however and it's a popular, more affordable grandstand. The panorama views of grandstand B can be seen in the main image for this tickets guide.
'S' Curve & Dunlop Corner Suzuka Grandstands (D&E)
The D grandstand is located next to the 'S' curve and is divided into 5 zones. The best (and more expensive) are Zone's 4 & 5. If you can get a seat high up in one of these stands, you'll get an excellent panoramic view from the opening corner through the 'S' curve and down to Dunlop corner. Grandstand E faces Dunlop Corner; the cheap price is an indicator that not much happens at this corner.
Hairpin Curve Suzuka Grandstands (I&J)
Grandstand I is located on the outside of the track after the hairpin, a low-speed corner where there is always overtaking during the race. It's a good vantage point and sells out quickly. The cheaper Grandstand J is on the inside of the track at the following turn 12 and offers a view of the cars at high speed; there are better grandstands to choose from at Suzuka.
Spoon Corner General Admission (Free Seating G, L, M, N, O)
There's lots of general admission areas around the Spoon Corner and 130R, including both grandstands with unreserved seating and grassy hills where you can watch the action. If you have chosen a General Admission ticket, we recommend you walk around and check out the different vantage points on Friday and Saturday to identify the spot where you would like to watch the race. Just don't forget to get there early on Sunday to reserve your spot!
Chicane & Final Corner Suzuka Grandstands (Q&R)
The grandstands on the chicane and final corner are always popular, particularly the cheaper Q1 Lower seats, which always sell out quickly. The panoramic views from the grandstands are excellent (particularly Q2 Upper) and you also get to see the cars enter the pitlane. Recommended!
Click here to buy tickets. Have you been to the Japanese Grand Prix at Suzuka? Leave a comment below and tell us where you watched the action.
The best things to do away from the track for F1 fans going to the Japanese Grand Prix at Suzuka, near Nagoya.
Tags: advice on buying tickets to japanese grand prix, best grandstands suzuka f1 circuit, best prices japanese f1 tickets, best suzuka grandstands, cheap japanese grand prix tickets, cheap suzuka f1 tickets, full-image, japanese grand prix tickets, where to sit at japanese grand prix, where to sit suzuka