Your trackside guide to Suzuka, home of the 2019 Japanese Grand Prix on October 11-13.
This guide will be updated around 1 month before race weekend after the full weekend schedule is available. In the meantime, all information below relates to 2018.
With so much recent F1 history and an incredible atmosphere courtesy of the fervent local fans, a trip to the Suzuka circuit is on the bucket list for many F1 fans. The circuit is a little out of the way, but the trip is worthwhile. Just pay attention to our tips below and come prepared! The good news is that the Suzuka website has been recently upgraded with lots of useful information in English for fans visiting the track; we have included plenty of links to relevant pages below.
Be prepared for a day at Suzuka
It's worth getting organized before travelling to Suzuka. Aside from food and expensive F1 merchandise, there are no shops or ATMs at the circuit or the Suzuka Inou train station. (There are shops and ATMs at the Shiroko train station, but opening hours are limited and you may not get what you need.) Make sure you have sufficient cash, as well as other useful items such as sun cream, a hat, umbrella or wet weather gear. You'll be walking a lot at Suzuka, so be sure to wear comfortable shoes.
Entrance & Orientation
The Japanese are a polite, law abiding race of people. Read about Better Manners 'for a more pleasant spectator experience' at Suzuka including a list of prohibited items at the circuit. Eight entrance gates provide access to the circuit (see map). It pays to check the closest entry gate to your grandstand or you may have a substantial walk of up to 3km. The main gate is closest to the grandstands on the final corner (Q1-2, R, S) and pit straight grandstands (V1, V2). 
2018 Japanese Grand Prix Schedule
The support program at the Japanese Grand Prix has been disappointing in recent years. Aside from around 6 hours of F1 action, the only other competitive racing series on track this year comes from the Porsche Carrera Cup Japan. The schedule for 2018 also features Formula 1 Pirelli Hot Laps and special demonstration laps from legendary F1 cars and drivers to celebrate the 30th anniversary of the Japanese Grand Prix at Suzuka.
Thursday, October 4

09:00-11:30: Pitlane Walk for 3-day ticket holders (last entrance 11:15)
09:00-12:30: Home Straight Walk (last entry 11:30)
15:00-15:30: Formula 1 Pirelli Hot Laps
16:30-17:30: Driver's Autograph Session (entry only for lottery winners)
Friday, October 5
10:00-11:30: Formula 1 (Free Practice 1)
11:55-12:40: Porsche Carrera Cup Japan (practice)
14:00-15:30: Formula 1 (Free Practice 2)
16:00-16:30: Legend F1 30th Anniversary Laps
Saturday, October 6
10:45-11:15: Porsche Carrera Cup Japan (qualifying)
12:00-13:00: Formula 1 (Free Practice 3)
13:50-14:10: Formula 1 Pirelli Hot Laps
15:00-16:00: Formula 1 (qualifying)
16:30-17:15: Legend F1 30th Anniversary Lap
18:15-20:00: Pit Lane & Home Straight Walk
Sunday, October 7

10:25-10:45: Legend F1 30th Anniversary Lap
11:10-11:45: Porsche Carrera Cup Japan (10 lap race)
12:00-12:20: Formula 1 Pirelli Hot Laps
12:30-13:00: F1 Drivers' Track Parade
13:00-13:15: Starting Grid Presentation
14:10-16:10: 2018 Japanese Formula 1 Grand Prix
Trackside Activities
The organizers put on lots of additional activities for fans at Suzuka. Here's a rundown of the best events happening this year:
Pit Walk & Home Straight Walk on Thursday, October 4: more info
Drivers' Runway on Thursday, October 4 (lottery to get closer to the F1 drivers): more info
Night Pit & Home Straight Walk on Saturday, October 6: more info
Drivers' Talk Show, all days (interviews with F1 drivers on the main stage in GP Square): more info
F1 Infield Passes are already sold out for 2018 (these allow fans to get closer to the F1 Paddock entrance, and to also view the display of historic F1 cars.
Food & Drink
There is a good selection of food and drink available at Suzuka with reasonable prices. Expect to pay 150 yen for water ($1.20 USD), 250 yen for other drinks ($2 USD), 500 yen for beers ($4 USD) and a similar amount for food items. Choose from Japanese or Western food, including noodles, rice dishes and hamburgers. The best food choices are behind the main grandstand, but there are smaller concessions around the circuit.
Ferris Wheel & Special Stage
Three-day ticket holders get free rides on the iconic Ferris Wheel at Suzuka and it's a must-do at the circuit. The views are spectacular, even if there is no on-track action at the time. Thursday is probably the best day to take a ride, as there are no queues. The GP Square area behind the main grandstand is the center of activity on Grand Prix weekend. In addition to being the place to go for the best food, drink and merchandise, there is also a stage with concerts.
Been to Suzuka? Leave a comment with your trackside tips!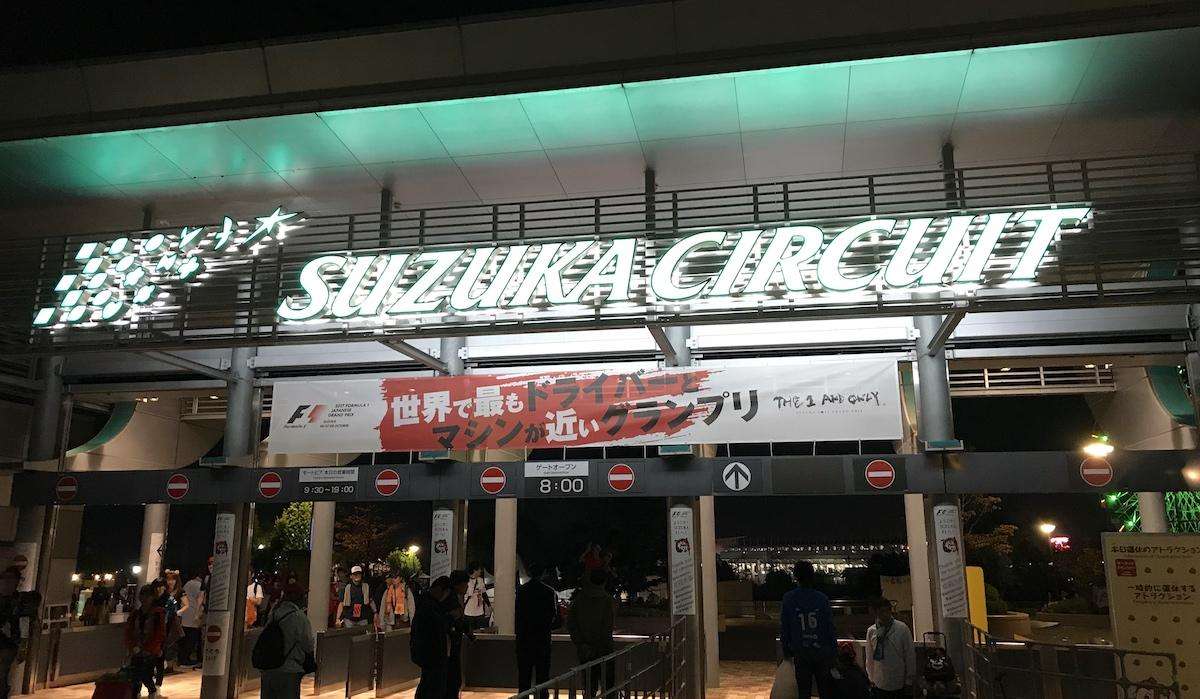 The best ways to get to Japan and the Suzuka circuit for the Japanese Grand Prix.
Tags: 2019 japanese grand prix, at the track japanese grand prix, food drink japanese grand prix, food drink suzuka f1, full-image, suzuka circuit information, trackside japanese grand prix