Detailed information and advice for your weekend at the 2021 Monaco Grand Prix, which is scheduled for May 20-23.
Please note: This guide will be fully updated when the full on-track schedule for the 2021 Monaco Grand Prix is available, normally around one month before race weekend. In the meantime, much of the information from 2019 below is still relevant.
Monaco is the only circuit on the calendar to hold the first two Formula 1 practice sessions on Thursday, rather than Friday, which gives the weekend schedule a very different appearance. Circuit entry is free on Friday and whilst there's no F1 action, it's still worth going along for the Formula 2 feature race. Other support categories at Monaco are the Formula Renault Eurocup and the Porsche Mobil1 Supercup.
Given that the Monaco circuit is located on the cramped streets of a functioning city, access is a little different than at other F1 races. The circuit itself is closed to traffic and pedestrians each morning on Grand Prix weekend between 6-8am, then reopened after the on-track finishes, between 19:30-20:30 (apart from Friday when the track is opened earlier.)
When the track is closed, ten entry gates provide access. (See below for recommended entrance gates for each grandstand). Inside the circuit, a series of bridges, walkways & tunnels provide access to the grandstands as well as bars, restaurants and hotels. Ample signage will help you find the way. Access to some bridges and tunnels is restricted to fans holding a ticket for the grandstands in that section.
2021 Monaco Grand Prix Schedule (Expected)
Thursday, May 20
06:00: Track Closed
08:00-08:45: Formula Renault practice
09:15-10:00:  Formula 2 practice
11:00-12:30: Formula 1 practice (FP1)
13:20-14:00: Formula 2 qualifying
15:00-16:30: Formula 1 practice (FP2)

17:15-18:00: Porsche Supercup practice
19:30 Track Opens
Friday, May 21
06:00 Track Closed
07:55-09:03: Formula Renault qualifying
10:00-10:30: Porsche Supercup qualifying
11:30-12:35: Formula 2 race one (42 laps / 60 mins)
13:00-13:30: Renault celebration laps
14:00-17:00: Driver Interviews & Autograph Sessions (MGP Live Fanzone, Place d'Armes)
14:30: Track Opens
Saturday, May 22
08:00: Track Closed
10:00-10:30: Formula Renault first race (25 mins + 1 lap)
12:00-13:00: Formula 1 practice 3
15:00-16:00: Formula 1 qualifying
17:20-18:10: Formula 2 second race (30 laps / 45 mins)
19:30: Track Opens
Sunday, May 23
08:00 Track Closed

10:30-11:05 Porsche Supercup race (16 laps / 30 mins)
12:00-12:30 Formula Renault second race (25 mins + 1 lap)
13:40-14:00: Formula 1 Drivers' Track Parade
15:10-17:10: 77th Grand Prix de Monaco (78 laps or 2 hours)
20:30: Track Opens
Entry to the track and grandstands is FREE on Friday. There's no F1 action, but all three support categories are on track in the morning. The highlight is the Formula 2 feature race, which begins at 11:30. Get there early if you are keen to bag yourself a grandstand seat (especially in one of the smaller grandstands), as 'full is full.' The track is opened around 14:30. This is a great opportunity to do a proper track walk, or participate in the Pit Lane Walk.
Grandstands Entrance Gates
Gate 1: Le Rocher (General Admission)
Gate 2: Grandstands N, O, P, V
Gate 3: Grandstands T, X
Gate 4: Grandstand L
Gate 6: Grandstand K4-K6
Gate 7: Grandstands A, A1 and Z1
Gate 8/9: Grandstand B
Gate 10: Grandstand C
Trackside Entertainment at the Monaco Grand Prix
The trackside atmosphere at Monaco is fantastic and there is plenty to do in the principality, particularly when the on-track action has finished for the day. The main fanzone (known as MGP Live) with interactive displays, big screen and more is located next to Place D'Armes. It's definitely worth staying around after dark as Monaco comes alive on Grand Prix weekend with a great party scene, much of it on the streets. The main entertainment hub can be found in the Harbor area, where the best bars and restaurants, not to mention the super yachts, are located. Even if you don't know the right people to get into the VIP parties, spending a few hours on Friday or Saturday night in Monaco is an experience not to miss. Make sure you don't leave Monaco before you have had a drink at the famous La Rascasse bar on the corner of the same name near  the pits entrance. Click here for a selection of Monaco's best drinking spots.
Monaco Grand Prix Pit Lane Walk
The Pit Lane Walk takes place on Friday afternoon after the track is opened at 14:30. Entry is from the pit exit on the main straight. It used to be easy enough to join the Pitlane Walk without a weekend ticket, but the organizers have recently tightened the entry requirements, so don't forget to bring along your Saturday/Sunday tickets. It's still possible you can get in without a weekend ticket, but we cannot guarantee it. As with everything at Monaco, there is not too much room in the Pit Lane and you can expect serious overcrowding, especially in front of the top teams' garages and when the drivers are about.  If you don't like overcrowded spaces, we recommend giving this particular activity a miss.
F1 Drivers' Autograph Sessions
Autograph sessions and interviews with the drivers take place on Friday afternoon from 14:00-17:00 in the MGP Live Fanzone on Place d'Armes. Entry is FREE, no race ticket required. The schedule of driver appearances will be available a few days before the race weekend – we will update this page then.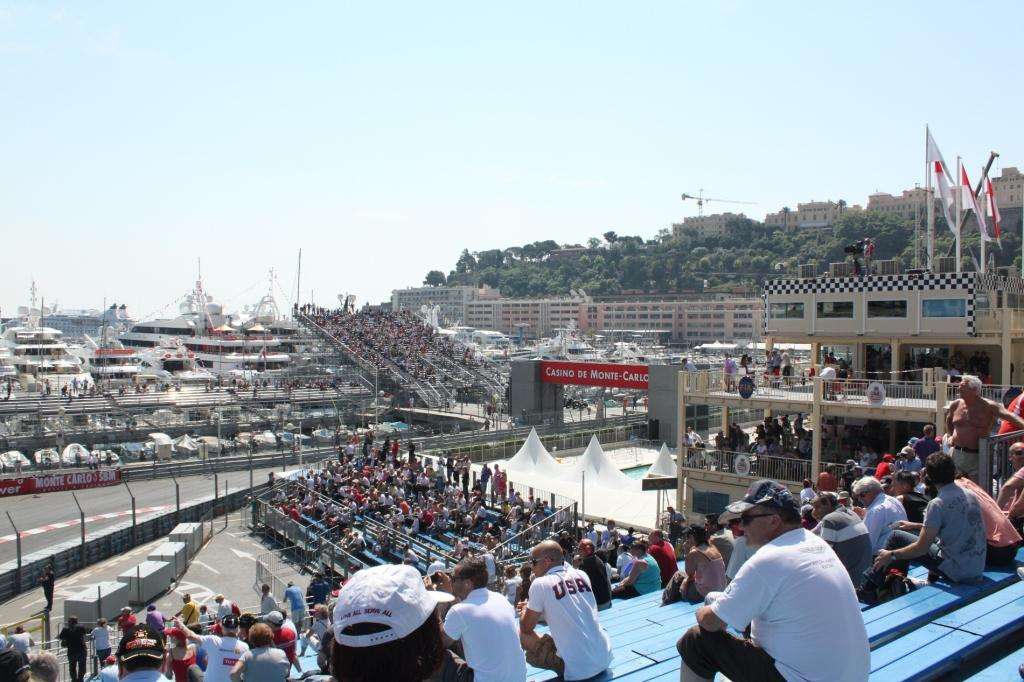 Amenities
It's no problem to bring your own food and drinks into the circuit if you wish, but don't bring any glass bottles. The quality and choice of trackside food stalls is not too bad in Monaco. Most grandstands have reasonably-priced catering stalls nearby. You'll pay around €5-6 for a large beer and a similar amount for a baguette or similar. Don't forget you are in a city, so supermarkets, cafes, restaurants and bars are located all around the circuit. If the Monaco prices are beyond your budget, there are cheaper places to each further from the action, especially "over the hill' in Fontvieille. Both temporary and permanent toilet facilities are also dotted around the circuit, though you'll need to queue at peak times.
Monaco Grand Prix Parking
If you are staying with most other fans outside the principality, we recommend taking the train to Monaco on Grand Prix weekend. each day. If you do decide to drive yourself, then Thursday and Friday are the best days to do this, when there are less fans and less traffic. (We don't recommended driving on the weekend.) There's underground carparks aplenty close to the circuit, but it's a good idea to pre-book to be sure of a space in your preferred location. We recommend parking at the Stade Louis II football stadium in the Fontvieille area of the principality (click here for map link). A day of parking costs around €20 and you shouldn't have trouble finding a space, even on race day.
Been to the Monaco Grand Prix? Leave a comment with your trackside tips!