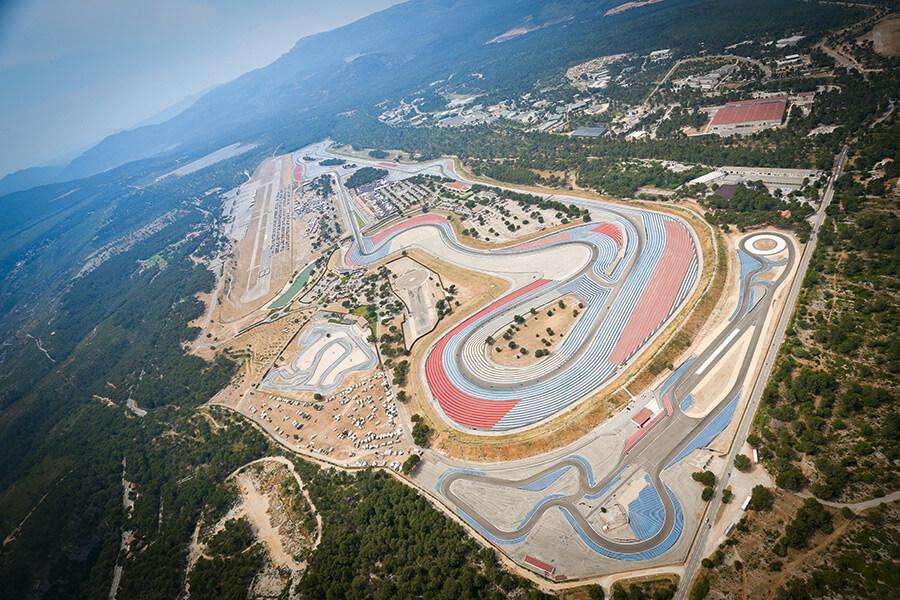 Your trackside guide to Circuit Paul Ricard for the 2019 French Grand Prix on June 20-23.
This page will be fully updated approximately one month before race weekend when the full on-track schedule is available.
Formula 1 returns to Circuit Paul Ricard this June for the first time since 1990! The circuit itself may be state of the art, featuring distinctive blue and red run off areas and multiple configurations, though it has been some time since an event of this size was held at the circuit and pre-event information for fans has been slow to arrive and incomplete.
Six gates provide access to the circuit, see map below. If possible, enter via the gate closest to your grandstand.
The opening and closing times for the parking and the circuit are listed below.
Entry requirements: only one small bag per person allowed. Prohibited items: Weapons and sharp objects / Explosives, inflammable substances, fireworks, flares and pyrotechnics / Glassware / Fire / Animals, except guide dogs / Any alcoholic beverage / Drones / Laser pointers. (Folding chairs and umbrellas will be allowed.)
Trackside parking is available and costs €45 for 3 days.
More information about getting to the circuit can be found in Getting There & Around.
ON-TRACK ACTION AT THE 2018 FRENCH GRAND PRIX
A healthy support program has been put together for the 2018 French Grand Prix, including Formula 2, GP3 and Masters Endurance Legends. All three support categories will have practice, qualifying and two races over the course of the weekend. The Masters Endurance Legends field is comprised of cars from Le Mans and sportscar events from the period 1995-2012; a nice addition given that the Le Mans 24 hours runs on the weekend before the French Grand Prix.
2018 FRENCH GRAND PRIX SCHEDULE
Friday, June 22
09:00-09:25: Masters Endurance Legends practice
10:25-11:10: GP3 practice
12:00-13:30: Formula 1 practice (FP1)
13:55-14:40: Formula 2 practice
16:00-17:30: Formula 1 practice (FP2)
17:55-18:25: Formula 2 qualifying
18:50-19:20: GP3 qualifying
Saturday, June 23
09:30-09:55: Masters Endurance Legends qualifying
11:30-12:15: GP3 first race (20 laps / 40 mins)
13:00-14:00: Formula 1 practice (FP3)
16:00-17:00: Formula 1 qualifying
17:45-18:50: Formula 2 first race (30 laps / 60 mins)
19:15-19:40: Masters Endurance Legends first race (TBC laps / 20 mins)
Sunday, June 24
09:25-09:50: Masters Endurance Legends second race (TBC laps / 20 mins)
10:50-11:25: GP3 second race (15 laps / 30 mins)
12:00-12:50: Formula 2 second race (21 laps / 45 mins)
13:25-13:40: Renault Passion Parade
14:30-15:00: F1 Drivers' Track Parade
15:00-15:15: Starting Grid Presentation
16:10-18:10: Formula 1 Pirelli Grand Prix de France 2018 (53 laps / 120 mins)
FRENCH GRAND PRIX: GOOD TO KNOW
An F1 Festival will be held in nearby Marseille on the weekend of the French Grand Prix. On Friday (June 22), the free F1 Live event features F1 demonstration runs and a parade of 14 historic cars celebrating 120 years of the Renault brand. Learn more on F1.com.
After the race, French DJ David Guetta will be headlining a trackside concert that is due to kick off at 18:30.
F1 Fanzone: head behind the Main Grandstand for the best merchandise, simulators and interactive displays.
Village Sud: replica of a southern French village, next to the F1 Fanzone
Xtrem Park: gokarts, mini quds, zipline and other thrill seeking pursuits, next to Le Beausset
Funfair: various rides, located next to the Chicane
France was the birthplace of modern Grand Prix racing over 100 years ago, but until 2018 it had been a decade since the last French Grand Prix. Paul Ricard returned to the calendar last season after a 25 year absence.
Tags: 2018 french grand prix, 2018 french grand prix program, circuit paul ricard, french grand prix, full-image, le castellet, paul ricard