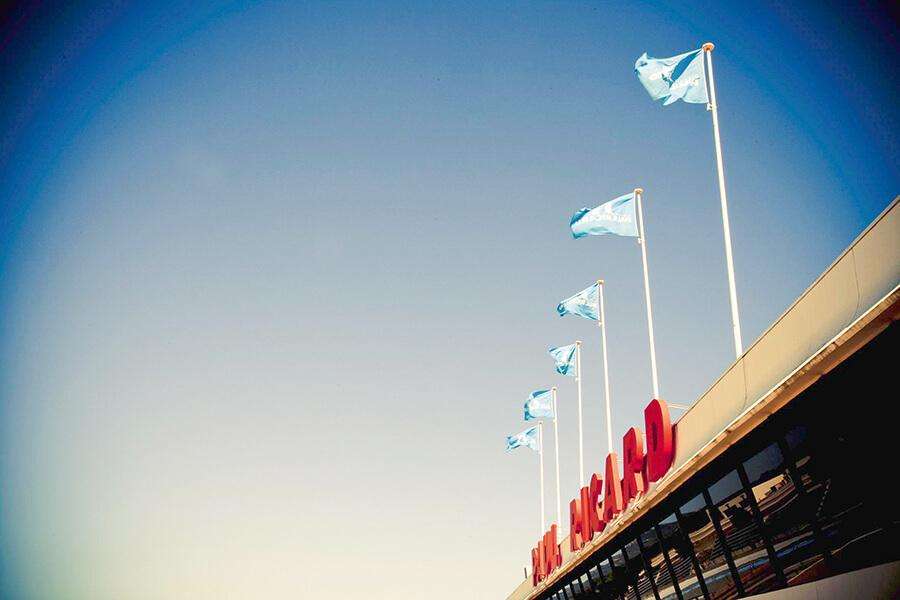 How to get to Le Castellet and the Paul Ricard circuit for the 2019 French Grand Prix on June 20-23.
The triumphant return of the French Grand Prix this year was tainted for many fans by significant delays getting into and out of the Paul Ricard Circuit on race weekend. Let's hope that the organizers have put in place proper solutions for 2019 to improve the situation. This page will be updated when more information becomes available for the 2019 French Grand Prix.
Join our closed Facebook group Going to the French Grand Prix at Paul Ricard to ask travel-related questions, connect with fellow fans and plan joint journeys to the circuit.
FLIGHTS TO CIRCUIT PAUL RICARD
The Paul Ricard circuit is approximately 40km east of Marseilles, France's second biggest city, in the direction of Toulon. If you own or have access to a private jet, then you are in luck. The Paul Ricard circuit complex includes the private Le Castellet Airport. The rest of us need to fly into one of the larger airports nearby served by international carriers:
The best airport to fly into is Marseille Provence (MRS), approximately 65km from Paul Ricard. This growing hub serves many European and some international routes. The largest number of flights are with discount carriers Ryanair, Easyjet and Volotea. Seasonal destinations further afield include Istanbul, Tel Aviv and Montreal.
The closest airport – 55 km from Paul Ricard – is Toulon Hyères (TLN), but this only serves a handful of routes, many seasonal. Example routes: Paris (Orly or CDG) and Lyon with Air France/HOP!, Southamption in the UK with Flybe and Copenhagen with Scandinavian Airlines
Finally, Nice Côte d'Azur (NCE) is only 176 km from Paul Ricard and is larger than MRS. It serves as a hub for Air France and Easyjet, and also has more long-haul flights, including New York, Doha and Dubai.
OTHER WAYS TO GET TO LE CASTELLET
French trains are reliable, fast and often quite expensive, though you will save by booking in advance. Paris and Marseilles are connected by a high-speed TGV train that covers the distance of 750km+ in under 4 hours. Prices from €10 each way. Book on SNCF.
Depending on where you are traveling from, it could be worth driving your own car to Le Castellet (especially if you decide to camp). This part of Europe benefits from an excellent system of motorways, though you will have to factor in the cost of tolls. Both traffic and parking can also be a problem, but this is compensated by some incredible coastal and mountain scenery.
How to get to Paul Ricard Circuit
The traffic problems at the 2018 French Grand Prix have been well publicised, especially on Thursday and Friday. Many fans were stuck in traffic on local roads for up to 6 hours due to poor communication between the circuit and local traffic police, coupled with inefficient systems for controlling access to circuit parking. Thankfully things improved by race day, but we are certainly hoping for a much better experience in 2019.
Shuttle Buses (2018 information): the organizers offer daily shuttle buses to Circuit Paul Ricard. Available from Marseille, Toulon, Hyeres, Aix-en-Provence, Aubagne & La Ciotat. Price are from €62 EUR per day, or €135 for 3 days. Please check the timetables provided, as buses leave for the circuit early in the morning and return late in the evening, which won't be convenient for many fans. More information about 2019 shuttles will be available on GPFrance.com closer to the race weekend.

Drive yourself: Given the fairly remote location of the Paul Ricard circuit, the best way to get to the race will be to drive yourself (hire a car) or stay as locally as possible, e.g. trackside camping. If you decided to base yourself in nearby Marseilles for the weekend, then the 40-45 km trip to the circuit via the A50 autoroute (use exit 11) should take around 45-60 minutes, notwithstanding traffic. After last years issues, trackside parking is FREE for ticketholders in 2019. Click here for a map of local roads with access to the circuit.
Public transport: taking the train to the circuit is not really an option, as the closest stations are around 20km from the track. If you are staying in Marseilles, you can take the train 20km east to Aubagne, then a taxi for 20km (but the taxi will set you back around €50-60). Otherwise, stay tuned for details of the shuttles organized by the circuit on race weekend.
Taxis / shuttles / ride sharing: taxis are not cheap on the French Riviera. Expect to pay around €100 each way to get to Paul Ricard from Marseilles: OK if you are sharing with fellow fans.
Have you been to Paul Ricard? Leave a comment below!
Tags: 2019 french grand prix, french grand prix, french riviera, how to get to paul ricard, le castellet, le castellet france, marseilles to paul ricard, paul ricard