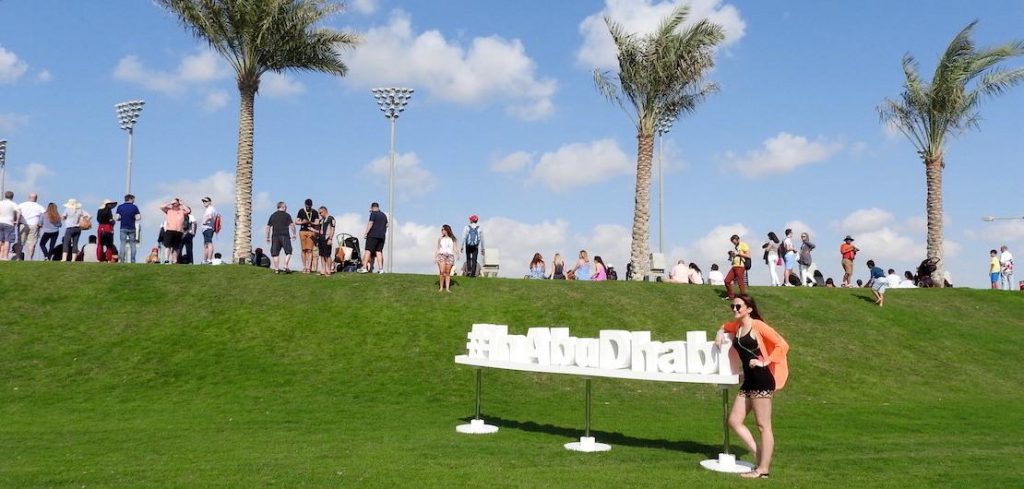 Your trackside guide to Yas Marina for the 2018 Abu Dhabi Grand Prix on November 22-25, including information on concerts, trackside attractions and more.
Yas Island Marina is a veritable playground for the F1 fanatic, adrenaline junkie and gastronome. In addition to the F1 circuit, the island complex also boasts a world-class marina rivaling Monaco for glamor, two huge theme parks (Ferrari World and Waterworld), concert area, shopping, restaurants and more! Most of the on-track action takes place in the afternoon, leaving you with the morning to check out the rest of the island's attractions.
2018 Abu Dhabi GP Timetable
As well as almost seven hours of F1 action on the track at Yas Marina, you will also get to see two races apiece (plus practice and qualifying) from F1's two main feeder series, GP2 and GP3. There's also a pitlane walk for holders of 3-day tickets on Thursday afternoon, which is normally held from 12:00-16:00.

Thursday, November 22
11:00-16:15: Public Pit Lane Walk (valid for Thursday grandstand ticket holders only)
18:30-19:00: Formula 1 Pirelli Hot Laps
Friday, November 23
10:15-11:00: GP3 practice
11:30-12:15: Formula 2 practice
13:00-14:30: Formula 1 practice (FP1)
15:10-15:40: GP3 qualifying
16:00-16:30: F1 Pirelli Hot Laps
17:00-18:30: Formula 1 practice (FP2)
19:00-19:30: Formula 2 qualifying
Saturday, November 24
12:30-13:15: GP3 race one (18 laps)
14:00-15:00: Formula 1 Practice 3
15:10-15:40: Formula 2 driver's parade
17:00-18:00: Formula 1 Qualifying
18:40-19:45: Formula 2 race one (31 laps)
Sunday, November 25
12:10-12:45: GP3 race two (14 laps)
13:35-14:20: Formula 2 race two (22 laps)
14:40-15:00: Formula 1 Pirelli Hot Laps
15:30-16:00: F1 Driver's Track Parade
15:35-16:05: Starting grid presentation
16:55-16:56: Etihad fly past & Aerobatic display

17:10-19:10: 2018 Abu Dhabi Grand Prix (55 laps)

Access and Orientation
A total of seven access gates provide access to the circuit on the main access road which runs around the North and West of the circuit (download a map below). Free shuttle buses run regularly between the entrances and provide easy access to all of the main grandstands, marina, hotels, Du Arena (where the concerts are held) and Ferrari World. The exception is the Main Grandstand, which is accessed by entering through Gate 14 and walking through the tunnel at Gate 16 to the inside of the circuit. It's not possible to bring any food and drinks into the circuit and smoking is banned in all grandstands. Read Getting There & Around for more information on getting to Yas Marina circuit.
Yas Marina Circuit: need to know
It can be very hot before the sun goes down at Yas Marina, so wear light clothing (but retain modesty, you are in a Muslim country) and wear a hat and sunscreen. Taking a change of clothes for the concert is also a good idea.
ATMs are located in each grandstand; you can pay for merchandise and other larger purchases with a credit card.
Smoking is prohibited in all Grandstands and inside the circuit buildings.
The Yasalam After-Race concerts are FREE with a valid Abu Dhabi Grand Prix ticket for the day when the concert happens. The concerts take place in Du Arena (behind the North grandstand, near Ferrari world). This is an impressive concert venue with excellent facilities, including food trucks and bars serving alcohol (though the prices are expensive). Gates to the concerts open at 19:00, but the main headline acts generally don't come on until closer to 21:00 and finish by around 23:00.
2018 Abu Dhabi GP concerts
Thursday Nov 22: Post Malone

Friday Nov 23: The Weeknd

Saturday Nov 24: Sam Smith

Sunday Nov 25: Guns n' Roses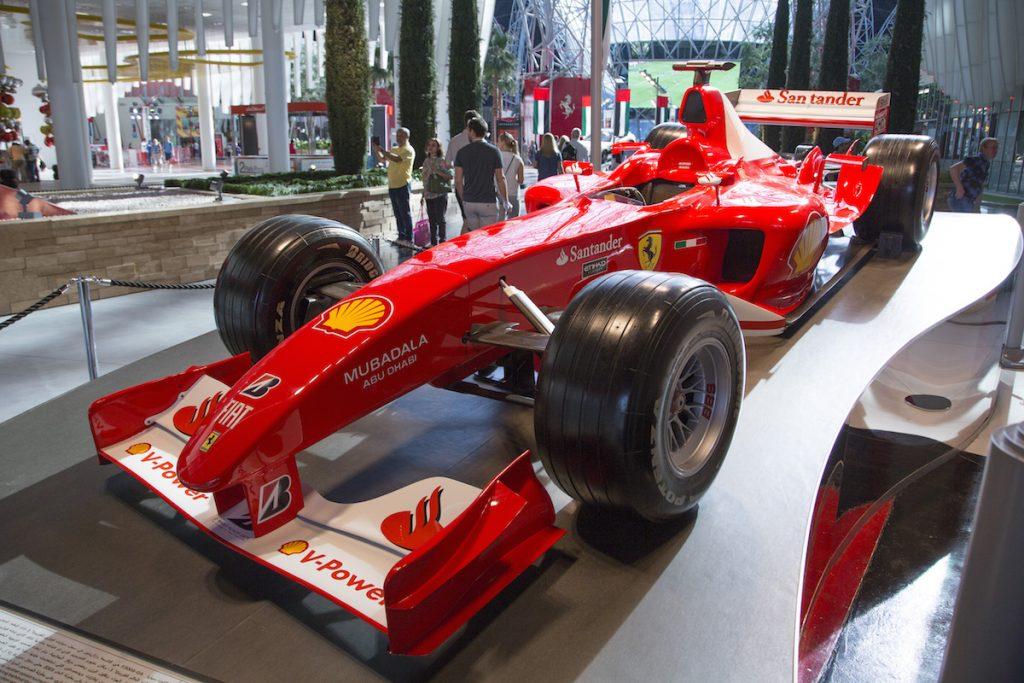 Ferrari World Abu Dhabi
Free access to Ferrari World in 2018 only if you have purchased a "GP Parks Pass" ticket. Based on our recent experience, Ferrari World is worth checking out to ride the world's fastest rollercoaster (Formula Rossa, which hits speeds of up to 240 km/hr and is amazing!) but pretty underwhelming otherwise, making it hard to justify the high ticket prices. There are some legendary Ferraris on display, but you can see equally awesome supercars everywhere in the UAE, and the rides, games, galleries and experiences will not keep you busy much beyond an hour or two. Your kids will probably disagree with our assessment.
General admission – or Bronze – access to Ferrari World costs 275 AED (

$75 USD

) for adults and 230 AED for children under 1.3 meters in height. There are ticket upgrades (Silver, Gold) which cost more and allow you to jump queues. This could be worthwhile on the days either side of the race weekend when lots of fans attend, but wasn't necessary on Friday between FP1 and FP2 (when we went last year).
Opening hours are from 11:00 – 20:00, every day.
Click here for more information and to buy tickets online.
Yas Waterworld
Free access to Ferrari World in 2017 only if you have purchased a "GP Parks Pass" ticket. Boasting 43 rides, slides and attractions, Yas Marina is a huge water park spread over 15 hectares on Yas Island. General Admission costs 240 AEd ($65) for those over 1.1m tall. Junior Admission for those under 1.1m tall is around 20% cheaper. Yas Waterworld is open from 10:00-19:00. Find out more and book your tickets by clicking here.
Yas Marina
No visit to the Yas Marina circuit would be complete without a visit to the Marina itself. Monaco meets the Middle East as the rich and famous gather on superyachts and in exclusive bars and restaurants to watch the action. Incredibly, entrance is free on Grand Prix weekend (even if you don't have an F1 ticket), though you can't go too far without the right credentials. There's even a small section of track where you can watch the action on the outside of turn 19 (between numbers 17 and 20 on this Yas Marina map).
Want to get your own sunset photos that the circuit is famous for? Head to the area outside the track (near the apex of turn 19) before the entrance to the Marina, and join the official photographers. There are some trees and a fence, but you can get uninterrupted shots like we did below last year. No F1 ticket required! Don't forget that sunset is at around 17:30 local time (during FP2 on Friday, qualifying on Saturday and the race on Sunday).
Yas Marina Circuit Facilities
Yas Marina is a modern circuit and the facilities are world class. There are several food and drink areas dotted around the circuit and close to the main spectator areas: North Oasis (close to the North Grandstand), West Oasis (next to the West Grandstand), South Oasis (between the Marina and South Grandstands) and the F1 Village (behind the Main Grandstand). Food and drink are reasonably priced (alcohol is available, but expensive) but the food selection is mostly limited to fast-food type options. If you want a better selection of food you can head to the shopping center next to Ferrari World (affordable eats) or join the rich and famous at the eateries in the Marina (not so affordable eats).
Want to visit the circuit on another weekend? Yas Marina circuit runs regular daily tours throughout the year, taking in the grandstands, race control, media center and paddock area. Priced from 60 AED ($16 USD). Click here to book. You can also hit the track as a passenger or driver in a supercar or open seat racer, awesome! Details here.
Been to Yas Marina circuit? Leave a comment below and tells us about your experience.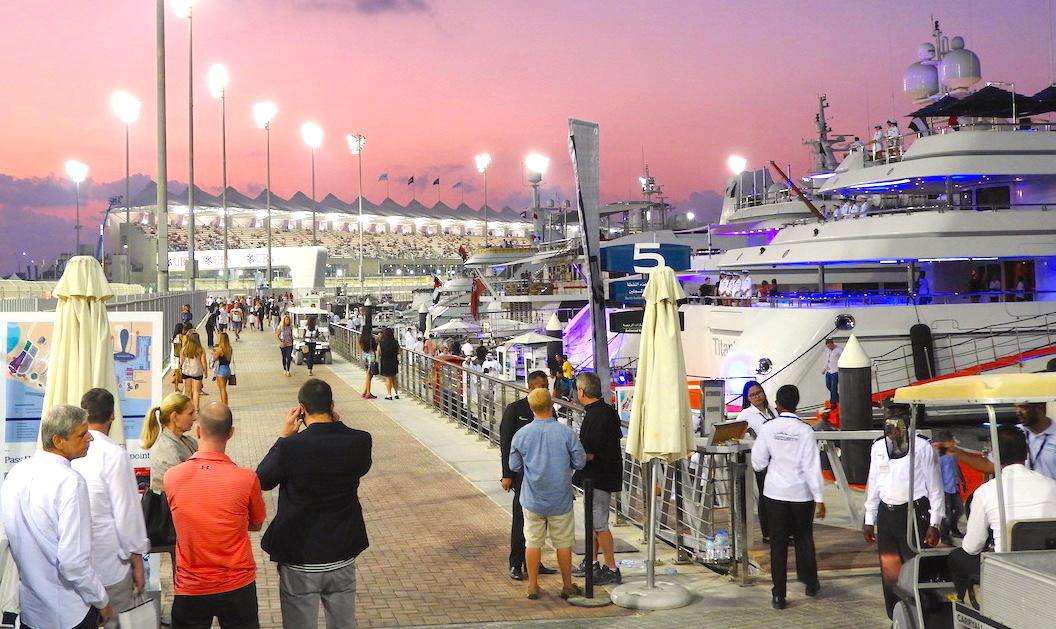 The best flights to Abu Dhabi & Dubai for the 2019 Abu Dhabi Grand Prix, plus advice on getting to Yas Marina Circuit
Tags: 2018 abu dhabi grand prix, abu dhabi grand prix, at the track yas marina information, f1 concerts abu dhabi, full-image, trackside info yas marina, what to do at yas marina, yas marina f1 concerts, yas marina ferrari world, yas marina grand prix, yas marina trackside activities, yas marina waterworld