Your trackside guide to Autodromo Hermanos Rodriguez for the 2018 Mexican Grand Prix on October 25-28.
The Mexican Grand Prix offers some of the best trackside atmosphere on the whole F1 calendar, especially in the Foro Sol stadium section. The weekend kicks off with an F1 drivers' autograph session and other activities at the track from 16:00 on Thursday. In addition to more than 6 hours of on-track F1 action, the 2018 Mexican GP schedule features a support program with Formula 4, Porsche Supercup and Panamericana Series racing, all of which stage practice, qualifying and at least one race throughout the weekend.
Access & Orientation
Gates open at 08:00. Expect airport-style security screening; more information about what you can and cannot bring into the circuit is here. No glass bottles or cans are allowed. Max 300mm lens on your camera.
The circuit is separated into zones, which means you will be restricted to the area where your grandstand is located. It's not possible to walk around and check out the views from different parts of the track. Check the MexicoGP website for the best entry gate for your ticket/zone.
No parking is offered at the circuit. Get the metro or taxi/Uber to the track instead. More information in Getting There & Around.
Be aware there's no re-entry allowed at Autodromo Hermanos Rodriguez. Once you've entered the track, you cannot leave and return on the same day.
Click here to download a detailed circuit map for the 2018 Mexico GP.
Thursday October 25
15:00-15:30: Formula 1 Pirelli Hot Laps
16:00-17:15: F1 Drivers' Autograph Session (TBC)
18:00-19:00: Run the Track
18:00-20:00: Welcome barbeque
Friday October 26
10:00-11:30: Formula 1 practice (FP1)
11:55-12:20: Formula 4 practice
12:30-13:00: Formula 1 Pirelli Hot Laps
14:00–15:30: Formula 1 free practice (FP2)
16:00-16:45: Porsche Supercup practice
17:10-17:35: Panamericana Series practice
18:00-18:25: Formula 4 qualifying
Saturday October 27
10:00-11:00: Formula 1 free practice (FP3)
11:25-11:55: Porsche Supercup qualifying
13:00-14:00: Formula 1 qualifying
14:30-14:50: Formula 1 Pirelli Hot Laps
15:00-15:35: Porsche Supercup first race (16 laps)
16:00-16:30: Formula 4 first race (12 laps)
17:00-17:25: Panamericana Series qualifying
Sunday October 28
08:25-08:55: Panamericana Series race (12 laps)
09:20-09:50: Formula 4 second race (12 laps)
10:15-10:50: Porsche Supercup second race (16 laps)
11:00-11:20: Formula 1 Pirelli Hot Laps
11:30-12:00: F1 Drivers' Parade
12:00-12:15: Starting Grid Presentation
13:10-15:10: 2018 Mexico Grand Prix (71 laps)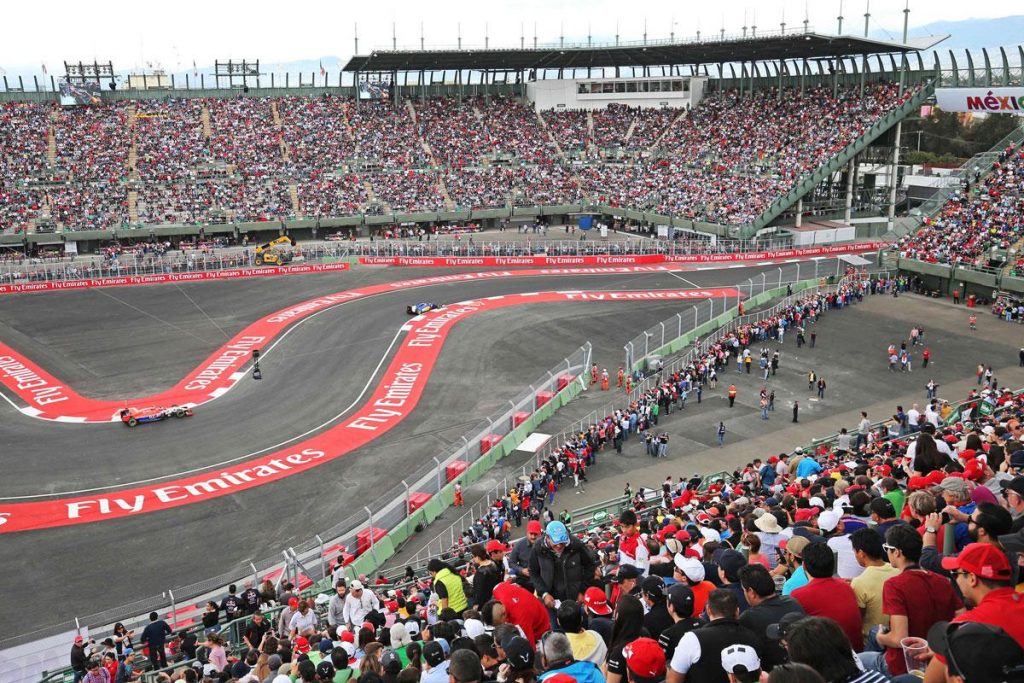 Been to Autodromo Hermanos Rodriguez? Leave a comment with your trackside tips!
Use our budget planner to work out the cost of your trip to the 2019 Mexico Grand Prix on October 25-27.
Tags: 2018 mexican grand prix, Autodromo Hermanos Rodriguez, full-image, mexican grand prix, Mexico GP, mexico grand prix, mexicogp, trackside mexico grand prix