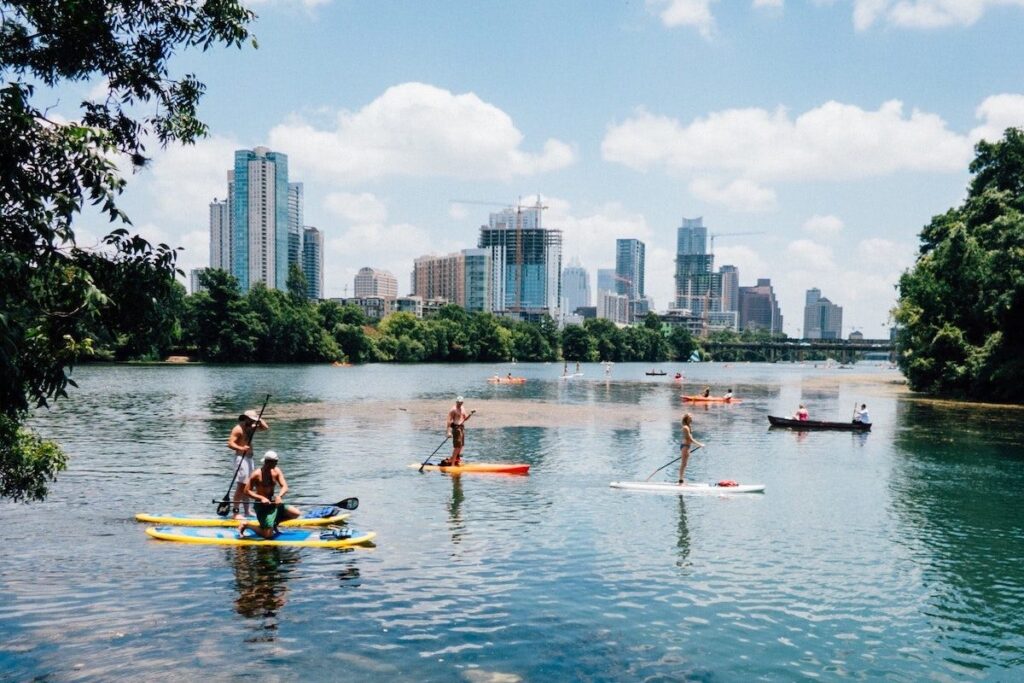 Your guide to off-track activities in Austin, Texas for the 2021 United States Grand Prix at Circuit of The Americas on October 22-24.
There's a reason Austin is called the "live music capital of the world": at practically any time of day you can hear live bands playing throughout downtown. So when you're away from the track, make sure you take in all the city has to offer; have some time to take in a gig, eat some famous Tex-Mex or BBQ from a food truck, catch a film at the Alamo Drafthouse or go shopping on South Congress.
6th Street & Red River
What began as one small street full of rock, folk and jazz clubs has exploded into and entire city of live music centered around 6th street and Red River. Discover some of the most famous clubs in the country, and catch the next Johnny Cash or Willie Nelson (or Willie Nelson himself). South Congress also has some famous locales, such as the Continental Club, where you can hear up and coming musicians making a name for themselves. F1 photographer Jamey Price recommends his favorite spots in Austin: "Iron Cactus on 6th Street is great Tex-Mex food and then for a laugh, we almost always end up back at Pete's Dueling Piano Bar. It's a favorite of F1 mechanics, drivers and media."
South Congress
South Austin has turned from a hip alternative to the bustle of downtown into an attraction in its own right. The street that begins at the Austin Capitol building takes on a distinctive character once you cross the river and head south, and it's there that you'll find boutique stores offering unique gifts and traditional Texan favorites such as cowboy boots and hats. You can also stop for a bite to eat at the South Congress trailer park (Pictured above: image courtesy letbirdsflyblog.com), where you'll find food trucks with everything from Indian to Mexican to Thai food, or a more upscale selection of eateries on the street itself. More info on Tripadvisor.
University of Texas
Whether you're a former student remembering the good old days or a tourist wanting to see something new, it's worth visiting the UT campus. The massive campus is the home to the largest public university in the U.S. and spans miles, on which you'll find beautiful parks, ponds, interesting architecture, tons of cafes, restaurants and bars, and of course the UT Tower, from which you can get a bird's eye view of the city. The campus is located just north of downtown, within walking distance. More information on the attractions of UT can be found here.
Zilker Park
Nature lovers will adore Austin's green spaces and family-friendly activities. Start at Zilker Park, which is just south of downtown and offers fantastic views of the skyline. The park has a botanical garden as well as the famous Barton Springs, a natural spring where you can cool off nearly year-round. If you're up for an adventure, rent a canoe or kayak and head out to Barton Creek, which flows out to the Colorado River that runs through the city. Or, explore the wild area known as the Greenbelt, where you can go hiking, mountain biking or kayaking.
More Texas Holiday Ideas
If you have a few extra days in your holiday itinerary, it's worth hiring a car and taking a few day trips out of Austin to see more of what the Texas hill country has to offer:
What are your tips for things to do in Austin? Leave a comment!