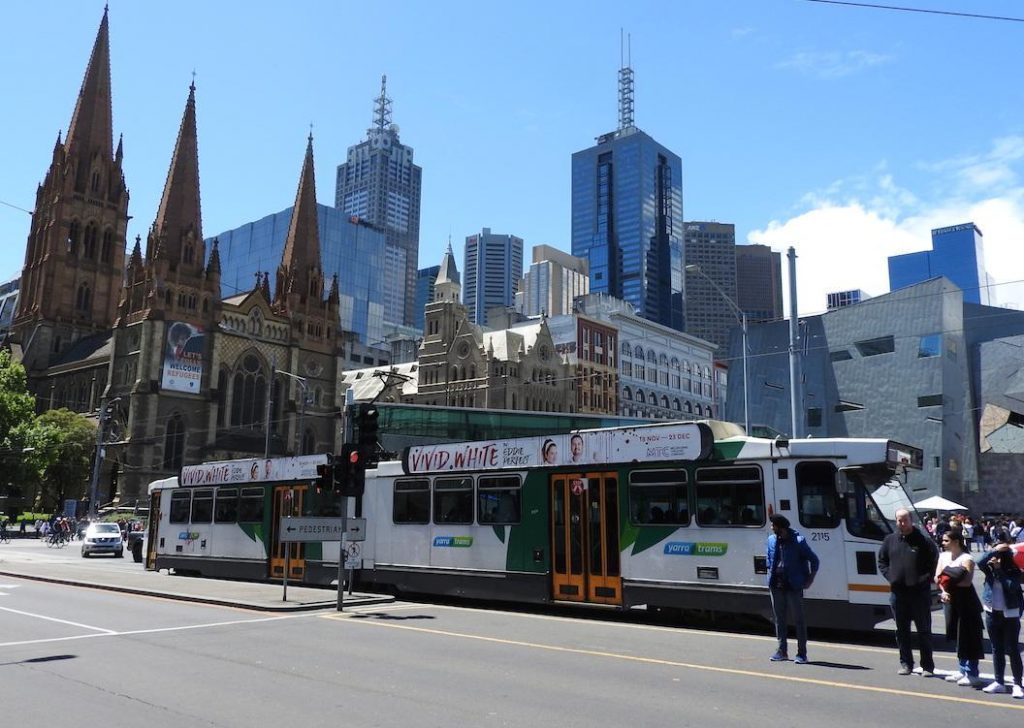 Advice on getting around in Melbourne for the 2021 Australian Grand Prix on November 18-21, including the best ways to get to Albert Park.
All images © F1Destinations.com.
Melbourne's main airport, Tullamarine (MEL), has scores of international connections, with many large international carriers offering regular flights to the city. We've detailed hubs, airlines, average flight times and the expected costs to help you plan your trip. There are plenty of daily flights betweem the main Australian cities, both with full service carrier Qantas and budget carriers such as Virgin Australia, Jetstar and Tiger. Expect to pay a minimum of $100 AUD and a maximum of around $400 to get to Melbourne via a budget carrier from most Australian capital cities (Adelaide and Sydney will be the cheapest, Perth the most expensive). Be sure to get a flight to the main Melbourne airport (MEL) at Tullamarine rather than Avalon (AVV), which is a considerable distance further from the city.
Flights from Europe
European hubs: London, Paris, Frankfurt, Amsterdam.
Airlines flying to Australia from Europe: Qantas, Singapore Airlines, British Airways, Lufthansa, Emirates
Flight times: the combined flight/transit time with at least one stop en route in either the Middle East or Asia is a minimum of 24 hours. You'll also lose around 10 hours due to the time difference.
Average return economy fares: €1000-1200 EUR.
Flights from USA
North American hubs: Los Angeles, New York, Atlanta, Dallas
Airlines flying to Australia from North America: Qantas, United , Air New Zealand, Virgin Australia
Flight times: 14-15 hours direct from the West Coast. Flights with a stop-over have a combined time in excess of 20 hours. Melbourne is 15-18 hours ahead of US time.
Average return economy fares: $1500-2000 USD
Flights from Asia
Asian Hubs: Singapore, Hong Kong, Kuala Lumpur, Tokyo, Bangkok
Airlines flying to Australia from Asia: Qantas, Singapore Airlines, Cathay Pacific, Thai Airways  (Budget airlines: AirAsia, Jetstar)
Flight times: Around 8-10 hours from most Asian hubs
Average return economy fare cost in March: $800 USD for major carrier / $500 USD for budget carrier.
To Melbourne by Train or Bus
Trains connect all the capital cities in Australia. They are a good choice if you have some extra time to see more of the countryside, but not much cheaper than flying. The Sydney-Melbourne train ride takes around 12 hours; daytime and overnight services are available. A seat can be purchased for around $125 AUD, whilst a bed on an overnight train costs in excess of $200 AUD. More information on Sydney-Melbourne trains
There are also regular bus services between major Australian cities for budget-conscious fans. A one-way trip from Sydney to Melbourne (10 hours) costs around $60-80 AUD, and day and overnight service are available. Firefly is a reputable bus company with services between Adelaide, Melbourne and Sydney.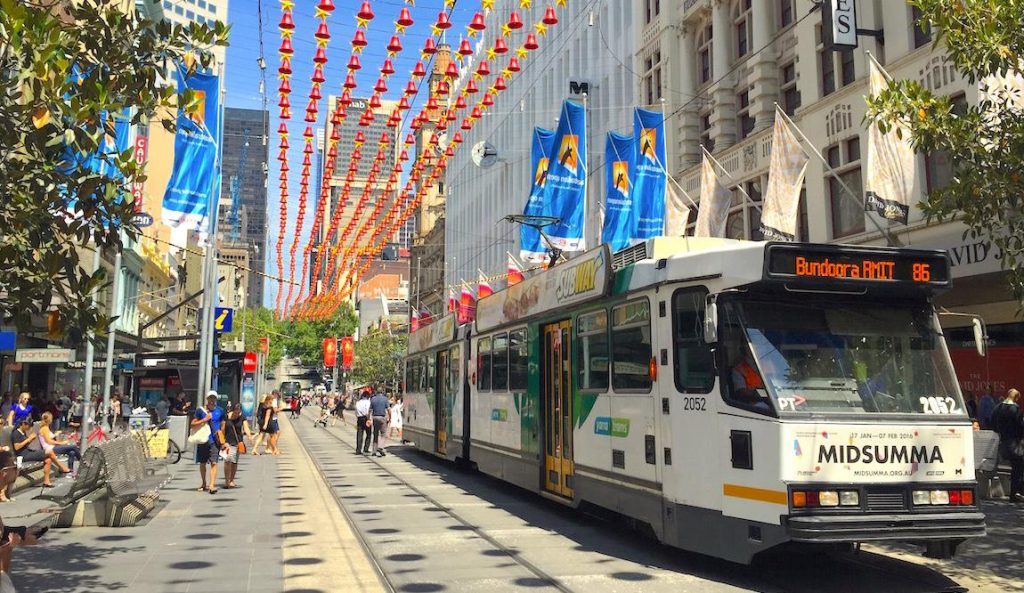 Getting to the Melbourne Grand Prix Circuit
The easiest way to get to Albert Park from the city center is to take a tram. Services are frequent on Grand Prix weekend and FREE for F1 fans. The trams do get very crowded at the end of the day, especially after the race. Consider waiting a bit longer at the circuit to miss the crowds.
St Kilda Road GP Shuttle services run between the city centre and St Kilda, stopping at the circuit along the way. In the center, trams leave from outside Flinders Street train station on Swanston Street (opposite Federation Square) at 1-2 minute intervals during peak times; these are best for accessing the circuit via gates 5, 8, 9 and 10. Trams on this route terminate at St Kilda and then return to the city center, so are also suitable for fans staying near the beach.
Light Rail GP Express trams head to gates 1 and 2 from Spencer Street (corner of Collins Street) every 1-3 minutes at peak times throughout the weekend.
From the same location on the corner of Spencer Street and Collins Street, Clarendon Street GP Express trams head to gates 3 and 4 at 1-5 minute intervals during peak times over the weekend.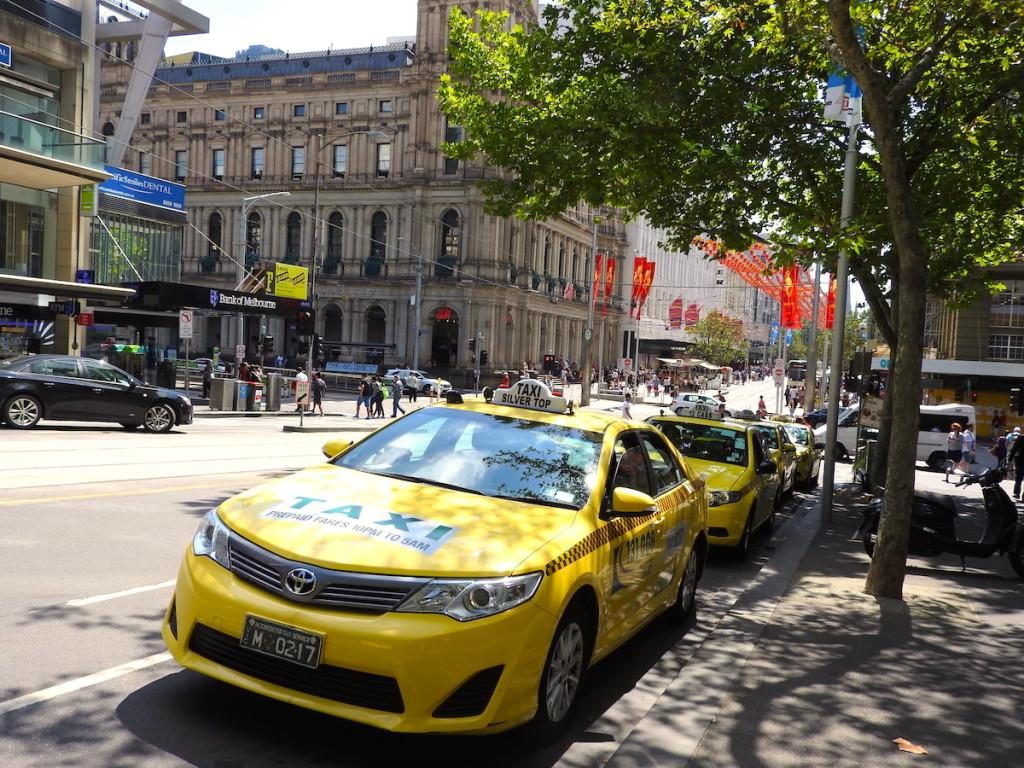 Melbourne Taxis
The bright yellow taxis in Melbourne are plentiful and well regulated. Fares are increased when you are travelling late at night, if you wish to pay with a car or have 5 or more passengers. Expect to pay around $20 AUD for a taxi between the circuit and the city centre or approximately $15 AUD for routes between the circuit and St Kilda. Here are some reputable taxi companies in Melbourne: Silvertop: call 131 008 (fare calculator) / 13CABS: call 132 227.
Melbourne Bike Sharing
Melbourne has an extensive bicycle rental scheme. If you are in town for the Grand Prix, you can purchase either a daily or weekly subscription to the service, with prices starting from as little as $3 AUD per day or $8 per week. Just don't forget to wear a helmet or you'll face a stiff fine. Helmets can be purchased for just $5 AUD from a variety of convenience stores in the city. More details on Melbourne Bike Share.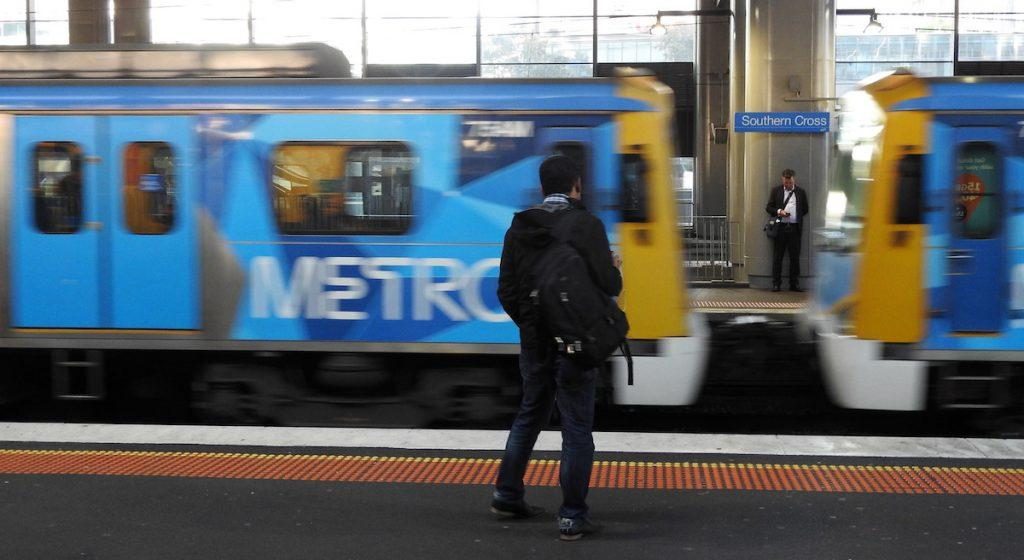 Using Public Transport in Melbourne
Melbourne has an extensive public transport network consisting of trains, trams and buses. In the city centre, the main train station for suburban services is Flinders Street Station, on the corner of Swanston and Flinders Streets. It is possible to catch either a FREE train or tram from Flinders Street Station to the circuit on race days and stewards are on hand to guide lost F1 fans in the right direction. There's also a free CBD tram zone in the center of the city. To travel on public transport in Melbourne, you will need to purchase a 'myki' card. This is a reusable smart card which can be both purchased and topped up at a variety of locations including via machines at train stations and tram stops and at 7-eleven stores. Each time you get on and off public transport, you need to swipe the reader to record your journey. More information on public transport in Melbourne.
Hiring a Car in Australia
If you are staying in the city for the Grand Prix and not planning to go further afield, you won't benefit from hiring a car –  public transport and taxis will be more effective. Driving to the track each day is not a good idea, as parking and local road access is  severely restricted during the event. If you get the opportunity to spend more time in Australia, hiring a car to see more of the country can be a great option. A mid-size car will cost around $40-80 AUD per day. Petrol is relatively cheap by international standards at around $1.30 AUD per litre. 
What are your tips for getting around in Melbourne? Leave a comment below.