Károly Méhes
Károly Méhes (born 1965) is a Hungarian F1 journalist and author. He has been covering F1 since 1990 for Hungarian and international magazines (The Paddock Magazine) and is also an expert for the Hungarian broadcaster. Since 1998, Méhes has published two dozen Formula 1 books, most recently a popular volume of interviews about Gilles Villeneuve (Pitch Publishing 2018). He lives in Pécs, South Hungary.
Károly Méhes's Latest Posts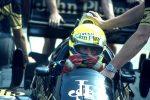 Only Monaco and Monza have featured continuously on the F1 calendar for longer than the Hungaroring. Let's take a look back at the first race in 1986, which attracted 200,000 fans from all over the Eastern Bloc.
In 1993, Hungarian motorsport journalist Károly Méhes travelled to Imola for the San Marino Grand Prix. He recounts happy memories of his first race outside Hungary at the infamous Italian track where Ayrton Senna and Roland Ratzenberger lost their lives just one year later.