Károly Méhes
Károly Méhes (born 1965) is a Hungarian F1 journalist and author. He has been covering F1 since 1990 for Hungarian and international magazines (The Paddock Magazine) and is also an expert for the Hungarian broadcaster. Since 1998, Méhes has published two dozen Formula 1 books, most recently a popular volume of interviews about Gilles Villeneuve (Pitch Publishing 2018). He lives in Pécs, South Hungary.
Károly Méhes's Latest Posts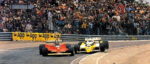 René Arnoux reminisces with Károly Méhes as the 40th anniversary of his classic wheel-to-wheel battle with Gilles Villeneuve at the 1979 French Grand Prix in Dijon approaches.