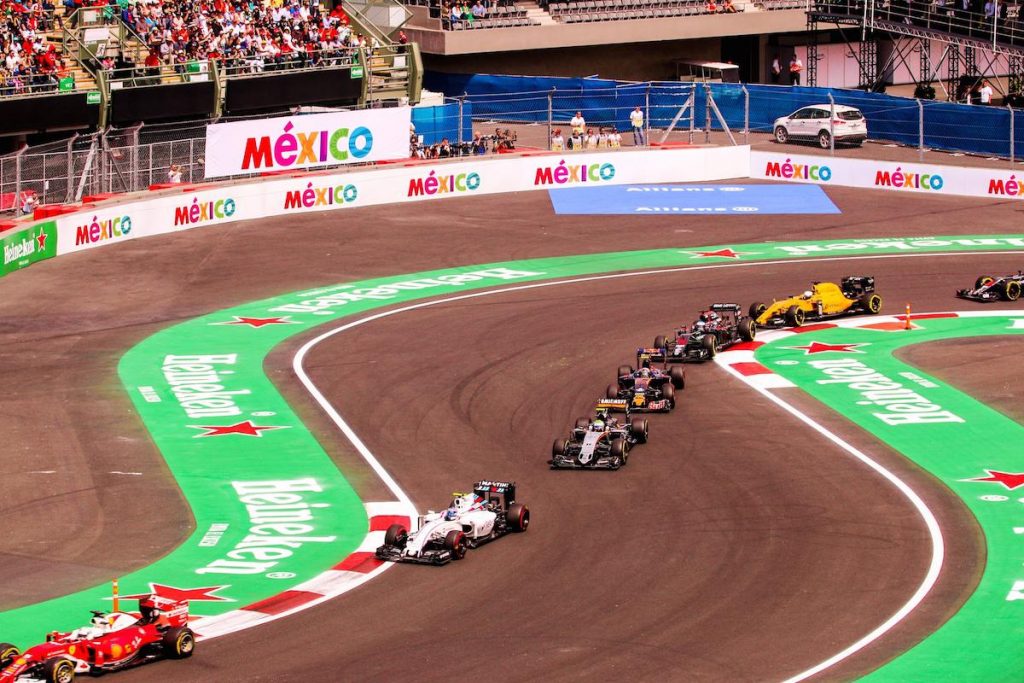 The best ways to get to the Mexican Grand Prix this year, plus advice on getting to Autodromo Hermanos Rodriguez and around Mexico City. The next race is on October 26-28, 2018.
Mexico City's main airport, Benito Juarez International Airport (MEX), is conveniently located just 10km east of the Centro Historico, and some 5 kilometres north of the Autodromo Hermanos Rodriguez. You will find plenty of frequent flights into MEX from most of the world's major cities, and many international airlines fly into Benito Juarez daily, including Aeromexico, Air Canada, Air France, American Airlines, Avianca, British Airways, Copa, Cubana de Aviacion, Delta, Iberia, JetBlue, KLM, LAN, Lufthansa, TACA, United Airlines, and Southwest.
Plenty of direct flights head to MEX from the USA. Approximate flight times without stopover: New York (5 hours), LA (4 hours) and Dallas (3 hours).
Direct flights with Volaris from New York ($300 return) and LA ($250 return)
Interjet has cheap flights out of Dallas ($250 return)
American Airlines fly from Tampa, Florida to MEX from $290 with one change in Miami
Aeromexico operates direct flights from cities such as London, Paris and Madrid. Other airlines listed below are also competitive or look into flying via the USA (with a stopover perhaps?)
Direct flights from London (10-12 hours): From

£

500-700 GBP return with Aeroméxico & British Airways
Direct flights from Paris (10-12 hours): Average return fare:

€

800–1000 with Aeroméxico and Air France
No direct flights from Australia (flight time 20-24 hours with 2 stops): Cheapest deals with American Airlines ($1500 AUD return), Qantas & Virgin Airlines (both around $1800 AUD return).
Combining the race with some time in the sun? There's regular domestic flights to Cancun (CUN, Acapulco (ACA), Mazatlan (MZT), Tijuana (TIJ) and Puerto Vallerta (PVR). Book with Aeromexico, Interjet, Volaris & Viva Aerobus
HOW TO GET TO AUTODROMO HERMANOS RODRIGUEZ
The easiest way to get to the track is to take the Metro. The Autodromo is close to both Cuidad Deportiva and Puebla stations on the east end of the brown Number 9 line, which is not that far from the center of the city. After getting off the train, you'll have an approximately 15 minute walk to the circuit entrance.
Get off at Cuidad Deportiva for entrance gates 4-6 in the green zone; closest to the main grandstand and the stadium grandstands (Grada 14 Foro Sol Sur & Grada 15 Foro Sol Norte). Get off at the next stop Puebla for the blue zone (Grada 3,4,5,6). Please note that the Zaragoza stop on the red Line 1 is also nearby, and there's also local buses.
Taxis are also plentiful on race weekend, but remember that you can easily be delayed by traffic jams. Uber has a special deal for new clients at the Mexican GP; your first two fares are free (up to $100 MXN) when using the code F1ESTA.
Mexico City metro map opposite courtesy Wikimedia (click for large version). The closest metro stops to Autódromo Hermanos Rodríguez are the Velódromo, Cuidad Deportiva and Puebla stops on the eastern end of brown Line 9. The Zaragoza stop on the pink Line 1 is also nearby.
More information on getting to Autodromo Hermanos Rodriguez
Click here to download an Autodromo Hermanos Rodriguez entrance map with more public transport information.
Click here for another circuit map with the Uber parking area marked
Search for a route to the circuit using City Mapper
GETTING AROUND IN MEXICO CITY
Mexico City is well served by an extensive metro system, as well as red and white metrobuses, taxis, peseros (minibuses), light rail and trolley buses (electric buses). The metro can get incredibly packed during rush hour when the roads jam up, but trains are frequent and travel is very cheap. The metro runs from 5am – midnight on weekdays and starts slightly later in the morning at the weekends.
We don't advise driving yourself in Mexico City (especially not to the track – there's very limited parking.) The streets are chaotic and many of the city's 3.5 million drivers are reckless. Traffic jams are the norm and it is virtually impossible to travel anywhere quickly by car within the city. As stated above, Uber now operates in Mexico City. Download the app and take advantage of competitive, flat fares and cashless transactions.
Have you been to Autodromo Hermanos Rodriguez? Leave a comment below with your travel tips!
Your guide to the best off-track activities that Mexico City has to offer when you are in town for the Mexican Formula 1 Grand Prix. This year's race is on October 27-29, 2017.
Tags: Autodromo Hermanos Rodriguez, getting around mexico city, getting to Autódromo Hermanos Rodríguez, getting to mexico grand prix, how to get to autodromo hermanos rodriguez, mexico city metro