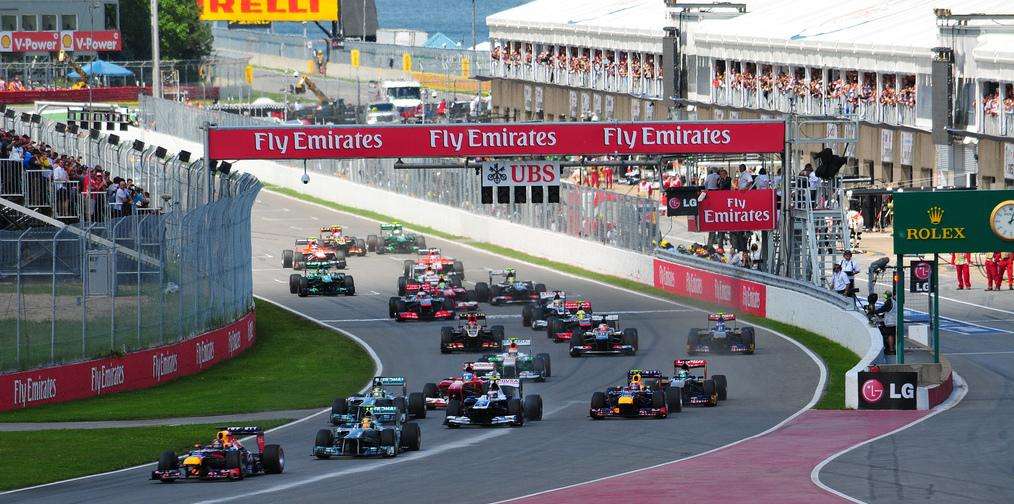 Useful advice and information on Circuit Gilles Villeneuve for fans going to the Canadian F1 Grand Prix in Montreal on June 8-10, 2018.
This guide will be fully updated for 2018 around 2-4 weeks before the race weekend.
Circuit Gilles Villeneuve offers an excellent, well-organized trackside experience. The circuit is easily accessible by metro from downtown Montreal, the atmosphere is friendly and the park setting is the perfect backdrop for a weekend of Formula 1. Much like Albert Park in Melbourne, Circuit Gilles Villeneuve is located on the site of a city park. Spread over two islands in the St Lawrence seaway, Parc Jean-Drapeau was the site of the World Expo in 1967 and several structures remain, including the distinctive biosphere dome, now home to an environmental museum. The park is well worth exploring if you have time before or after the race weekend.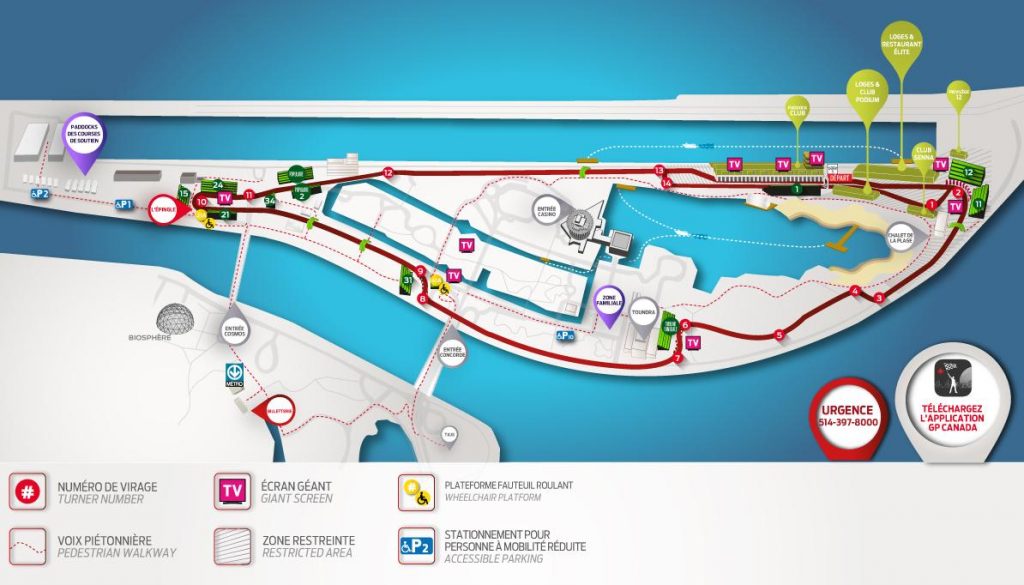 Circuit Access
You are allowed to bring food, beer, and other drinks into the circuit, as long as there is no glass. The organizers are stepping up security for 2017 in light of recent global terror attacks; click here to read the updated list of prohibited items and general entry requirements. Gates open at either 7:30am or 8:00am, but if you have a reserved seat in a grandstand, you can afford to stay in bed a little longer as there is nothing on track until around 9am each day and you won't have to beat the crowds in general admission to find a good vantage point. Circuit Gilles Villeneuve is located on an island and is accessed via two bridges – see above circuit map.
If you are seated in the Grandstands around the hairpin or grandstand 33, it's best to enter the track by the Pont du Cosmos, close to the biosphere (the distinctive dome inside the track). This brings you to the outside of the circuit close to grandstand 21.
If you are in Grandstand 31 or any of the grandstands around the start or on the Senna curve, then you are best entering the track using the Pont des Îles, which goes to the inside of the track, across from grandstand 31.
Open House on Thursday morning
From 09:00-12:00 on Thursday June 9, the circuit and pitlane is open to fans holding three-day tickets. As well as giving you the opportunity to see inside the garages as the teams assemble their cars, there's also an autograph session with the F1 drivers from 09:30-11:00; get there early if you need to get your favorite driver's autograph and don't forget to bring your tickets along to guarantee entry.
2017 Canadian Grand Prix Schedule
Friday, June 9
08:55 – 09:15: Ferrari Challenge practice 1
10:00 – 11:30: F1 practice 1
11:55 – 12:35: Porsche Cup practice
14:00 – 15:30: F1 practice 2
15:55 – 16:25: Formula Tour 1600 qualifying
16:50 – 17:10: Ferrari Challenge practice 2
17:35 – 18:05: Porsche Cup qualifying
18:30 – 18:55: Masters Historic Racing practice
Saturday, June 10
10:00 – 11:00: F1 practice 3
11:15 – 11:50: Ferrari Challenge qualifying
13:00 – 14:00: F1 qualifying
14:30 – 15:00: Formula Tour 1600 race 1 (15 laps)
15:20 – 15:50: Masters Historic Racing qualifying
16:10 – 16:40: Ferrari Challenge race 1 (15 laps)
17:00 – 17:30: Porsche Cup race 1 (16 laps)
17:50 – 18:20: Masters Historic Racing race 1 (15 laps)
Sunday, June 11
09:00 – 09:30: Formula Tour 1600 race 2 (15 laps)
09:50 – 10:20: Masters Historic Racing race 2 (15 laps)
10:40 – 11:10: Porsche Cup race 2 (16 laps)
11:30 – 12:00: Ferrari Challenge race 2 (16 laps)
12:30: F1 Drivers parade
14:00 – 16:00: Formula 1 Grand Prix du Canada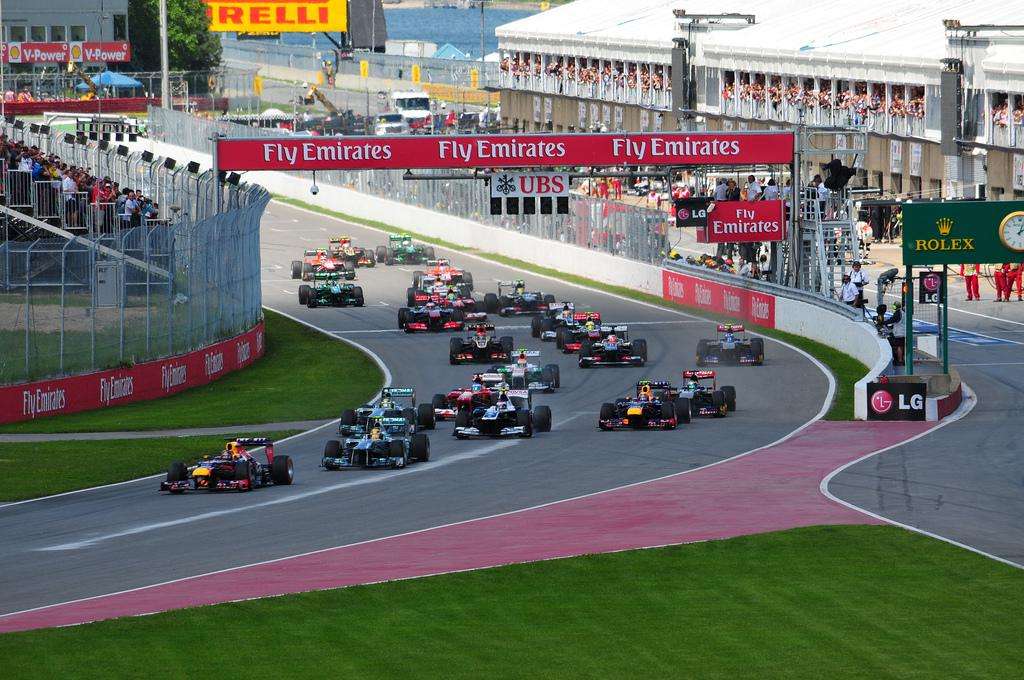 On-track action
The Canadian Grand Prix features around 6.5 hours of on-track F1 action, including three practice sessions, qualifying and the main event. Montreal misses out on F2 and GP3 (F1's main feeder series), but makes up with two races apiece from four support categories:
Amenities & Entertainment

As with most F1 circuits, the quality of food on offer at Circuit Gilles Villeneuve is generally poor and the prices are high. For typical fast food fare such as a slice of pizza or a hotdog, expect to pay from around $5 CAD – there are some pricier options as well. Food stands are placed within the vicinity of most grandstands.
Merchandise outlets are dotted around the track, with the largest selection to be found in the stretch between Grandstand 21 and 31. Expect to pay around $90 CAD for most F1 team shirts, with the cheapest t-shirts starting from $50 CAD. There are also merchandise outlets, as well as promotional displays from various companies in the centre of the circuit close to the Budweiser stage, which provides music and entertainment all weekend.
There are plenty of toilets at Circuit Gilles Villeneuve – both portable and permanent park facilities. Apart from peak times over the weekend, queues are not excessive.
Other things to do
Visit the support race pits: if you have some time between the on-track action, be sure to have a look at the Support race pits, tucked in behind Grandstand 15. The pits provide a great opportunity to get up close to all manner of racing cars from Formula 1600s to historic F1 cars. The teams are usually very friendly, happy to chat and willing to let you check out their cars up close.
Check out Montreal Casino: one of the largest casinos in the world is located in the middle of the circuit. It is open during the race weekend and is a good place to grab a cold beer or something to eat at the end of the day while you wait for the crowds leaving the circuit to die down. If you want to lighten your wallet, the casino staff will be only too happy to help you out. More info here.
Have you been to Circuit Gilles Villeneuve for the Canadian GP? Leave a comment with your trackside tips!
Test your knowledge of Monaco Grand Prix in our new F1 travel quiz!
Tags: circuit gilles villeneuve montreal, montreal casino f1, montreal f1 track information, parc jean drapeau f1 montreal, trackside circuit gilles villeneuve, trackside guide f1 canada, trackside montreal f1 grand prix