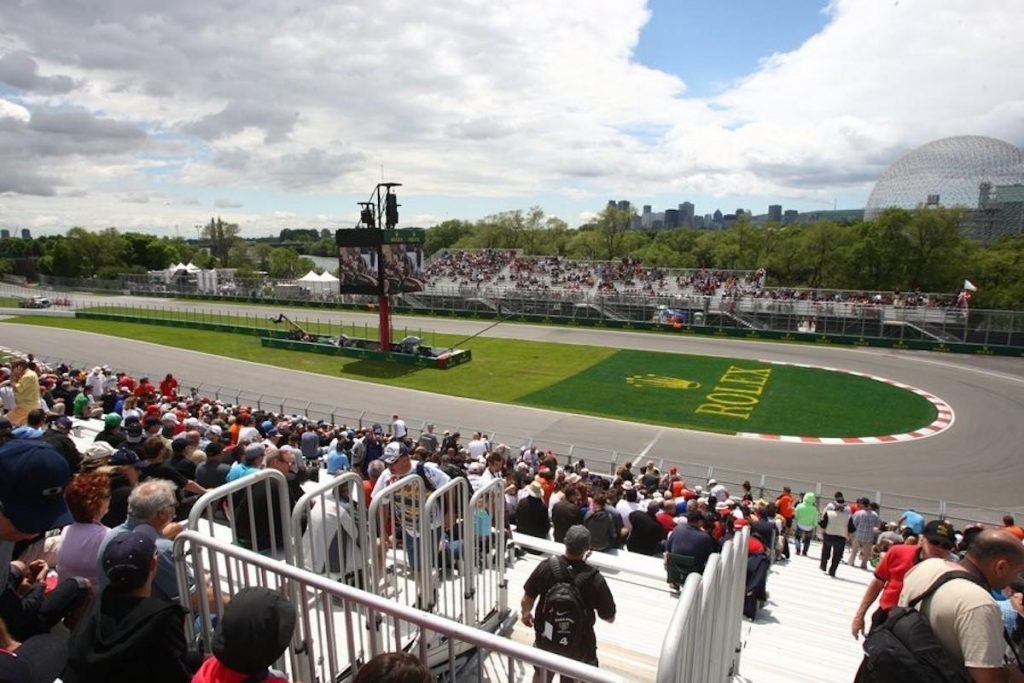 The best ways to get to Montreal for the 2022 Canadian Grand Prix plus advice on getting to Circuit Gilles Villeneuve and around the city.
For the second year in succession, the Canadian Grand Prix has been cancelled. Learn more here. This post will be updated with current travel advice when dates are announced for the 2022 Canadian Grand Prix.
Montreal is a modern city with a well developed and efficient public transport network – it's also a great walking and cycling city with abundant parks and green spaces. If you are staying in the downtown area like we recommend, the best way to get to the Circuit Gilles Villeneuve is to take the metro.
Flights to Montreal
Montreal-Trudeau (airport code: YUL) is the main international airport serving Montreal and is 20km from the city centre. It's a busy hub with a range of direct flight connections to North America, Europe, Asia, Africa and South America.
Domestic flights: A choice of discount and full-service airlines serve domestic routes within Canada, with frequent daily flights between Vancouver, Toronto and Montreal. Airlines worth considering for domestic flights in Canada include  Rouge (Air Canada's discount carrier), Air Transat and WestJet.
Flights from the USA: hundreds of regular flights connect major hubs in the USA with Montreal. Popular airlines serving Montreal with direct flights include Air Canada, US Airways, American Airlines, Delta, United Airlines, Air Transat and WestJet.
Flights from Europe: Montreal is well served by a range of direct flights (7-9 hours) from major European hubs. If you are looking for the cheapest deal, be sure to check flights into New York, Chicago or Toronto, from where you'll easily be able to arrange an affordable onward connection to Montreal.
Other long-haul flights: The average cost of a flights from Australia to Montreal in June is around $1500-2500 AUD. All flights have at least 1-2 layovers (in cities such as LA, Dallas, New York, Vancouver and Toronto) and a total travelling time averaging in excess of 24 hours. There are few direct flights to Montreal from either Asia or The Middle East – flights normally transit in either Toronto or New York. The main flight legs to North America from both Asia and the Middle East are amongst the longest non-stop flights in the world, taking 14-16 hours.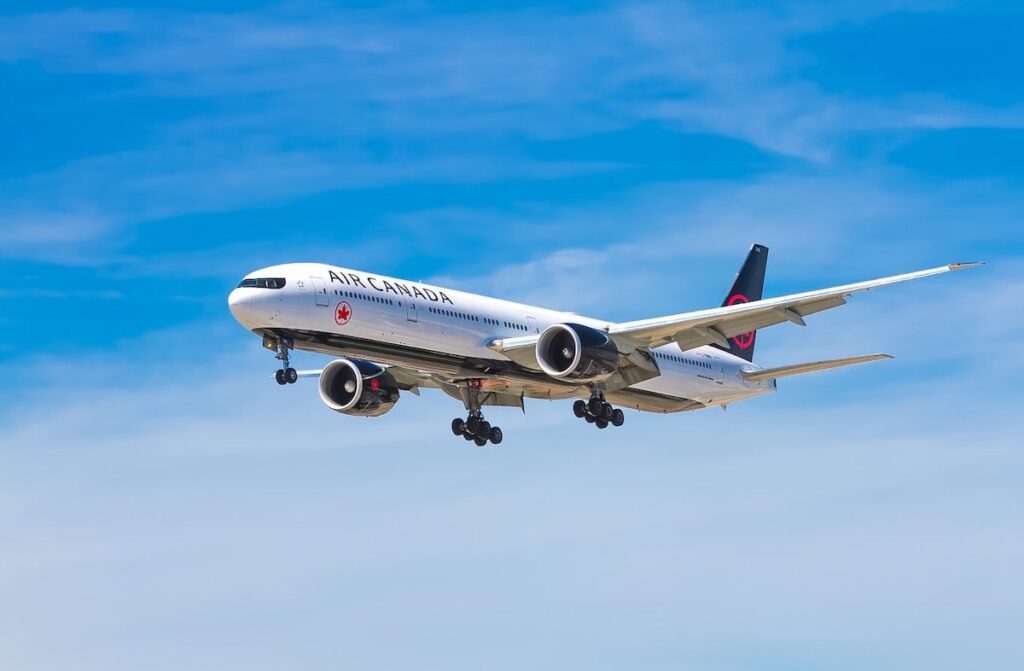 Montreal Airport to the City
Airport Taxis: Finding a taxi at the airport is as easy as walking out the door. Most drivers are fluent in English as well as French. Fares from the airport to the city centre are regulated by a maximum fare, which is currently set at $41 CAD. The regulations and minimum fare are posted and visible inside the taxi, as well as at the taxi rank. It is customary, though not mandatory, to tip taxi drivers. If you are happy with the service, be sure to add a few dollars to the final fare.
Uber: order a car once you've cleared customs and wait for your driver near Door 6 at the Departures level. Click here for more information and fare estimates.
Airport Bus: There is a 24 hour public shuttle bus from the airport. The 747 bus stops at Lionel Groulx Metro station and then regularly on Rene Levesque Boulevard West which runs through downtown Montreal. A one-way ticket costs $10 CAD. Click here to download more information.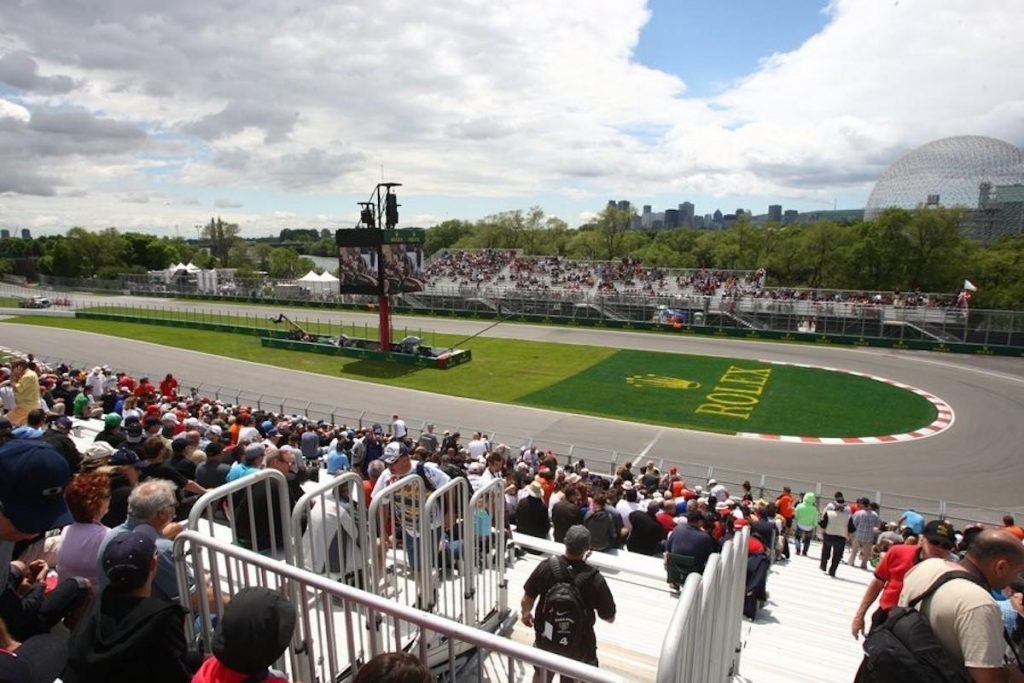 How to get to Circuit Gilles Villeneuve
Circuit Gilles Villeneuve is located within Parc Jean-Drapeau on a man-made island in the St Lawrence seaway called Île Notre-Dame. The best way to get to the circuit is to take the Metro or other forms of public transport.
The closest metro station, Jean Drapeau, is on neighboring St Helen's Island near the Biosphere, accessible by bridge. It's on the Yellow metro line and only one stop from Berri-UQAM station, which is the main interchange station in downtown Montreal. The metro can be pretty crowded on race weekend, but it is orderly and safe. Save queuing by buying your tickets in advance. (we recommend buying the special 3-day transit pass for $19 CAD)
There's not much chance of getting lost getting on the way to the circuit – just follow the crowds, most of whom will also be headed to the track.  Be ready for a 15-30 minute walk from the Jean Drapeau metro station to the track, depending on where you will be sitting. The closest grandstands to the metro are located on the hairpin (number's 15, 21, 24, 34). If you don't feel like walking, look out for the 167 bus which travels from the metro station to the casino – this will get you a lot closer to the Main Grandstand and the Grandstands 11/12
A ferry service also operates from the old port to Isle  Ste. Helene, the island right next to the circuit where the metro is also located. It's a quick trip and a one-way fare costs $4.25 CAD. The ferry is not widely used by F1 fans on Grand Prix weekend, so is less crowded than the metro. On the downside, the service only runs once an hour. Click here to find out more.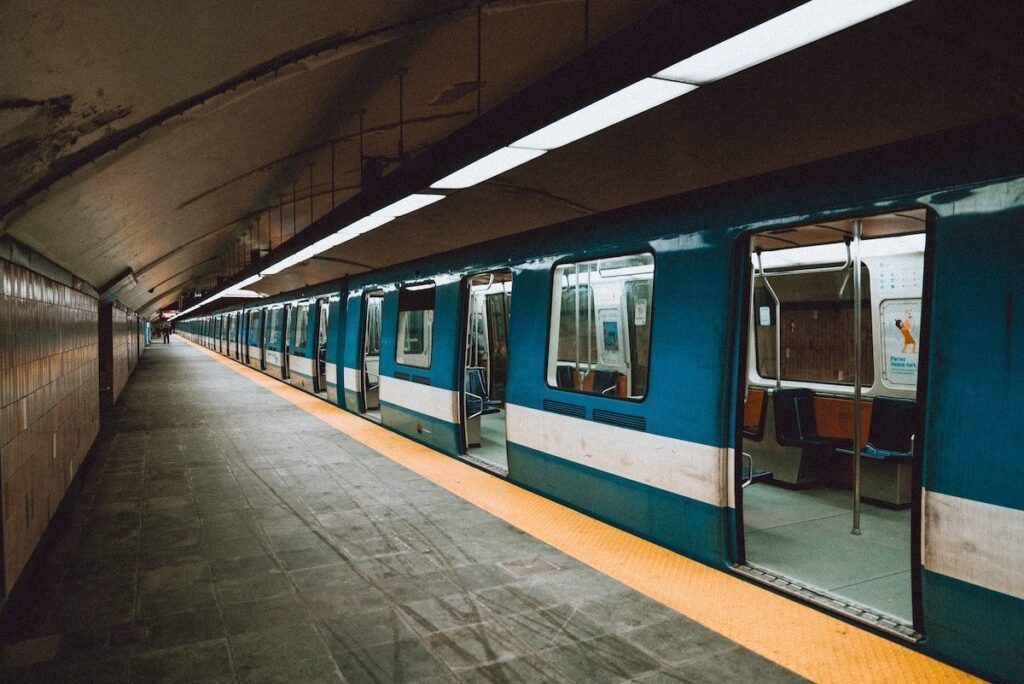 Montreal Public Transport
Montreal has an efficient public transport network. For most visitors to the Grand Prix, getting the special 3-day public transport pass for $19 CAD will be the best option, as the circuit is most easily reached by metro anyway. Tickets and passes can be used on buses and the metro on the island of Montreal. Click here to access the website for Montreal's public transport network (See the metro map opposite). If you are staying on the south shore, you will be able to access the metro, but buses are run by another public transport operator, RTL.
Montreal Taxis
There's plenty of taxis in downtown Montreal, and Uber is also popular. Taxis can be hailed on the street, taken from a cab rank, or ordered by phone. As there are many taxi companies and they service different parts of the city, it's best to ask a local which company they recommend. Short journeys in the city center should cost around $10-20 CAD. Don't forget to tip the driver.
BIXI Bike Sharing
With its abundance of parks and green spaces, Montreal is an ideal cycling city. Hire a bike with the local rental service called BIXI. You can rent a bike for just $5 CAD per day or just take a bike from one location and leave it at another; one-way fares start from $2.95 and there are over 500 drop-off points around the city.
Been to the Canadian Grand Prix? Leave a comment with your travel tips!