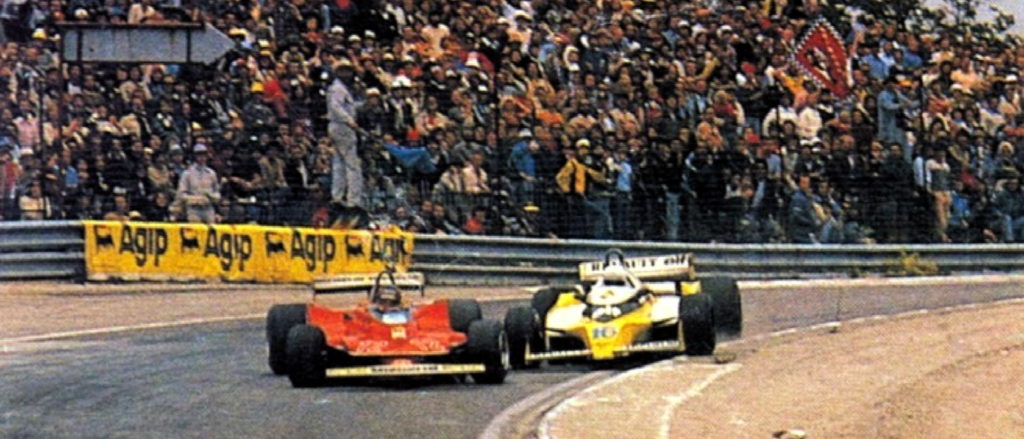 René Arnoux drove many great races in Formula 1, but his stoush with Gilles Villeneuve at the 1979 French Grand Prix at Dijon stays in the memory. The 7-time Grand Prix winner from France reminisces with Károly Méhes as the 40th anniversary of this classic wheel-to-wheel battle approaches.
What is your first recollection of Gilles Villeneuve? When did you meet him?
I don't remember exactly. Probably I saw him first time when I finally made it to Formula 1. I was driving for Renault and he was driving for Ferrari, of course. But I know that we had a good feeling about each other immediately. I always considered him my best friend in Formula 1. To me, the name Gilles Villeneuve symbolizes a real acrobat behind the wheel; someone who drives at the limit on every corner, every time.
Which resulted in quite a few big accidents…
Yes, this is true. Gilles didn't understand the meaning of the word "danger". One time he said to me, "René, if you have a steering wheel and brakes, you can achieve everything!"
The race that resonates with most fans is your duel with Villeneuve at Dijon in 1979. How do you remember it?
Dijon 1979 was the best race in the world! [Our battle] was possible only between Gilles and I knew each other very well. Yes, it was quite dangerous, especially the wheel banging, but I knew we could control the situation. I wanted to finish second, but I was experiencing some fuel pick up problems and I always feared that in the big corner before the start-finish line the car would stop or hesitate. I kept pushing and trying. In the end, it wasn't that important, coming second or third. The best was the fight between us.
And Renault won anyway that day!
Exactly! Everybody tends to forget it. I bet Jean-Pierre Jabouille remembers it!
How did you feel on the podium?
After the race, everybody said that our battle was like a boxing match. On the podium, Gilles and I shook hands. We had big smiles on our faces. We were both exhausted. After the celebrations, someone came over and invited me to watch a replay of the last five laps on the television in the press room. I took a seat because I was more than a little tired…and then I saw the four or five final laps! Suddenly, I was afraid of what would happen – I didn't feel this during the race itself.
I remember Mauro Forghieri [Ferrari designer] was sitting close to me watching thescene. He threw his arms towards the sky and shouted, "these guys are completely mad! If they were fighting for the win I'd understand, but it was only for second and third!"
Did Dijon strengthen your friendship?
We were always good friends. But after Dijon we always remained somehow together and for the longest time people talked only about what happened in Dijon. I would say our friendship became even stronger.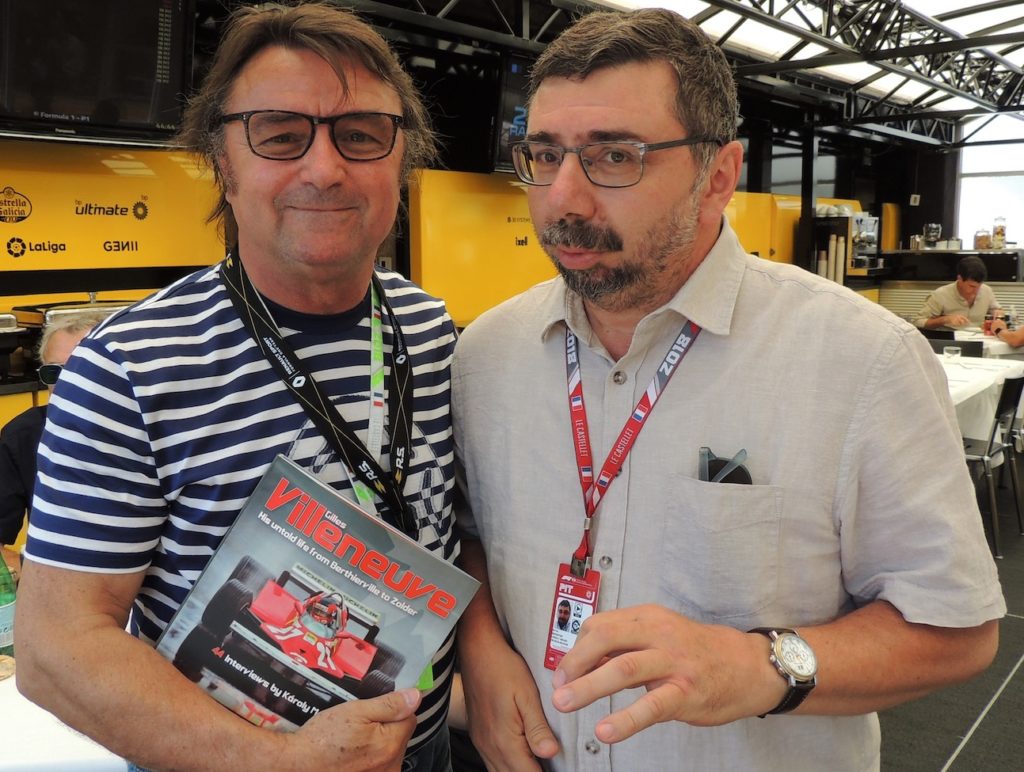 As a French-Canadian, did Gilles belong the French family? There are many photos with you, Laffite, Pironi, Tambay, and Prost.
We were all friends to a certain extent. What I can tell you is Gilles often invited me to his garage. He'd say, "René, come over to Ferrari and enjoy some good Italian food". The next day would be my turn to invite him to Renault for a real French lunch. It was totally normal in those days. We had a fantastic time together. I swear to you, he was completely crazy when he was driving, but out of the car, he was a fine and interesting man.

I'll tell you a story: one year in Watkins Glen before the second practice, when I was eating together with Gilles, I asked him if he took the last corner flat out or did he lift a little bit. He said that so far he hadn't taken it flat out, but in the afternoon practice he would give it a try. As a man of his word, I knew he would do it. Three minutes from the end of the seession, I saw a Ferrari in the catch fencing. It was totally destroyed! There were no wheels… nothing on it. Gilles had already walked back to the pits. I was happy at least to see that nothing had happened to him. After returning to my pits, I jumped out of my car went directly to Ferrari to ask him if it was possible to do the last corner flat out or not." He just smiled. "Well…it's not possible".
At Imola in 1980, he had a really big crash. It was on the 2nd or 3rd lap. It was only when I come to this spot as the leader, I suddenly had a Ferrari in the middle of track with no wheels, no wings, no engine, no gearbox – but the body of the car was somehow intact and not bad at all. We didn't have any radio communications, so I was very much afraid of what had happened. I finished the race and immediately hurried to Ferrari. I asked Gilles how he was feeling. "Fantastic, I am really happy!" I tried to guess why he would he say that before he continued. "You know, René, I had a big crash at 280 km/h and nothing happened to me. My car saved me. It has such a strong body. That makes me happy."
He was lucky then, but not in Zolder. How do you remember his fatal accident?
These were the most difficult moments in my entire career. I saw the whole accident because I was driving close to Gilles and Jochen [Mass]. When I speak about it each time this film runs in my memory… I stopped on the grass and went to the other side of the track to the body of Gilles. It was just evident he was dead. That was a terrible moment, because he wasn't simply a colleague, but also a good friend. He was a generous, charming man. I also think this accident was completely stupid. Gilles had many more heavier accidents in the past, but this one was just unnecessary. Racing was different for me after this.
Many say he over drove, that his style itself was dangerous. What do you think?
As a colleague, I wouldn't say he was a dangerous driver – at least for the rest of us. Maybe for himself. He drove like an acrobat. Maybe he would never have won the Championship because from the start of every race he asked too much from the car, always the maximum, each lap. Sometimes he found himself with no tyres and no brakes, but still he continued with the same spirit of using his car. You cannot deny he had some fantastic races. Like in Jarama, 1981. I stopped quite early because of an engine problem in my Renault. I stayed at the end of the long straight to watch the race. Gilles was in front and right behind him guys like Laffite, Reutemann, Watson and others, all strong competitors, couldn't get past him. His Ferrari was not easy to drive, but he pushed and pushed and pushed.
The year after Gilles' death you became a Ferrari driver yourself. Did you feel his absence in the team?
When I signed for Ferrari I didn't know who would partner me. I had an appointment with Enzo Ferrari during the early part of 1982. I didn't know if my teammate would be Gilles or Didier Pironi. It would have been very nice to drive with Gilles, but life turned out to be different. Still, my time with Ferrari was very good in the sense that my driving style did not change after Gilles' death. If your best friend's death affects your driving, you had better stop racing.
You have had the chance to drive Gilles' 312T4. What kind of feeling was it?
I was excited. These were very special moments. I felt it in my heart. Many memories came flooding back. All those weekends when we drove together on different circuits, Ferrari versus Renault. [Watch the video of Arnoux driving the Ferrari 312T4 at Modena a few years back.]