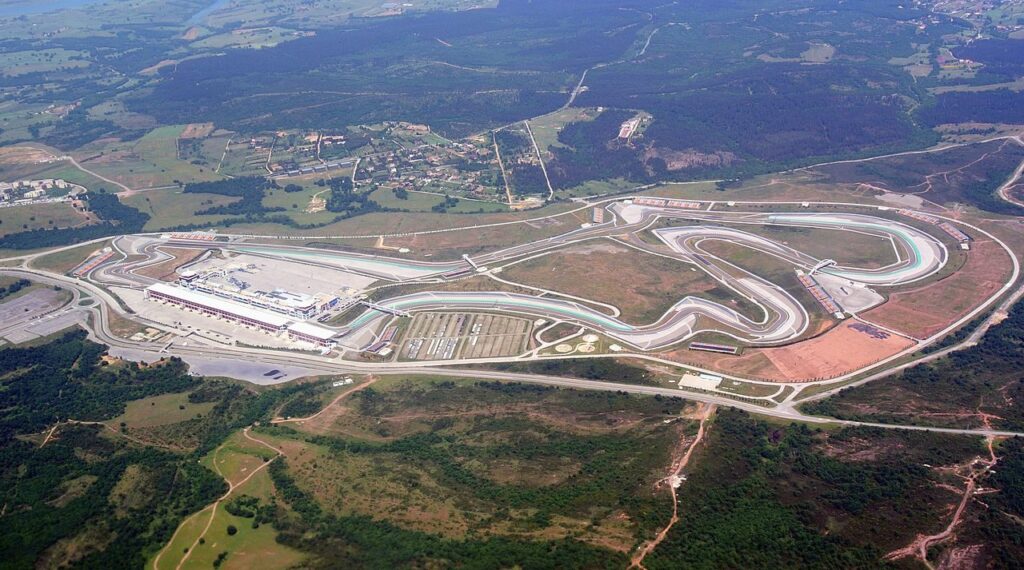 Istanbul Park returns to the Formula 1 calendar once again in 2021. Here's everything you need to know ahead of attending the Turkish Grand Prix on October 8-10!
The Turkish Grand Prix is back on the calendar in 2021 after a highly entertaining race weekend in 2020. Last year's race marked the Istanbul Park circuit's first appearance on the F1 calendar since 2011. The Turkish Grand Prix was first held in 2005, with the Hermann Tilke-designed track being hailed by drivers for its challenging layout.
Originally scheduled to be a replacement event for the Canadian Grand Prix in June, the 2021 Turkish Grand Prix now takes place on October 10; the previous date having been called off due to travel restrictions.
Fans in attendance for the first time since 2011
Unlike in 2020, fans will be in attendance at this year's event. Grandstand tickets are still available for the race. Race organisers had planned on having fans in attendance at the 2020 Turkish Grand Prix, but an escalating number of coronavirus cases in the country saw those plans shelved.
2021 will therefore be the first Turkish Grand Prix with fans in attendance in ten years. Fans were last present at the Turkish Grand Prix at the 2011 race, before the event fell off the calendar. You can expect a high attendance for this race. Last year, 100,000 fans were expected to visit the circuit, with almost half of those tickets being sold within hours of their release.
Turkish Grand Prix coronavirus protocols 
Turkish Grand Prix organisers say they are working with Turkey's Ministry of Health to ensure the safety of those attending the race. There will be a number of measures in place to aid with this. Event spaces have been designed to help with social distancing and areas will be regularly disinfected over the race weekend. You should be aware that face coverings must be worn at all times and temperature checks will be carried out upon your entry to the circuit.
Entry requirements at the Turkish Grand Prix
All attendees must adhere to the HES code. If you are a Turkish citizen, you must prove that you are either vaccinated, have recovered from COVID-19 in the last 180 days or supply a negative PCR test result which is no older than 48 hours. You can show proof of this with the HES app. Note that, if you are supplying a negative PCR test, you will require two tests if you are attending all three days of the race weekend.
Visitors to the circuit from abroad must fill out the HES form online no more than 72 hours before travelling to Turkey. The form can be found here. You will not need any additional documents such as a negative PCR test result, vaccination card, or evidence of COVID history.
More information about entry requirements to the Turkish Grand Prix can be found here.
Istanbul Park is located around 45km east of Istanbul, Turkey's largest city. Heavy traffic is common near Istanbul – and Grand Prix weekend traffic will only add to this. We recommend travelling to the circuit by taxi or Uber as it is likely to be the quickest way of getting there. It may be worth checking with your hotel for private transfers from the hotel to the track.
Sabiha Gökçen Airport is located only 10km west of Istanbul Park. You could catch the Havabus shuttle to the airport and take a taxi or Uber from there to the circuit. More information about the shuttle service can be found here.
It's also possible to take the metro from central Istanbul and then a shuttle bus to the circuit. See the map above. Buses are available at the following metro stops:
M4 Metro – Tavsantepe Station (16km / 29 minutes from circuit)
Marmaray – Pendik YHT Station (16km / 31 minutes from circuit
M5 Metro – Necip Fazil Station (20km / 29 minutes from circuit)
Buses depart on a continuous loop from 08:20 on October 9-11, returning from the circuit as late as 18:00 on Friday, 19:00 on Saturday and 21:00 on Sunday. Tickets cost 3.50 TL each way via the Istanbul Kart (you'll need to buy this card for 7 TL and then add credit). More information about the service is available in Turkish on the circuit website.
Circuit parking at the Turkish Grand Prix
If you are driving yourself to the circuit, there are a limited number of car parking spaces at Istanbul Park. To park here, you must be in possession of a parking ticket, which you will have purchased alongside your grandstand or general admission ticket.
The two main parking areas are located adjacent to the back straight of the circuit and the other on the opposite side of the circuit, close to the general admission zones. There is a separate car park for those with Paddock Club tickets.
Unofficial parking areas will also available outside the premises – but spaces are likely to be limited. More information in Turkish (use Google Translate) about driving and parking at Istanbul Park.
Information to know before your visit
In case of an emergency, call 112.
Turkey operates on TRT (Turkey Time), which is GMT +3 hours.
Among the list of prohibited items to take to the circuit is food and beverages – meaning you'll have to purchase food and drink on site.
Smoking and vaping is prohibited in any of the circuit's grandstands and viewing areas. A full list of prohibited items can be found on the event website.
Attendees under the age of 18 must be accompanied by an adult.
Entry is free for children age 0-6 – but no additional seats are given to children under the age of 7.
There are large LED screens located around the circuit. You can see the locations of these screens in the circuit map below.
Official Turkey travel website
2021 Turkish Grand Prix schedule
Unlike other European races in 2021, there will be no support races from Formula 2, Formula 3, Porsche Supercup or W Series. Instead, the Intercity Cup will race at Istanbul Park on the same weekend as F1. Races in the Silver, Gold and Platinum classes will take place over the three days. Here's the full on-track schedule for the 2021 Turkish Grand Prix weekend:
Friday October 8
9:20-9:50: Intercity Silver Cup Practice
10:15-10:45: Intercity Gold Cup Practice
11:30-12:30: Formula 1 practice (FP1)
12:55-13:25: Intercity Platinum Cup practice
13:50-14:20: Intercity Silver Cup qualifying
15:00-16:00: Formula 1 practice (FP2)
16:45-17:15: Intercity Platinum Cup practice
Saturday October 9
09:25-09:55: Intercity Gold Cup qualifying
10:20-10:50: Intercity Platinum Cup qualifying
12:00-13:00: Formula 1 practice (FP3)
13:40-14:15: Intercity Silver Cup race
15:00-16:00: Formula 1 qualifying
16:40-17:20: Intercity Platinum Cup race
Sunday October 10
10:35-11:10: Intercity Gold Cup race
11:05-12:30: Intercity Platinum Cup race
13:20-13:50: Formula 1 Drivers' Parade
15:00-17:00: Formula 1 Turkish Grand Prix
Any questions about attending the 2021 Turkish Grand Prix? Leave a comment below.