Tickets are now available for the 2022 Mexico City Grand Prix. This year's race at Autodromo Hermanos Rodriguez is scheduled to take place on October 28-30.
EDIT: Tickets sold out for the 2022 Mexico City Grand Prix in just two days. This post will be updated if more tickets become available. The last remaining Official Ticket Packages from F1 Experiences are still available.

Formula 1 will be back in Mexico City in October for the 2022 Mexico City Grand Prix and tickets are now available for the race weekend. Formula 1 tickets are in unprecedented demand in 2022 – we recommend acting quickly in order to secure your tickets!
The Mexican race has been a popular addition to the calendar since re-joining the schedule back in 2015. Last year's race at Autodromo Hermanos Rodriguez attracted a record crowd of over 370,000 fans, making it the second-best attended race of the 2021 season. Home star Sergio Perez delighted his home supporters by taking a podium finish; the first for a Mexican driver on home soil.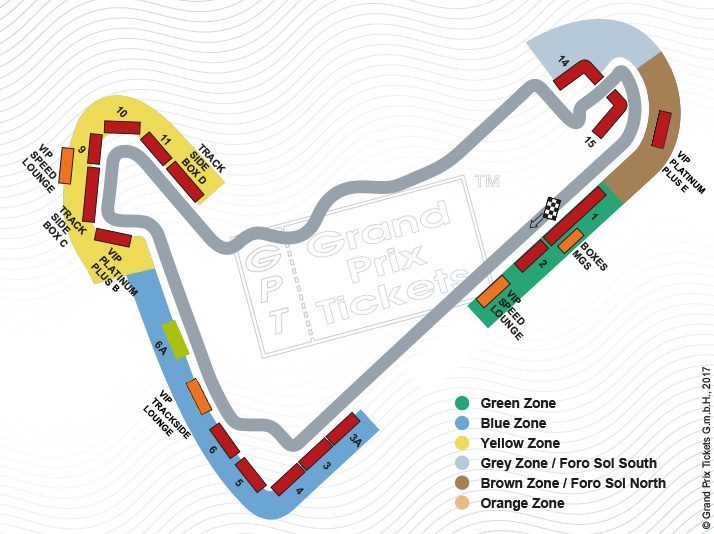 Where to watch the action
Our pick for the best seats is in the Foro Sol stadium area. This unique section of track passes through the former baseball stadium. A prime spot for overtaking with an electric atmosphere, it's also where you'll see the top three drivers celebrate on the podium after the Grand Prix. 3-day tickets area in this area of the venue begin at $533 USD. Learn more about the best viewing areas at Autodromo Hermanos Rodriguez in our guide to the best grandstands.
If you're looking for a premium experience at the 2022 Mexico City Grand Prix, consider ticket packages from F1 Experiences. With a wide range of experiences available, from premium grandstand seats to driver meet and greet experiences and hospitality, these options will ensure a memorable race weekend.
Located in the heart of Mexico City, this year's Mexico City Grand Prix falls in the week prior to the famous Day of the Dead festival, so you can expect the colourful city to have a carnival-like atmosphere during your trip.
Last year of the current contract
The 2022 Mexico City Grand Prix will be the final year of the race's current contract with Formula 1. The event came close to losing its spot on the calendar back in 2019, but a new deal was bankrolled by the local government – hence the event's name change last year from 'Mexican Grand Prix' to 'Mexico City Grand Prix'.
It means that this could be your last chance to attend the Mexico City Grand Prix but, given the event's success and popularity, we'd be surprised to see it off the calendar in 2023!