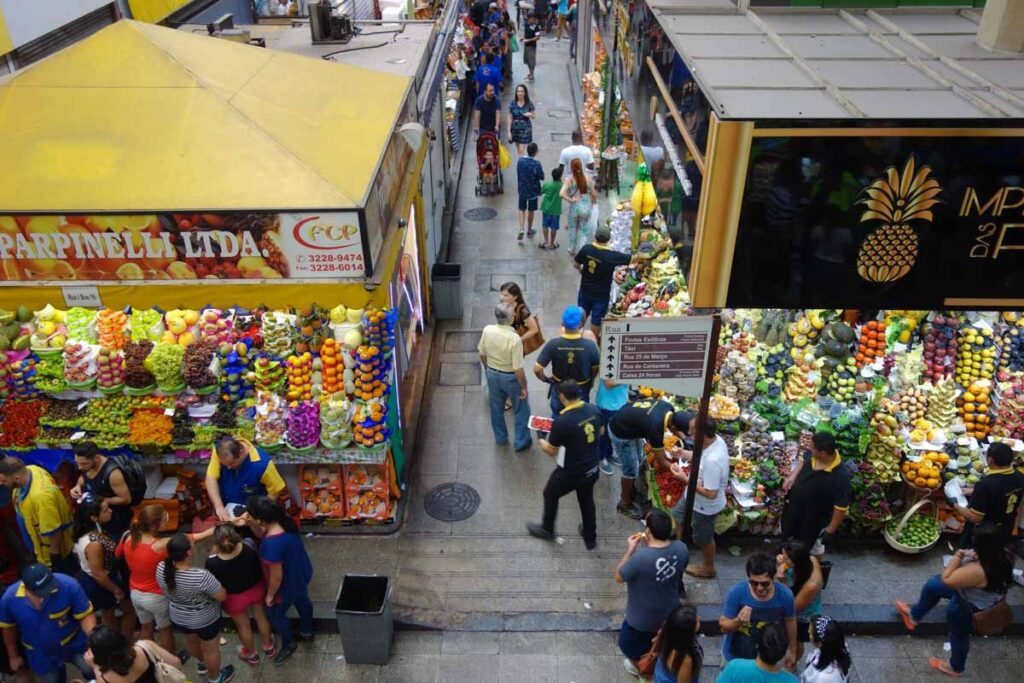 Only have limited time to explore São Paulo when you are in town for the 2021 Brazilian Grand Prix at Interlagos? Check out our one-day itinerary.
São Paulo Cathedral & Theatro Municipal
Start your day by exploring the centre of São Paulo. You can find most of the city's landmarks in this area, including the São Paulo Cathedral and the Theatro Municipal.
The neo-Gothic exterior of the São Paulo Cathedral makes it look as if it had stood there for centuries, when, in fact, it only dates back to the 1950s. A much smaller church stood here before, but it eventually became too small. The new cathedral is now big enough for 8,000 worshippers.
When going inside, make sure to visit the giant crypt, which, by itself, is already as large as a regular church. You can see many marble statues as well as the graves of bishops and archbishops down here.
From the Cathedral, it's only a short walk to the Theatro Municipal. São Paulo's municipal theatre is one of the most beautiful buildings downtown and looks as if it came straight from Europe. The architects drew inspiration from the Palais Garnier in Paris when they constructed the theatre in the early 1900s.
Make sure to go into the building and visit the inside. Joining one of the free guided tours is best if you want to learn more about the theatre and São Paulo in general, but you can also walk around independently.
Pay attention to the details. Can you see the coffee plant integrated into the decorations? São Paulo used to be a city of coffee barons, and the theatre still shows their importance and influence from back in the day.
From the Municipal Theatre, head to the Pinacoteca, the oldest art museum in the city. It houses art from all over Brazil and visiting is an excellent way of getting to know some local artists. You can discover statues, paintings and drawings, as well as changing temporary exhibitions.
Initially, the Pinacoteca only owned a small collection. As the number of artworks grew, it needed to expand and incorporated the nearby General Osório building. This building once served as a warehouse for the Sorocabana Railroad, making for some interesting architectural contrasts you can see during your visit.
After exploring the Pinacoteca, make sure to stop by the nearby Parque Jardim da Luz. This lush park gives you a well-deserved break from the hustle and bustle of the city. Find a bench underneath one of the large trees near the pond and rest for a moment before continuing with your tour of São Paulo.
Lunch at Mercado Municipal
Are you ready to continue exploring São Paulo? Then head to the municipal market for lunch! Eating here is one of the best things to do in São Paulo.
The local delicacy is a mortadella sandwich – a sandwich filled with so much meat that you'll find it challenging to fit into your mouth. It also includes pickles, tomatoes, mustard, cheese and whatever other condiments you choose.
The mortadella used in the sandwiches is local to São Paulo and doesn't taste much like the one you might be used to from home. Locals use different spices for the preparation, turning this sandwich into a unique local dish.
If you're not a fan of cold meats, you can find many other Brazilian foods at the Mercado Municipal. Pastel de Bacalhau is another typical dish from São Paulo. This fried pastry is filled with codfish, onions and green olives. Or you could go for the Feijoada, a stew made from meat and black beans, served with rice.
For dessert, try some of the exotic fruit you can find at this market. Most vendors offer free samples, so this is a great chance to try something new.
From the Municipal Market, take a taxi to the Morumbi Cemetery in the south of São Paulo. Here, you can find Ayrton Senna's grave, a must-stop for any F1 fan.
The grave is located almost in the middle of the cemetery, only around 100 metres from the entrance. You'll often see it decorated with Brazilian flags and flowers. The gravestone reads, "Nada pode me separar do amor de Deus", which translates as "Nothing can separate me from the love of God".
When the Air Force Police brought Senna's body home in 1994, almost three million people flocked the streets of São Paulo to offer their last salute – one of the largest groups of mourners in modern times.
It's time to return to the centre of São Paulo. You already explored downtown in the morning, so head to a different area now. Avenida Paulista is one of the city's most famous streets and a great stop if you only have one day in São Paulo. The avenue is almost three kilometres long, and you can find lots of cafes, restaurants and museums here.
If you visit on a Sunday, the road is closed for cars, and you can explore it by bike. But even during the week, Avenida Paulista is worth a visit. With a bit of luck, you'll come across a market where you can buy handicrafts or street food.
If you would like to see more art, head to the MASP – Museu de Arte de São Paulo. This excellent museum features an extensive collection of European art and also houses masterpieces by Brazilian and other South American artists. The MASP is not just worth seeing for its collection but also for its unusual architecture, so even if you don't want to go inside, make sure to stop by for a look.
If you want to enjoy more green spaces, head to Parque Trianon. The dense vegetation and palm trees can almost make you forget that you're standing in the heart of a giant city.
Finish your day in one of the many restaurants you can find along this avenue, with either more traditional Brazilian food or some international delicacies.
The above itinerary shows you the highlights if you only have one day in São Paulo. If you have more time, or would like to swap out one of the stops on this itinerary, here are some suggestions:
Parque Ibirapuera is not just the largest park in São Paulo but also one of the largest in Latin America. You can easily spend hours here, walking through the green oasis in the middle of the city. Plus, Ibirapuera Park also serves as a cultural centre. The Afro-Brazil Museum is a perfect stop if you want to learn more about Africans in Brazil, and it gives a great insight into Brazilian culture.
Brazilian street food is absolutely delicious. You might already pass some stalls during your one day in São Paulo, which will allow you to sample a few typical dishes. If you're looking for a sweet snack, opt for churros. In Brazil, you'll often see those filled with doce de leite, a caramel cream. You will likely also come across coxinha, tear-shaped fried snacks filled with chicken, or pao de queijo, baked balls made from cheese and cassava.
Beco de Batman (Batman Alley) is perfect if you want to see Brazilian street art. The first drawing dates back to the 1980s when an artist painted a mural of Batman. Since then, the alley has turned into a street art gallery, and you might even see someone spraying fresh graffiti on the walls.