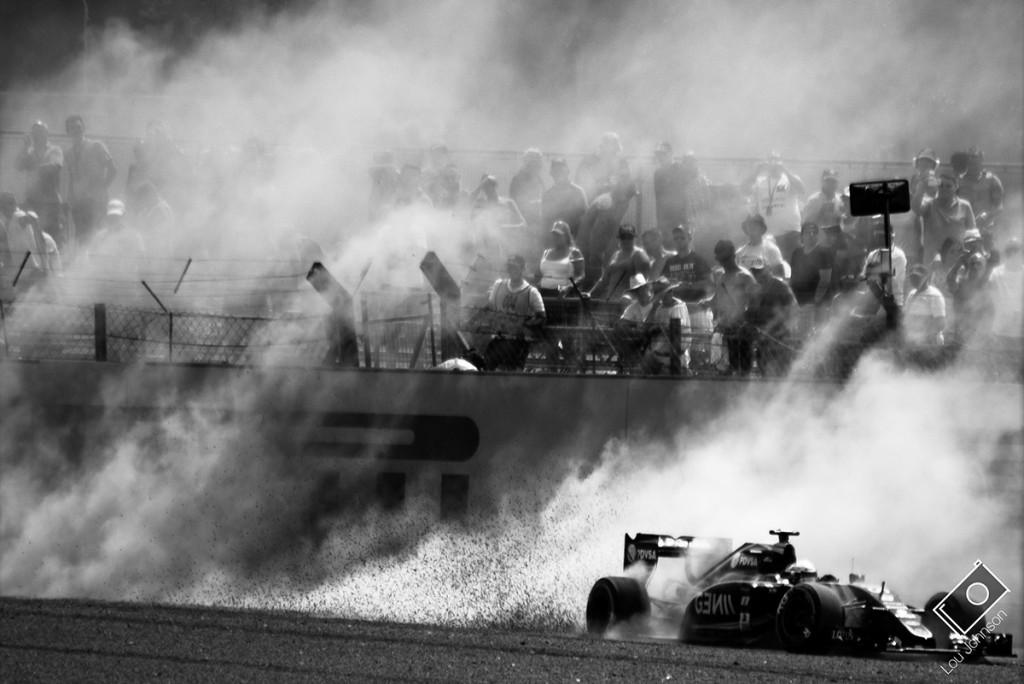 Lou Johnson gives us the lowdown on how to take great photos at F1 races, sharing useful tips and advice on kit, the basics, capturing speed and using your surroundings.
Main image: Romain Grosjean kicks up the gravel at Silverstone, 2015 British Grand Prix. All images © Lou Johnson Photography
It's long since been a passion of mine to photograph Formula 1. It's a sport that lends itself to the lens, beautiful locations, bright sponsor logos, exciting racing and attractive cars. What's not to love?! In this world of social media, it's now easier than ever to find the latest shots from those talented photographers the other side of the catch fence.
However, it doesn't mean that just because you don't have that access you can't capture great images of your own. Access isn't always everything. Besides, a lot of photographers with passes will head out to the public areas to shoot too! I'm a photographer, and I've recently attended the 2014 Canadian Grand Prix, and the 2015 Australian and British Grand Prix, and while I don't have the access the official photographers do, that doesn't stop me being creative and having some fun shooting at the track.
You don't need to spend thousands on equipment to be able to get great shots at an F1 race, but you'll probably need something a little more substantial than your trusty compact or mobile phone. While these are great cameras in their own right, it'll be hard to have the control you need to shoot through the fencing, or capture the fast cars in action.
Mid range DSLRs such as the Nikon D3300 or Canon 750D are ideal for the beginning of your motorsport photography journey, but better than that, they'll be great tools to use for shooting holidays and special occasions too – meaning you really can get the most out of your money!
Lenses are the most important part of any photographer's kit. If you're just starting out I'd recommend a zoom lens. I used the Sigma 70-300mm f/4–5.6 lens, it is extremely versatile and great value for money. As time goes on, and you've had some more practice you may decide to invest in a slightly more expensive piece of kit. I'd also recommend purchasing a wide angle lens of some sort. They're perfect for capturing the atmosphere, and those lovely big sky shots at Silverstone!
The best thing you can ever do for your photography is to get to know your equipment. Know your camera inside and out, find out how it works, find out what each setting does and what that means for your image. Then switch it all to manual. It may seem daunting and take some time to get used to, but it's truly the best way to get to know your camera and take control of your photographs
Light is the most essential element for your photos, even the word 'photography' has its roots in the Greek language and roughly translates to the phrase 'drawing with light'. Once you understand how your camera works, and how you can control how the light gets to your sensor you'll have a much greater control over your camera and the photos you create.
The two main elements of your camera that you most need to be aware of are the aperture and the shutter speed. The aperture controls the amount of light that enters the camera, through its size, and shutter speed determines how long that aperture is open for. Both are essential to the outcome of your image.
In basic terms, the smaller the f-stop the wider the aperture, the more light that gets in to your camera. A wide aperture creates a very shallow depth of field in your photo, making it ideal for shots of the drivers in the paddock where you don't want any distraction from the background. (See shot of Jenson Button below, taken at the 2015 Australian Grand Prix) However this isn't just reserved for portraits, it can be used to great effect on the cars on track too. (See shot below of a Ferrari at the 2015 British Grand Prix)
One of the biggest problems you will face as a photographer with fan access at a racetrack is the catch fencing. They have the ability to ruin your photos, but they are so essential to our safety. However, just as our eyes can focus through the fences as we follow the race action, so can our cameras. The trick is to find a general admission area that allows you to stand close to the fencing, and ensure you set the widest aperture possible for your lens. Your lens should focus past the fencing, leaving little or no trace of it on the photo. Depending on the track, it may also be possible to find some photographer's windows (holes cut into the fencing for the professionals to use) or maybe even gaps in the fencing at marshal posts.
Panning is probably the photographic technique most associated with motorsport. This involves using a slow shutter speed, and following the car that passes as you take the photograph. It can be challenging at first, but can be very rewarding with a little practice. Why not try practicing on the many support races that are at the track over an F1 weekend? Start with a slightly quicker speed such as 1/250 and experiment with slower and slower speeds as you improve. The slower the speed the more freedom you get to capture the motion of the cars, and the colours in the background.
Once you're comfortable panning you can start to get a bit more creative with your shots, utilise anything around you to help you tell your story of the weekend. Shooting through the crowds, grandstands and trees, can really help to make your images look more visually interesting.
There is nothing more exciting when you attend a race than the atmosphere, and I love trying to convey that to my audience. Look around you, Grand Prix's are full of fans who dress up in the most brilliant outfits, from chequered flags to team kit. Use what you see around you to help tell your story of the race weekend.
Think creatively, if there are twenty photographers stood next to each other at a specific location then try and capture a different shot. Push yourself creatively to tell a different story through your photograph. You don't want the same image as twenty other photographers if you can help it. Always look for landmarks to include in your image that gives it some context.
As with any skill, photography takes time, patience and practice, but when F1 and motorsport are your subjects, what's not to love?!