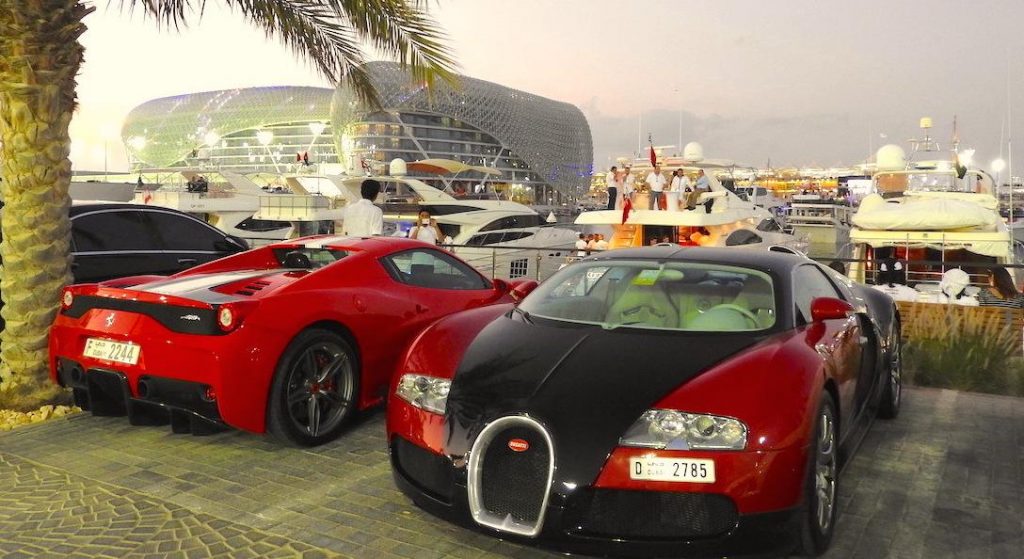 The best budget, mid-range and luxury hotels in Abu Dhabi for the 2021 Abu Dhabi Grand Prix at Yas Marina on December 10-12.

F1 Experiences is now offering F1 Ticket + Hotel packages for the 2021 Abu Dhabi Grand Prix. Choose a seat in the Main, West or North Grandstand with a local hotel room.

The Editor attended the Abu Dhabi Grand Prix in 2015, 2018 & 2019. Support the future development of F1Destinations by reserving your accommodation through the Booking.com links on this page. Images © Tomasz Cwiklinsi & F1destinations.com
If budget is no issue, the best places to stay for the Abu Dhabi Grand Prix are on Yas Island, within walking distance of the circuit (or inside the circuit, in the case of the Yas Hotel Abu Dhabi!) The next best option is to stay at one of the many fine hotels in the centre of Abu Dhabi – the best are close to the Corniche beachside boulevard. Budget options are limited in Abu Dhabi and accommodation prices are high when compared to most Grands Prix. There are no hostels and the offer from airbnb is not so large, so you will need to go for a hotel (or aparthotel). If you don't mind staying further afield, Dubai is also worth considering for a better range of accommodation at cheaper prices but the 2-hour commute each way needs to be taken into account.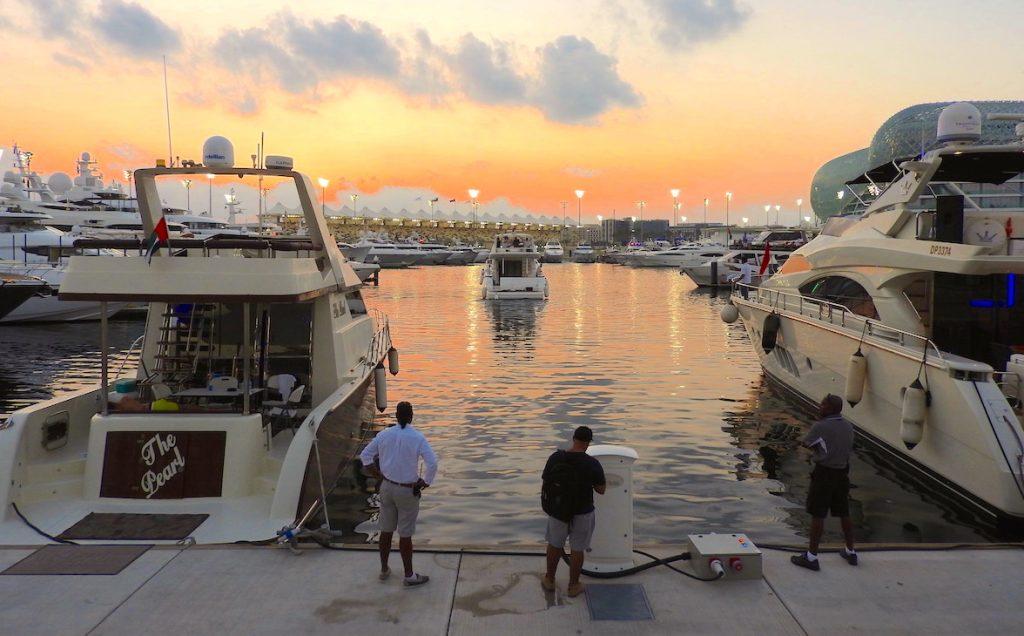 Yas Island Hotels
Yas Island is home to several luxury hotels, including the iconic Yas Hotel Abu Dhabi (formerly Yas Viceroy Hotel) within the circuit complex. Not surprisingly, these hotels are in high demand on Grand Prix weekend, prices are high and you will need to book almost one year in advance to secure a room. One note of caution – some rooms at the Yas Hotel facing the marina can be very loud due to the all-night yacht parties taking place on Grand Prix weekend.
Located right next to the track, the W Abu Dhabi offers everything you would expect from a world-class 5 star hotel. You'll pay at least €1250 per night on Grand Prix weekend.
The cheapest option on Yas Marina itself, this well-rated 3-star hotel will still set you back €550 per night for a double room over this year's race weekend.
Just a few minutes walk from the circuit, features a large outdoor swimming pool. Some of the well-appointed rooms offer circuit views. Doubles from €500 per night.
Mid-Range Accommodation in Abu Dhabi
Good standard studio apartments in a central location close to bars and restaurants from €160 per night.
A Large Junior Suite (measuring 54m2!) can be had in this 2-star hotel on Grand Prix weekend for €200 per night.
Trusted global brand hotel with a good selection of standard and superior double rooms from €260.
Luxury Accommodation in Abu Dhabi
There's no shortage of luxury hotels in Abu Dhabi, including all the big global brands. Prices on Grand Prix weekend range from just over €200 per night for a decent 4-star hotel up to in excess of €1000 per night for the very best.
A highly-rated 5-star hotel with huge rooms and nice views. Deluxe room with balcony from €380 per night.
Part of the spectacular Etihad Towers complex, with amazing views of the Arabian Gulf. Double room from €420 per night.
A spectacular 5-star hotel with its own private beach. Rooms from €650 per night on Grand Prix weekend.
Dubai Hotels
Dubai is around 100km from the circuit at Yas Marina. If you are willing to put up with a 2-hour trip to and from the circuit each day, then Dubai has more accommodation to choose from and prices are cheaper on Grand Prix weekend. There is also arguably more to do in Dubai, and it can be a better base if you have plans to stay in the Emirates before or after the race. More information about getting from Dubai to Yas Marina can be found in the Getting There & Around section of our guide.
Please be aware that hotel prices in the UAE are normally quoted without 6% city tax, and that most hotels also charge an additional 10% service charge, to be paid at the hotel.
Where did you stay for the Abu Dhabi Grand Prix? Leave a comment below!