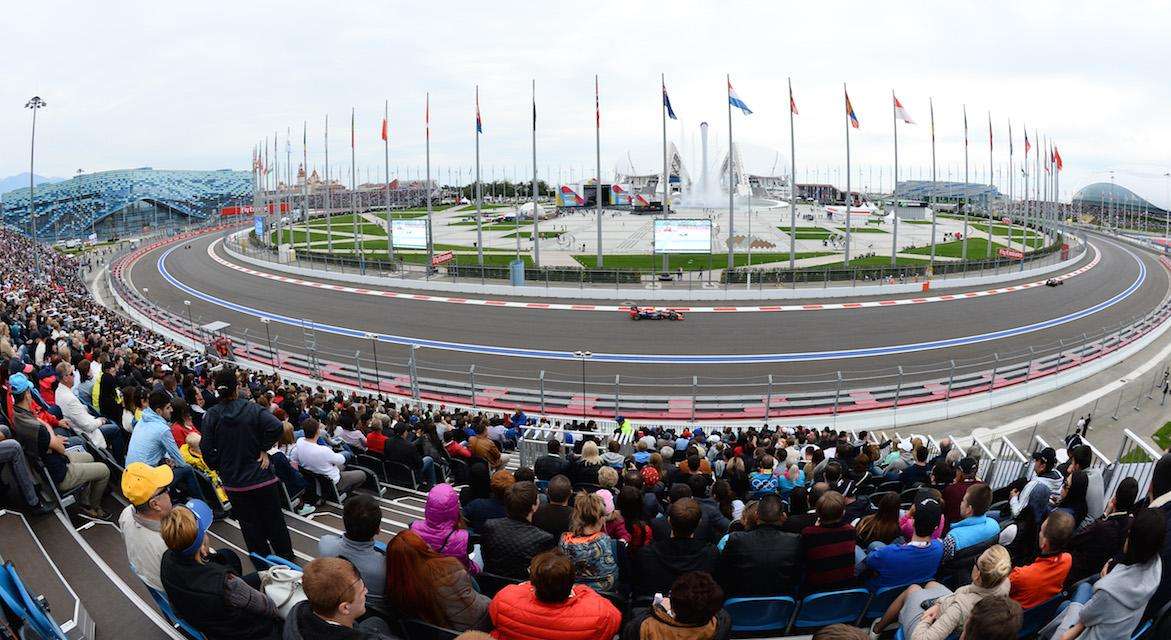 Formula 1 heads to Russia for the sixteenth round of the 2019 championship. As Ferrari enjoy a late-season resurgence, we ask if Vettel is back on form, whether Mercedes' Sochi win record will come to an end and whether Hulkenberg can secure a place on next year's grid. Here are the talking points ahead of the 2019 Russian Grand Prix weekend!
Sebastian Vettel claimed his first win in over a year at last week's Singapore Grand Prix. While he was helped on his way by the undercut strategy on his team-mate, Vettel withstood the pressure of three Safety Car restarts and being barely a second ahead of Charles Leclerc for most of the Grand Prix. Was the performance a one-off, or is Vettel back on form?
Though he's never won in Sochi, the German has had past successes at the track, with pole position in 2017 and podium finishes in three of the last four seasons. This weekend, Vettel will hope to be the man to bring Ferrari four consecutive victories for the first time in over eleven years. However, he still needs to be on his best behaviour this weekend, as he remains three penalty points away from a race ban.
Can Ferrari fight anywhere?
Heading to Singapore, it had been expected that Mercedes and Red Bull would battle for the win at the Marina Bay Circuit, while Ferrari would struggle to find pace. But on Saturday, Charles Leclerc took pole position with a blistering lap, and Ferrari went on to become the first team to secure a 1-2 finish in Singapore. Given how they have now won the past three races, held on three quite different circuits, it poses the question: can Ferrari now fight for victory on any circuit?
Though the team are yet to take a victory at the Sochi Autodrom, Ferrari have seen at least one of their drivers finish on the podium at the track in all of the last four years. They also locked out the front row of the grid in 2017, so have previous experience in finding the sweet spot for their car at this track.
With six races remaining, it would be a long shot for either Ferrari driver to take this year's title, or for the team to win the Constructors' battle. Even if Leclerc wins and takes fastest lap at every remaining race this year, all Lewis Hamilton has to do is finish fourth in every round to stay ahead in the championship. Likewise, in the Constructors' Championship, if Ferrari finish 1-2 in every remaining race, Mercedes need only 4-5 finishes in each race to stay ahead. Nevertheless, a late-season resurgence would set up plenty of off-season speculation about the Scuderia's 2020 chances.
Mercedes are yet to lose a race in Russia. Not only have they won all five races held so far at the Sochi Autodrom, Benz also won the two pre-F1 Grands Prix held in Russia in 1913 and 1914. Though this was before Mercedes and Benz merged in 1926, it technically means that the team have been unbeaten in Russia for 116 years!
That honour could be harder to defend than ever this weekend, and the team are wary of the threat from Ferrari. Lewis Hamilton has said that Ferrari will be "very hard to beat" based on their recent record. But Mercedes are very much the team on form at the track, with 1-2 finishes in 2014, 2016 and 2018. Nico Rosberg's retirement in 2015 and Lewis Hamilton's fourth place in 2017 are the only times their drivers haven't featured on the podium. Can Mercedes maintain their 100% winning record in Russia?
Daniil Kvyat heads to his home Grand Prix for the first time since 2017. The Sochi Autodrom is a circuit on which Kvyat has had mixed results in the past. While his fifth place with Red Bull in 2015 is the only time he's scored points at the track, the following season saw him become a battering ram to Sebastian Vettel's Ferrari. It marked his final appearance with Red Bull before being demoted to Toro Rosso. Kvyat has been more consistent this year, but has been out-raced by new team-mate Pierre Gasly in each of the last two races. He'll have a difficult task this weekend, as he'll start from the back of the grid due to power unit penalties.
Russian fans have had at least one home star to support in each running of the Russian Grand Prix so far, with Sergey Sirotkin having featured on last year's grid. Kvyat won't be the only home racer picking up support in 2019. This weekend marks the Formula 3 season finale, and Russian driver Robert Shwartzman has a chance to seal the title. Shwartzman holds a 33-point lead over Jehan Daruvala, with 48 points on offer over the two races.
Where does Hulkenberg go?
With Esteban Ocon joining Renault alongside Daniel Ricciardo in 2020, Nico Hulkenberg has been left without a seat. His options for staying in F1 appear to be slim. Haas was thought to be the obvious destination for the German, but that door closed as the team announced that they would retain both Kevin Magnussen and Romain Grosjean for the coming year.
It leaves Hulkenberg with just two realistic options: Alfa Romeo or Williams. The two outfits are both teams at which he has previously driven; Alfa Romeo, when it was Sauber in 2013, and Williams in his rookie year in 2010. Alfa Romeo is the more competitive of the two, but Antonio Giovinazzi appears to have upped his game in recent races, and Ferrari will be keen to keep their Academy driver at the team.
Meanwhile at Williams, there is definitely a vacant seat, with Robert Kubica having announced his intention to depart the team. The obvious issue with this is whether or not Hulkenberg would want to stoop to such a level of uncompetitive machinery just to remain on the grid. Furthermore, rising F2 star Nicholas Latifi is expected to fill the seat for 2020 and is on course to have enough super-license points to do so.