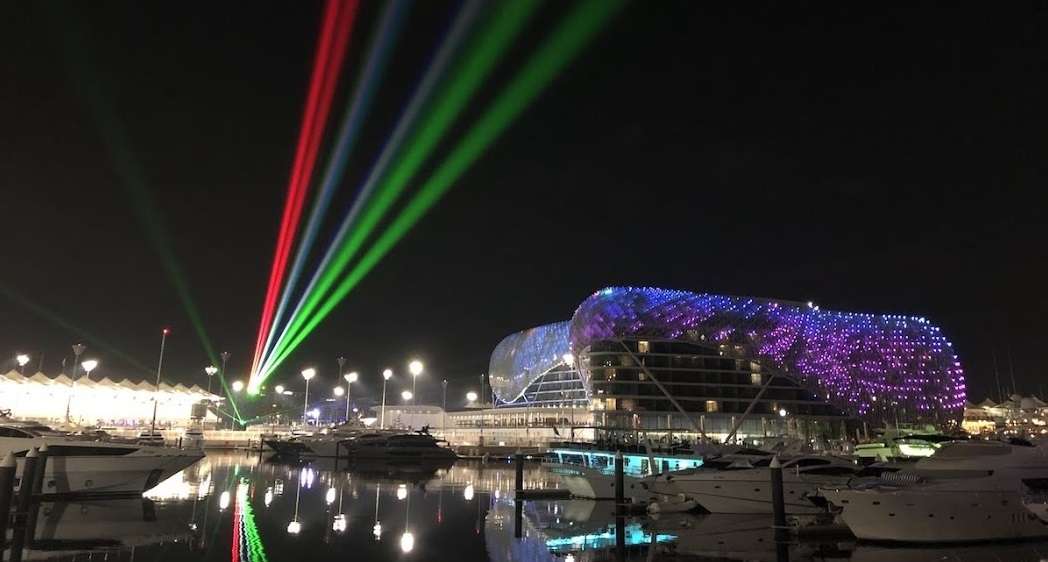 The lights will go out for one last time this season as Formula 1 heads to the Yas Marina Circuit. From fond farewells, to reasons to look ahead, here are the talking points ahead of the 2019 Abu Dhabi Grand Prix!
The sun is about to set on another action-packed Formula 1 season. It has been a year in which Lewis Hamilton has excelled on his way to a sixth world title, Honda power has returned to the top and team tensions have boiled over (more on that later).
The 2019 Abu Dhabi Grand Prix will be a chance to celebrate the end of another year with all the usual traditions, such as the drivers' photo call and the customary end of race donuts. And there will be a few farewells in store too.
Nico Hulkenberg will bow out of Formula 1, at least for the time being, at this weekend's Abu Dhabi Grand Prix. The German will make his 177th start on Sunday – by far the record for most appearances without a podium finish. Hulkenberg showed promise throughout his career, from his pole position in his maiden season to leading the 2012 Brazilian Grand Prix, but he has never quite been able to fully grasp opportunities which have come his way. The most recent example of this is when he crashed out of the 2019 German Grand Prix, when a podium finish could easily have been within reach. Hulkenberg makes way for Esteban Ocon at Renault in 2020.
It will also be the last appearance for Robert Kubica at Williams. The Pole is expected to move into a testing role at either Haas or Racing Point in 2020. On Thursday, Williams announced Nicholas Latifi as George Russell's team-mate for 2020. All 20 seats on next year's grid are now confirmed.
The season-long Ferrari rivalry built to a crescendo at the Brazilian Grand Prix. On Lap 66, Sebastian Vettel and Charles Leclerc tangled, recording Ferrari's first double DNF in over two years as a result. There was a sense of inevitability to the incident, with the pair having been so closely matched over the season. Various team radio rants and strategy calls have heightened the tensions, but on-track battles between the two have been rare.
There are two interesting consequences: short term, will they magnetise again at the Abu Dhabi Grand Prix? Longer term, what does 2020 hold for the duo? Team Principal Mattia Binotto says that the clash was "was not acceptable", but insisted the pair will retain their "harmonious relationship".
With one race to go, Leclerc remains in the fight for third place in the Drivers' Championship. Following his win at the Brazilian Grand Prix, Max Verstappen holds an eleven point advantage over the Monegasque driver. Meanwhile, if Leclerc stays ahead of Vettel in the Championship – the gap currently being nineteen points – it'll be only the second time that Vettel's team-mate has out-scored him over the course of a season.
Renault under threat from Toro Rosso
The dramatic Brazilian Grand Prix resulted in two surprise first time podium finishers – Pierre Gasly and Carlos Sainz. Sainz was promoted to third place following a five-second penalty for Lewis Hamilton. His podium finish secured fourth place in the Constructors' Championship for McLaren – their best placing since 2012. Sainz now sits an equal sixth in the Drivers' Championship with fellow podium finisher Gasly – but both face tough competition from Red Bull's Alex Albon, who lies just eleven points behind.
A consequence of Gasly's second place in Brazil, is that Renault's fifth place in the Constructors' Championship is now under threat from Toro Rosso. After the Interlagos race, Renault are on 91 points, while Toro Rosso are on 83. There have been five rounds this season where Toro Rosso have out-scored Renault by eight points – if they do it again in Abu Dhabi, they'll gain millions of dollars worth of prize money.
While the end of the season is a time for reflection and nostalgia, the paddock heads for its winter break with a keen eye on the future. Just this week, Red Bull and Toro Rosso have been boosted by the news that Honda will remain as their engine supplier until at least 2021.
Formula 1 never really sleeps; development of the 2020 machines will be well underway by now, and the teams will continue to learn for next year in the post-season Abu Dhabi test. When the chequered flag falls at the Yas Marina Circuit, there will be a little over 100 days until the 2020 Australian Grand Prix. There are so many stories already brewing for next season: will Honda continue to make gains on their rivals? How will the Ferrari team-mates shape up? And will anyone be able to stop Hamilton from equalling Michael Schumacher's record World Championship tally? 2020 already looks set to be a compelling year.
What has been your highlight of the 2019 season? Do you think Toro Rosso will beat Renault to fifth place in the Constructors' Championship? Leave a comment below!