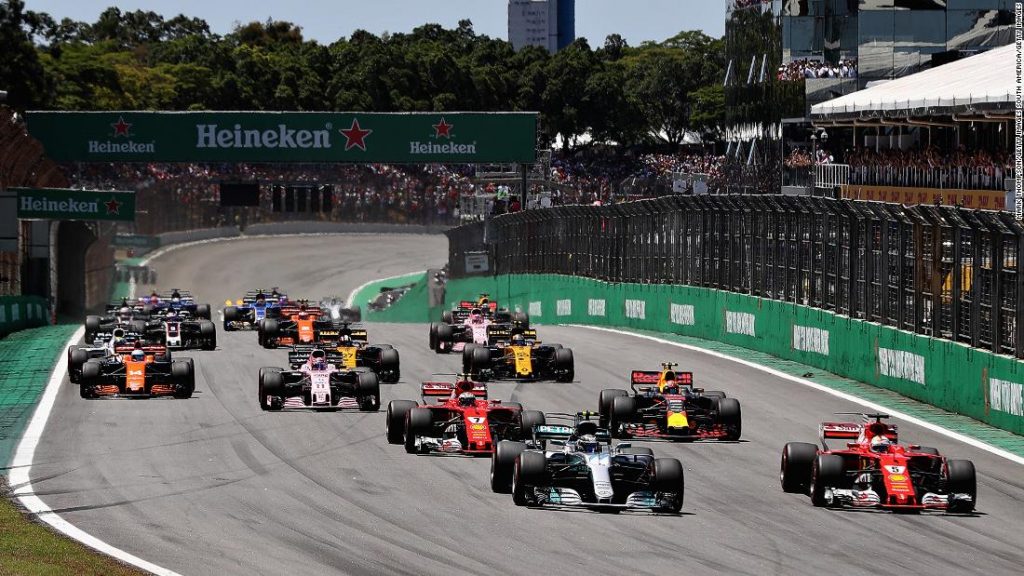 The championships are sealed as Mercedes look to continue their winning ways, while Charles Leclerc carries a 10-place penalty and the battle for third heats up. Here are the talking points ahead of the 2019 Brazilian Grand Prix.
The Championships are decided
Lewis Hamilton wrapped up his sixth Drivers' Championship at the United States Grand Prix. Both the 2019 Drivers' and Constructors' titles have now been decided, with Mercedes having taken the team honours back in Japan.
Despite the titles being theirs, it's very much business as usual for Mercedes this weekend. However, Toto Wolff will not be present at a Grand Prix for the first time since 2013. Wolff will instead be following the action from Europe. This week, Wolff commented that Mercedes' commitment to Formula 1 beyond 2021 is "not a given".
Mercedes have won four of the last five Brazilian Grands Prix. On the one hand, there's no big prize left to fight for, but on the other hand both Hamilton and Valtteri Bottas have nothing to lose by racing hard around Interlagos.
Charles Leclerc will face a ten-place grid penalty at the Brazilian Grand Prix. It comes after his engine failed in Free Practice 3 at the United States Grand Prix, forcing him to use an older specification for the rest of the weekend.
The power unit rules allow only 3 Internal Combustion Engines, 3 Turbochargers, and 3 MGU-H units, as well as two 2 MGU-Ks, 2 Energy Stores and 2 Control Electronics units, before grid penalties are applied. Leclerc is not the only driver who could face a grid drop at the final two races. Lewis Hamilton, Valtteri Bottas, Sebastian Vettel and Romain Grosjean have also reached their quota for the year. The other sixteen drivers have used at least one more than their allocated totals; but could still face additional penalties.
There are rumours that Ferrari will use this as an opportunity to test parts of their 2020 engine, but this theory has not been confirmed by the team. Regardless, Leclerc's rise through the pack is likely to be one of the stories to watch in Sunday's Grand Prix.
Still up for grabs is third spot in the Drivers' Championship. Leclerc currently sits in the prime seat in this battle, fourteen points ahead of Max Verstappen. The Monegasque driver's grid penalty could result in the fight for third heating up as the season reaches its culmination in Abu Dhabi. Leclerc's team-mate Sebastian Vettel also sits just a further five points back from Verstappen.
Interlagos is a track at which Verstappen pulls no punches; aside from post-race at Esteban Ocon. The Red Bull driver has had multiple strong performances here, from his memorable drive in the wet in 2016 to his near-win last season. Verstappen admitted his team will "need a bit of luck" to beat the Ferrari pair this weekend – though Leclerc's penalty will surely help. Will the championship order see a shake up ahead of the final round of the season?
It's fair to say that Haas' 2019 season hasn't gone as hoped. Though Romain Grosjean and Kevin Magnussen were able to qualify well early on in the season, the car hasn't had sufficient race pace to see them bring home points. Since the Hungarian Grand Prix, they've picked up just two points with Magnussen's ninth place finish in Russia.
Haas challenged for fourth in the Constructors' Championship last year, but sit a lowly ninth with two races to go in 2019. Team Principal Guenther Steiner likened the team's situation to "having a football team with 11 defenders and nobody in attack". Eighth place is still achievable for the American outfit – but only if they can out-score Alfa Romeo by seven points over the last two races.
The Future of F1 in Brazil
There has been plenty of speculation over Brazil's future in Formula 1 over the past year. 2020 will be the last year of the current Interlagos contract and there have been varying reports on whether the circuit will continue to host the Brazilian Grand Prix in 2021.
Back in May, Brazilian President Jair Bolsonaro claimed that the race would move to a new circuit in Rio de Janeiro from 2020. Despite bold claims that the circuit would take just seven months to construct, the story was soon written off, with Sean Bratches confirming Interlagos would host the 2020 race. Earlier this month, it was announced that MotoGP will race at the new RioMotorpark from 2022 – but it's not out of the question that Formula 1 could appear there one year prior.
Brazil has a long and illustrious history with Formula 1, but Brazilian talent has been sparse in recent years. Felipe Massa's retirement meant last year's Brazilian Grand Prix was the first not to feature a home star. Will we get any clarity on the future of the Brazil race this weekend?
Who do you think will win the Brazilian Grand Prix? Where will Leclerc finish following his grid penalty? Leave a comment below!