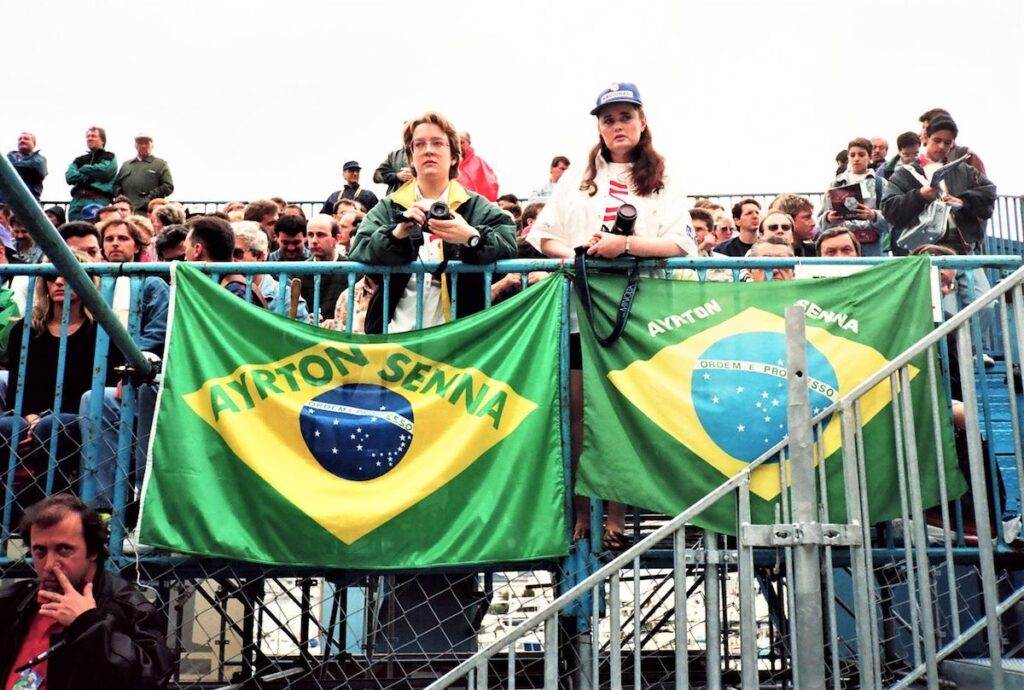 An interview with Linda Danton-Vizor, a huge Ayrton Senna fan who contacted us after seeing her photo in our article about the 1994 Monaco Grand Prix.
Three years ago, I published my account of the 1994 Monaco Grand Prix, the first race after Ayrton Senna's death. I was an accredited journalist at the race and took many photos.  One of them featured two women in the grandstand with a Brazilian flag (see main image above). Linda Danton-Vizor was one of those women and reached out after reading the article.
When and why did you begin to follow F1? Do you remember the first race you watched?
My dad has always been heavily interested in motorsports, so I watched with him from a small child. Certain F1 memories and drivers really stood out for me. Jim Clark and then Graham Hill winning at Monaco; the whole atmosphere and the thrill of the circuit amongst the principality really fuelled my imagination. Probably my outstanding memory from so long ago would have been watching and willing on Emerson Fittipaldi to the chequered flag at the Dutch GP at Zandvoort. I liked Emerson as he was upbeat and always smiling.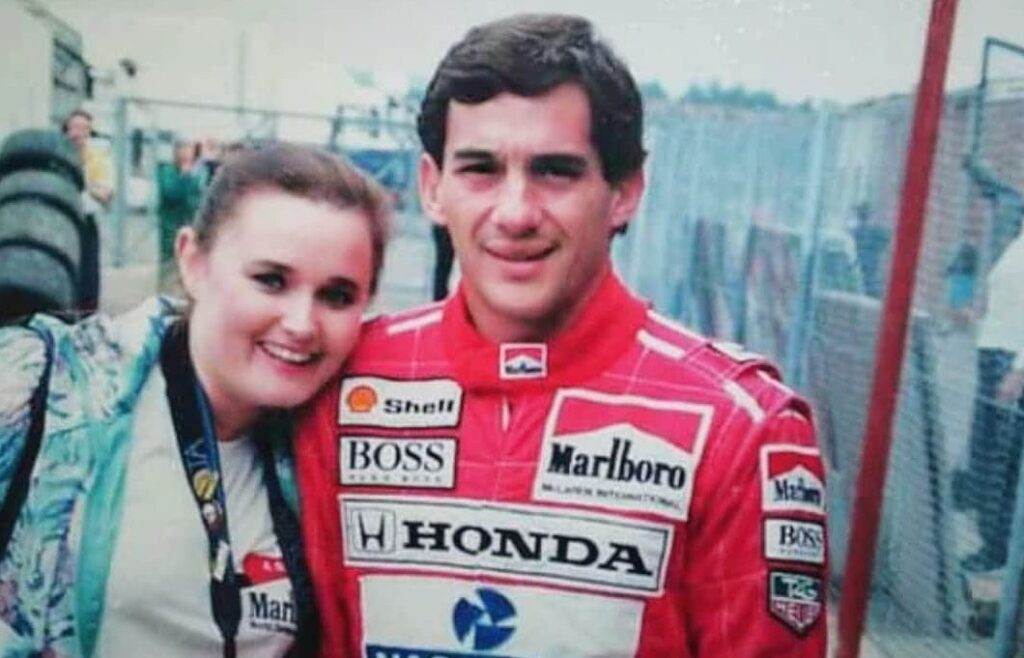 Why Senna? How did he become your idol?
I have always been attracted to men with charisma; mavericks who excelling at something. Whether it be sport, music or art, the ones I like have to be unique and gifted with skills in their chosen field. Someone for whom the word 'genius' could or should be applied. Make them a very misunderstood character and my interest is heightened. 
A friend was marshalling in the lower formulae told me about this amazing guy from Brazil who was joining Toleman at the start of the 1984 F1 season and told me to watch him and see how he does. Ayrton was amazing for a rookie in an uncompetitive car in his first year. That was all it took, and I was hooked.
In the early years I found him attractive, interesting and amazingly talented. I knew just knew he was going to be a force to be reckoned with. Yes, he got into scraps on the track and the English press hated him as he vetoed Derrick Warwick from joining as his teammate at Lotus in 1985 (as a racer he was right to do so). When he joined McLaren, I just knew that all his hard work, the disappointments and his determination was going to pay off for him.
The British press were quite negative towards Senna but he single-minded kept his head and didn't give up. He was amazing and I became more and more of a fan. He worked for his success, faced a lot of backlash from the Prost/Balestre camp and unfriendly journalists but he still fought on.
Then in 1990 I got a better job that enabled me to spend money on going races at home and in Europe, and I got to meet Ayrton in person. We became friends and would often have a chat and a joke. I also kept him supplied with his favourite chocolates! I saw the human side of the myth, his kindness to people, his charitable ways and his humbleness as a man. It was easy to choose him as an Idol.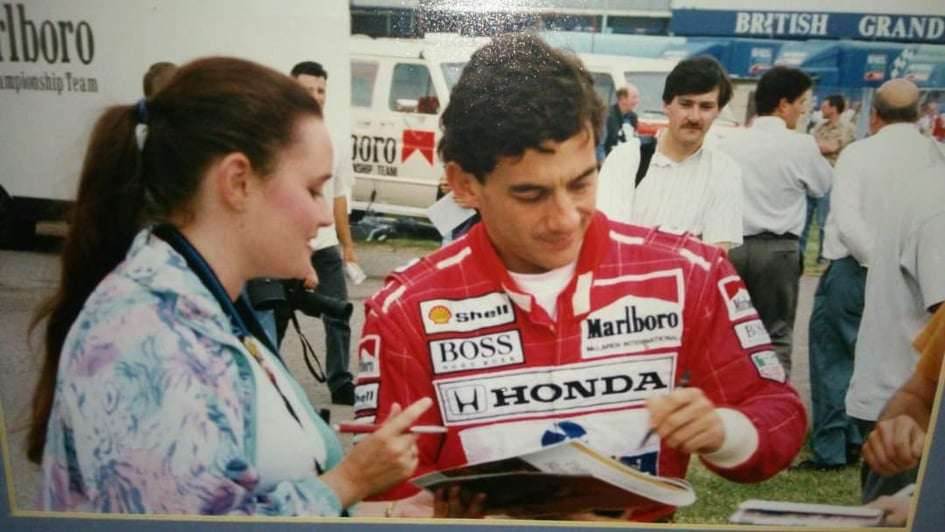 Were you a member of a certain F1 or Senna fan club? How was F1 life for fans in the 1980s?
Being a fan of F1 in the eighties and nineties was quite a bit different to today. The big difference is we didn't have the internet back then. You couldn't Google a driver or team, and there wasn't the instant connection to a source of articles or the ability to instantly communicate with a lot of like-minded fans or express your opinion on driving incidents. Everything was done by phone, letter or face to face at racetracks. I got into many a scrape and almost fight in the early nineties with mostly flag-bearing Mansell fans who got put out seeing a Senna Fan!
I even lost the chance of my dream job as a coach steward for a F1 tour company because I couldn't promise to toe the company line and call Ayrton the "Prince of Darkness". I wrote many letters to F1 publications in those days objecting to journalists being downright hateful when they wrote about Ayrton.
I did belong to the GPCC which was a club for F1 fans, and I made a few lovely friends who were a lot older than me and didn't venture to races. I went to my first Grand Prix, the Spanish Grand Prix, with Chequers Travel on my own. I quickly made a load of friends and would meet up with them whenever I went to a race as part of a planned tour. I went to other races with a fellow Senna fan under our own steam, mostly Portugal and Monaco.
Sadly, I have found since the internet revolution and social media accounts, something that could be so great is often turned into something pretty ugly. Lots of tribute groups and fan clubs are online but it seems to have bred a lot of negativity and jealousy. Fans attacking others, cyber bullying. There are a lot of people that seem obsessed about Ayrton to the exclusion of normal life and that's so sad. Ayrton was a man of love, peace, God and he would hate to see all this. 
How do you remember Imola 1994 after more than 25 years?
So much has been said and written about Imola 94. I still can't properly watch the footage of that day or that weekend. As Niki Lauda said, 'God left for a vacation that weekend'. I was watching at my parents' house and knew it was bad. I retired to their summer house, took a model of Ayrton in the number 27 McLaren off the shelf and just instinctively kept stroking his head willing him to pull through… if only wishes could come true.
27 years on I still think and feel the same as I did that fateful day. I truly believe that car at that time was so unstable it was a miracle that Ayrton put it on pole. Without driver aids, the car was truly awful. Ayrton realised he had made a huge mistake going to Williams, but his pride would not let him quit. He had to see it through. He was under immense pressure from his family who hated his girlfriend. Ayrton had been living in Portugal with her because family negativity was driving him to despair. Having seen him with Adriane I knew he had the girl who made him truly happy. He felt loved and it showed.
That Imola weekend 'Dri' had stayed in Portugal but Ayrton's brother Leonardo had been dispatched by the family to Imola to 'persuade' Ayrton to dump her (which he wasn't going to do ever). Rubinho had crashed on Friday and then Roland was killed on Saturday. It was a miserable, pressure filled weekend. Ayrton didn't want to race and wanted to return to Portugal. His good friend, Professor Sid Watkins, even suggested they quit together and go fishing but Ayrton stayed for the race out of a sense of duty and commitment.
I believe by race morning, although he was anguished, he had that racer/warrior head on and was ready to give it everything as he always did. But a modification to his steering column would have fatal consequences in the race. When it broke, it left him with no steering going into Tamburello. Telemetry showed he was lightening quick on the brakes but did not have room to stop. Had the carbon fibre piece of suspension (broken from the wheel) struck his helmet millimetres to the left or right just maybe he would have had severe concussion and survived. Instead, it wedged between helmet and visor and caused the horrific brain injury that killed him outright.
He always said if he had a life threatening accident he wouldn't want to survive if it left him permanently disabled and not living life to the full. If he had such an accident, he hoped death would come in an instant. God spared him that pain when he took him home. As someone who loved him, I take comfort in that thought.
It took me a long time to forgive the Williams team for the poor design of the car and their attempted cover up of the facts. Then I decided to think how Ayrton would have seen it and thought about it. Frank Williams wanted Ayrton to drive for him for a very long time. He thought a lot of Ayrton and had hopes of a lot of success with Ayrton. Yes, they were negligent in their rush to get stuff done. Ayrton would have seen it as a racing incident, he knew the risks. He would have been very sad at the outpouring of blame and hate that happened in the aftermath. In time, fairly recently actually, I found it in my heart to forgive Williams and I'm finally at peace with it. 
Please tell me the story of the photo I took of you and your friend in Monaco 1994
I met my friend Christine (next to me in the photograph) on a Page & Moy trip to the Italian Grand Prix at Monza in 1992. We immediately hit it off and even though she lived in Middlesbrough and me in Essex; we often met up for a long weekend to plan which race we would attend to support Ayrton. I had been able to introduce her to Ayrton at the Portuguese Grand Prix at Estoril the year before. 
As you can imagine we were absolutely devastated to lose him, and I can't describe the heartbreak and numb shock we were feeling. We decided to still go to Monaco as our way of paying respect. We booked an apartment in Menton for five days. On our flight to Nice, Johnny Herbert and Derek Warwick were sitting in front of us in First Class, separated by a flimsy curtain We were wearing Senna shirts and both men were extraordinarily kind to us, saying how sad they felt and giving us a hug. They kept pulling the curtain back and jesting with us over their meal on board and ours and swapping bits of food with us. We all got told off by the cabin crew.
The atmosphere at the track was one of complete shock and disbelief. The whole weekend had an air of total sadness. The suite with the balcony that Ayrton rented every time for his family and friends at the race every year was closed and shuttered out of respect. Such a contrast from previous years when it would be draped in Brazilian flags, and Senna's family and friends would be partying and having fun supporting their man.
I had spent several weeks before the race making shirts from normal white shirts. They were bedecked with a huge sown on Brazilian flag on the back. I had embroidered Ayrton's new "Driven to Perfection" logo that he had launched recently. I traced Senna's autograph from one of the many items he had given me, and delicately embroidered it on the pockets in fine gold thread. We wore those shirts in total sadness.
People were kind. We sneaked into a lift at the Hotel De Paris to go up to the next level in the street. A room steward had a huge floral display he must have been delivering to a room. He smiled at us, plucked two flowers from the display and gave them to us. We begged the doorman at The Sporting Club of Monaco to let us use the toilet before it was closed for the day. We noticed a huge Senna Display and he kindly turned the lights back on so we could see it in all its glory. I bought a silver chain at a jeweller and a silver tiny F1 car, a heart and an initial A to put on it. The jeweller carefully took the poster advertising the GP with Ayrton's picture on it and put it in a cardboard tube before presenting it to me. It was honestly like the principality had lost their own son. Almost like a beauty in the stillness and sadness. 
A friend who owned Chequers Travel asked me if I wanted to know what really happened to Ayrton. I did and he told me very gently the full details. It was comforting to know that his death was quick, and he wouldn't have been in pain. He told me he knew how we were feeling as he remembered when they lost his idol Jimmy Clark. It was a time for fan rivalry to be put aside and for everyone to come together.
For my part I wanted to give something back and let the people who really did understand and love Ayrton to feel they were appreciated. I made copies of my favorite photo I had taken of Ayrton in the pits at a tyre test at Silverstone and wrote a note to each of them thanking them as a fan for the love and respect they had shown him.  I gave these to Gerhard Berger, Jo Ramirez, Bertice Asumptao, Ron Dennis and Josef Leberer. Gerhard hugged me, Jo and I shed a tear together and Josef was so sweet and wanted to know where I'd taken the photo. It probably sounds a bit corny or pretentious even, but I really felt Ayrton wanted me to say thank you on his behalf.
Your photo of us wasn't the only photo of us taken at the GP. We were watching TV back at the apartment and the news came on about Monaco and a cameraman had zoomed in on my face as I'd shed a tear. That image was used quite a lot on the Monaco weekend coverage.