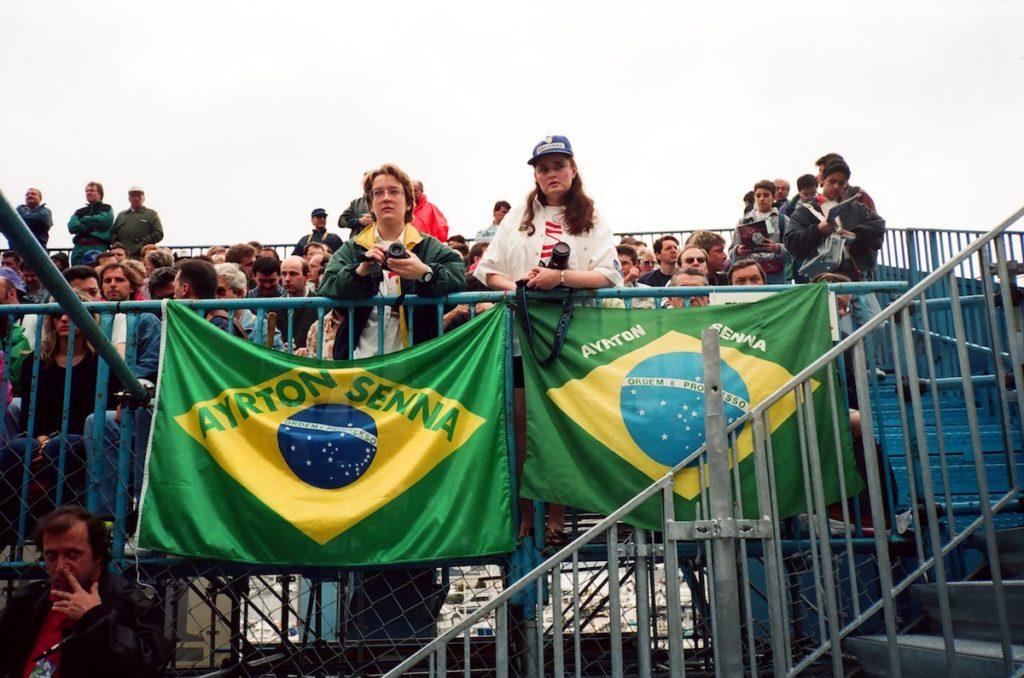 On May 1, 1994, I sat in the office of the daily paper in Pécs, Hungary, to watch the live broadcast of the crash and death of Ayrton Senna at the San Marino Grand Prix. I couldn't help but wonder what kind of mood I would experience a few weeks later at the next race in Monaco, where I already had my accreditation.
Words by Károly Méhes. Pictures by Károly Méhes and György Szundi.
It was my first visit to Monaco and what a sad place it was in mid-May 1994. It was like the beginning of a new era because everybody thought Formula One would be never the same without Senna. The weather for the first free practice day on Thursday was dark and gloomy, matching the mood of the paddock. My photographer colleague disappeared to capture some shots somewhere, leaving me to walk through the paddock behind the old ceramic factory. You could feel the discomfort. Spectators were sitting silently in the stands and those with Brazilian or Senna flags were crying.
Fate wasn't yet finished with Formula 1
During the morning session, Karl Wendlinger crashed his Sauber heavily after the tunnel and the 25-year-old was immediately in a coma. 'Jesus, what is going on,' everyone asked. At lunchtime, I went to the Monaco Yacht Club where the Porsche Supercup series had its usual media meeting. The Porsche motorsport boss at the time was Max Welti, a Swiss. He had sources within Sauber and couldn't hide his concerns about Wendlinger's state.
Back in the paddock, I passed the Willams team having their own meal without a single smile, which was hardly a surprise. We stayed at Hotel Acanthe in Nice, where the Greek owner was anxious for news and gossip about the current state of the sport after learning we were F1 journalists. Friday's papers all led with the latest shocking F1 news. I'll never forget the headline on the Nice Matin front page that day, La Série Noire Continue (The Black Series Continues).
Handling the unhandleable
There's no F1 action on Friday in Monte Carlo, but everybody was working hard trying to figure out what was going on. Wendlinger lay in a deep coma in Nice's Saint Roche hospital. After losing Ratzenberger and Senna just a few weeks earlier, F1 really didn't another dead driver. Team Sauber packed their equipment and after officially withdrawing from the event, headed back to their base at Hinwil, near Zürich. The mood was worsening. I saw Pat Behar, the FIA's photo delegate, shouting abuse at a trembling colleague for an unknown slight. In 23 subsequent years of co-operation, I never saw Pat behave like this again. The tension was tangible. News came in about FIA president Max Mosley's intention to reduce the pitlane speed limit to 80 km/h with immediate effect. It wasn't an unreasonable decision, but still felt like a vague attempt to handle the unhandleable.
All was lost
On Saturday evening, we attended the big Marlboro party in Hotel Loews, the famous hotel on the hairpin (now known as Fairmont Monte Carlo.) We were invited by Philip Morris PR rep Agnés Carlier, who helped me a lot in the early days of my F1 career. During this exclusive dinner, my camera was stolen from the table… shall I dare to complain about the loss of a €300 camera when others might die? We got 100 Franc tokens per person to try our luck in the hotel's casino, but very rapidly all was lost. It was not destined to be a joyous weekend.
Race report
It was another win for young Michael Schumacher in the Benetton on his way to a controversial maiden championship in Adelaide six months later. Brundle came home second for McLaren Peugeot and Berger took third for Ferrari. I wrote my race article quickly and we escaped the madness of Monaco. A few miles out of the Principality we found a road-going Ferrari blocking the highway, completely destroyed. This was a weekend of constant ill fate and bad news. This is how my first Monaco weekend passed, and I'll never forget it.