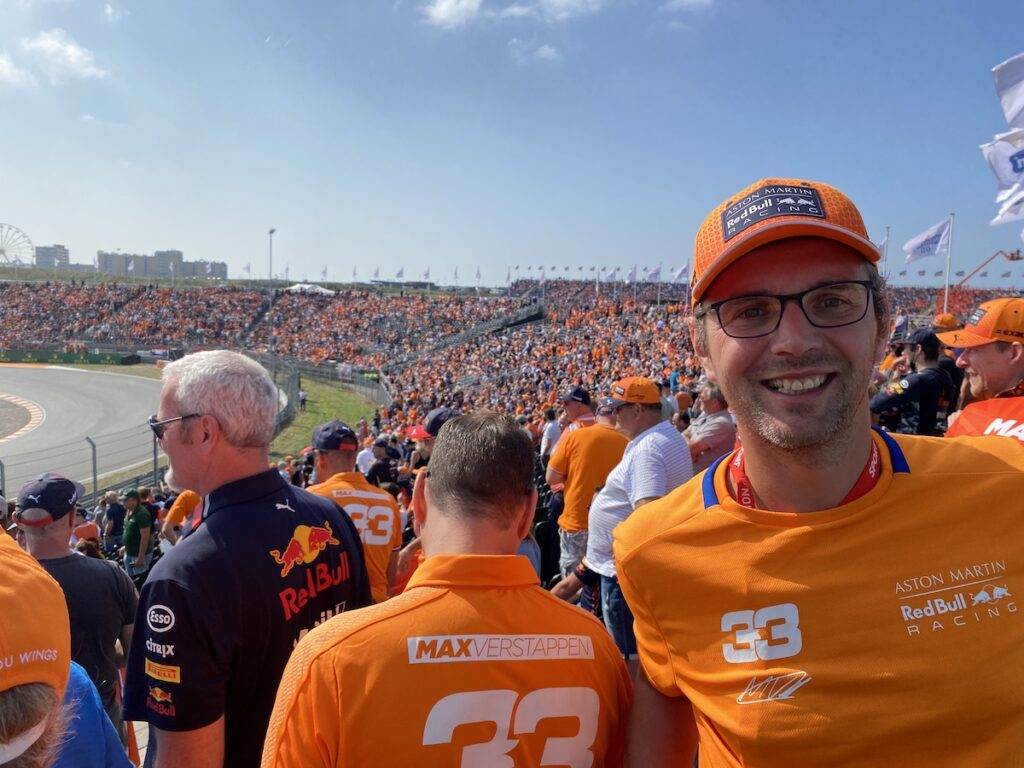 Leon from The Netherlands finally got to experience F1 racing at home, and his trip to the 2021 Dutch Grand Prix at Zandvoort didn't disappoint.

Images © Leon van Gasteren.
The return of the Dutch Grand Prix!
On August 25, 1985, Niki Lauda won the last Grand Prix of the Netherlands. At the time I was 4 years old and had no idea what Formula 1 was. When I discovered the sport ten years later, I quickly found out that I had to go abroad to attend a Formula 1 Grand Prix. My first and only visit to Zandvoort dates back to 1998 (Marlboro Masters of F3). Compared to foreign tracks, I found out that Zandvoort was not up to the standard that Formula 1 required. I had no illusions of ever visiting a Grand Prix in the Netherlands.
Max Verstappen's debut in 2015 changed a lot in the Netherlands. From being a sport only followed by a small group of diehard fans, it was quickly embraced en masse by the Dutch (and big Dutch Sponsors). All this led to the announcement in May 2019 that the Dutch Grand Prix would return for 2020. Finally, an easy-to-visit Grand Prix in my own country not far from home. I didn't imagine it would be so hard to secure tickets for the race. Around 1 million Dutch fans applied for the available tickets! I was not allocated tickets in the first round, but with a lot of effort I did manage to get my hands on three separate day tickets.
The next problem presented itself at the beginning of 2020. The onset of the COVID19 pandemic meant that the return of Zandvoort was postponed from May 2020 to September 2021. It was not until the middle of August this year that it was confirmed that the race would go ahead with 67% capacity. Back into another draw to see if I would keep my tickets. I was able to keep my seats for Friday and Saturday, but lost my Sunday ticket.  
The time had finally come to travel to Zandvoort. At 5:30 am I left home with my friend Hugo and we drove by car to the Park & Ride facility in Haarlem. After parking our car, we rented bicycles to get us the final 10km to the circuit. It's a beautiful cycling route through the dunes. We parked our bicycles in a large shed and walked the final part along the North Sea boulevard to the circuit. Upon arrival, the first thing that struck me was the immense grandstands. It looked beautiful and nothing like the track I had last visited in 1998.
After a visit to the fanzone we headed to our grandstand; on Friday, we had Gold seats in the Arena area around the Hans Ernst Bend. This section of the circuit was reminiscent of the famous stadium section at Autodromo Hermanos Rodriguez in Mexico City. There was even a DJ to provide entertainment between the sessions, which made for an even better atmosphere. Finally, it was time to watch some Formula 1 action. We had a great view of the track from our seats, and it was so good to finally watch Formula 1 live again after such a long time.
After the second free practice session, it was time to meet some friends and have a beer. We decided to end the day with a visit to the beautiful North Sea beach and a dinner in one of the many beach pavilions. I arrived home around 9pm; what a luxury to be able to attend a race and sleep in my own bed.
I'd set my alarm early on Saturday morning and once again drove to Haarlem and then cycled to the circuit. Today I had an appointment with my Italian friend Marco, who also likes to watch Formula 1 live as much as I do. It's great to catch up with fans from different countries and share our passion for the sport together, even if we have different allegiances!
Today I had a ticket for the Silver Eastside (2B) grandstand, which is on the inside of the entry to the Arena section of the circuit. The Orange Army provided a fantastic atmosphere throughout the weekend and of course the celebrations went up another gear when local hero Max Verstappen took pole position in front of his home crowd.
Despite some COVID-19 restrictions (the general admission zone in the sand dunes was closed), there was still plenty of opportunity to explore different parts of the circuit. Marco told me that the views from the Ferris Wheel were excellent (tickets only cost 6 EUR), but my fear of heights stopped me from experiencing it myself. You could also get some excellent, elevated views from the walking paths to different grandstands; Hunzerug, Turn 9, Arena out section, Kumho corner and the final Arie Luyendyk corner with the famous banking. Another great day at Zandvoort, but I would need to watch the race at home.
My verdict on the 2021 Dutch Grand Prix
Positives:
A fantastic atmosphere with plenty of entertainment
The circuit is located in an attractive environment with plenty of entertainment outside the circuit (beach, Haarlem, Amsterdam)
Easily accessible for international visitors (Schiphol Airport nearby + good train connection)
A good mobility plan (train, bicycle, shuttle buses) which meant virtually no traffic jams
Negatives:
Difficult to get tickets (lottery)
Grandstand tickets are relatively pricey
Long queues to buy some food around lunchtime
Despite the COVID-19 measures, Zandvoort was a fantastic experience. The atmosphere was excellent, even comparable to proven classics such as Monza and Silverstone. This race should be on the bucket list of every F1 fan!