The regional F1 calendar breakup is on hold as Miami and Hanoi emerge as clear favorites to join the calendar as early as 2019. Welcome to our monthly roundup of F1 calendar news and rumors for March 2018!
The European F1 season features nine races this year, beginning on May 13 in Spain and ending in Italy on September 2. Read our guide to the best camping on the European Formula 1 calendar in 2018.
Before the start of the 2018 Formula 1 season in Melbourne this weekend, Formula 1 has launched the next product in its "fan first" strategy, a new app with on-the-ground and trackside information for fans going to races in 2018.
Recent Posts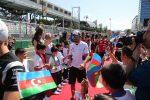 How well do you know Baku and the Azerbaijan Grand Prix? Test your skills in our new Formula 1 travel quiz!
Your guide to off-track activities in Le Castellet, Marseille and further afield. The French Grand Prix takes place on June 22-24, 2018.
Your trackside guide to the Baku City Circuit and the Azerbaijan Formula 1 Grand Prix, including full on-track and concert schedule.