We recently caught up with Dominik Giestheuer from Austria, who has travelled to an impressive 49 Formula 1 races!
The new owners of Formula 1 have agreed with the sport's governing body to change the name of F1's premier feeder series from GP2 to FIA Formula 2 with immediate effect.
Last week, we spent a couple of days at Circuit de Barcelona Catalunya during the first week of 2017 F1 preseason testing.
Recent Posts
The lowdown on the best grandstands and viewing areas at Sepang for the Malaysia Formula 1 Grand Prix. This year's race is on September 29 to October 1, 2017.
Ideas to keep you busy away from the Baku City Circuit when you are visiting for the Azerbaijan Grand Prix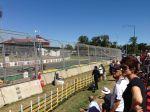 Useful information to help you get the most out of your Albert Park trackside experience at the 2017 Australian Grand Prix in Melbourne on March 23-26.