The streets of Adelaide came alive again to the sounds of Formula One last month (November 19-20) for the third edition of the Adelaide Motorsport Festival.
The German Grand Prix is missing from the final 20-race F1 calendar for 2017 published by the FIA today after the World Motorsports Council met in Vienna.
Want to be one of the first to see the new generation of 2017 Formula 1 cars on track? Then you'll need to get to beautiful Barcelona, which will be holding F1's only 2017 preseason tests in late February and early March.
Recent Posts
What you need to know before planning your trip to the Bahrain Grand Prix.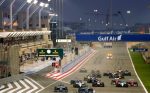 Your guide to buying tickets for the 2017 Bahrain Formula 1 Grand Prix at the Sakhir circuit on April 14-16.
The best budget, mid-range and luxury hotels in Abu Dhabi and Dubai for the Abu Dhabi Formula 1 Grand Prix at Yas Marina.