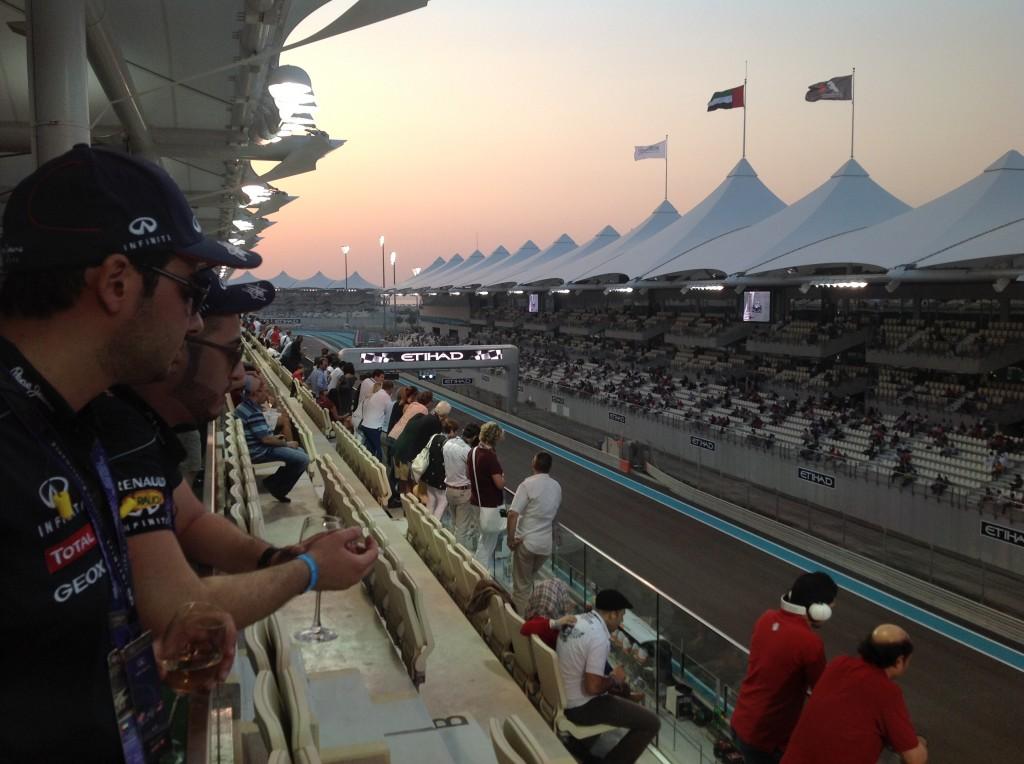 F1destinations reader Dot Kewley from the UK travelled to Abu Dhabi for the 2013 race and recounts her experience for us here, including some useful tips for fans considering attending the exciting final race of the season.
Was it your first trip to the Abu Dhabi race?
This was my third visit to the Abu Dhabi Grand prix, having been in 2009 and 2011, I have had the pleasure to experience Yas Island evolving into a spectacular venue, not just the circuit but also the area surrounding it.
Back in 2009 the trees and shrubs had just been planted and I was struck by the lack of wildlife which would not have survived in what was desert. Fast forward to 2013 and its a different story, the plants have become established, there is a beautiful array of flowers and more importantly, exotic wildlife in the form of birds and butterflies now are happily sustained.
Having been restricted to remaining in the UK, due to health issues, for 18months, Abu Dhabi in November was my ideal destination with F1 and superb weather.
How did you plan your trip?
I enjoy planning my trips, it adds to the excitement in the build-up so I book everything, starting with my GP tickets – early bird to save money – through one of the ticket agents who I have found to give excellent service. Next I look at hotels and flights as these need to be tied in together but booked independent of each other. It's all very easy with the internet.
Tell us about your trackside experience at Yas Marina Circuit
Race weekend starts on Thursday for 3 day ticket holders who get access to the circuit and the pit-lane walk. There are concerts each night,  Thursday through to Sunday, plus support races and F1 so its a busy weekend.
Food at the circuit has sadly not improved and you are not allowed to take food in unless you have a medical reason for doing so. The lower front seats of the main grandstand will cook you until the sun goes down as there is no shade and you are not allowed entry to any other grandstand. This year we sat in what was the support pit (now Marina grandstand), it is in the shade and cool but depending on your seat allocation, you might not be able to see the screen or live timings. This needs addressing as its impossible to follow whats happening in quali and is the biggest glitch for this spectacular circuit.
I have always had a wish to experience the F1 Paddock, its been on my bucket list and little did I know that 2013 was going to be the year I could put a big tick against it. Abu Dhabi is one of the circuits where we mere mortals can buy a one day Friday pass, it surpassed all my expectations and will be an ever lasting memory. Thanks go to my wonderful friends who have supported me through 2 difficult years and made it happen, love and gratitude to them all x.
How much did your trip to the Abu Dhabi Grand Prix cost?
For two people; F1 tickets £660, Etihad return flights Manchester-Abu Dhabi £960, hotel including breakfast and taxes £2000 spending money/meals £300. Paddock pass extra and I do not know the cost as it was a gift.
This is a popular destination, the downside being the price has risen dramatically since 2009, Yas Plaza hotels are 400% more than in 2009 and it is important to note that most internet sites quote prices that are not inclusive of the additional UAE taxes of 10% + 6%. An addition of 16% to your final bill is significant. The same 16% is also added to food and drink but not shown on menu's, just at the bottom of the page.
Would you go again? Any more tips for fellow fans?
I would go again at the drop of a hat. If you have the time, make it part of a longer holiday as hotel prices drop on the Monday after the race.
The atmosphere is amazing but it can be very hot so comfortable shoes and lightweight clothes are a must. Book early to get the best prices on tickets and accommodation and enjoy the count down to your trip, once you have been, you will be hooked.