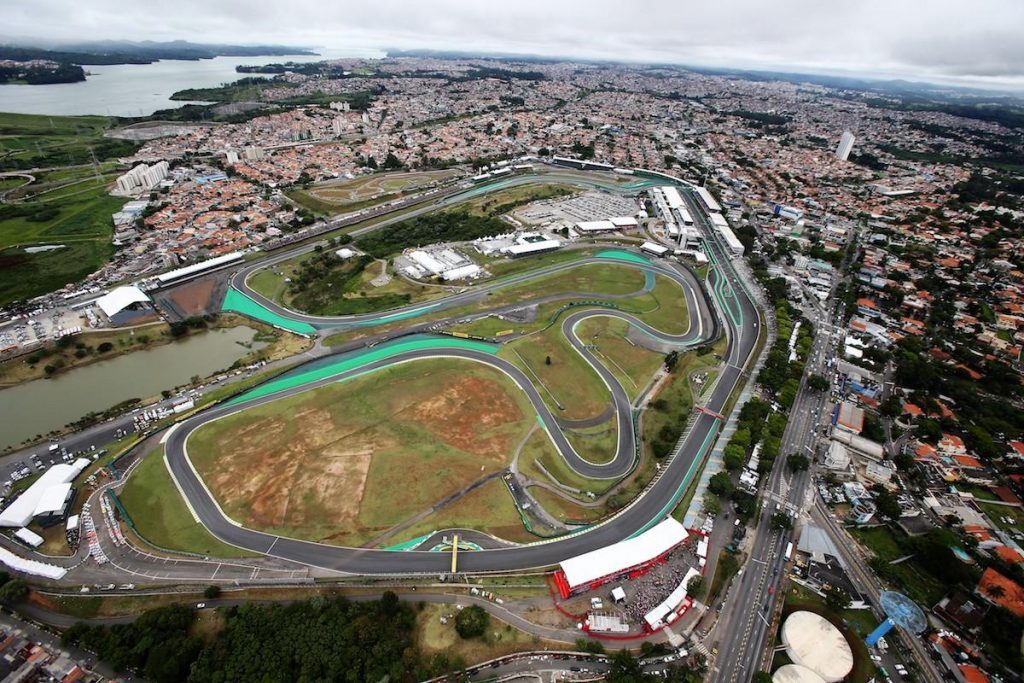 Brazil has been hosting a round of the Formula 1 World Championship for over 40 years, but a lack of investment and security concerns place a question mark over the event's long-term future.
Interlagos was built in 1940, but didn't begin hosting a regular round of the F1 world championship until 1973. The circuit is located in the Sao Paolo suburb of Interlagos, which literally translates in Portugese as 'between the lakes'. Even though the circuit was renamed Autodromo José Carlos Pace in honor of Carlos Pace, a Sao Paolo local who won his only F1 race at the circuit in 1975 but died tragically in a light air crash in 1977, many still refer to it as Interlagos.
By the end of the 1970s, the original 7.96km Interlagos layout (with its bumpy track surface and insufficient safety barriers) was removed from the F1 calendar on safety grounds. Formula 1 found a new Brazilian home at the Jacarepaguá circuit in Rio de Janeiro, which held ten races between 1978-1989. After a significant renovation program, F1 returned to a safer, shorter (4.309km) Interlagos circuit in 1990. It has remained a constant calendar presence since then, holding some memorable and historic races, many rain affected. The track was resurfaced in 2014 as part of a larger planned redevelopment, but this has not extended yet to the pit buildings and facilities for fans, which are showing their age. Despite having a contract to hold the race until 2022, the circuit's long-term future on the F1 calendar remains in doubt without this necessary investment. The event's reputation has also been impacted by security incidents at the 2017 Brazilian Grand Prix, when several teams were robbed at gunpoint when leaving Interlagos.
Memorable Moments in the Brazilian Grand Prix
1991: Local boy Ayrton Senna's first F1 victory on home soil will go down in history as one of his most emotional, hard fought wins. After leading by a small margin for the first 50 laps of the race, Senna's race took a turn for the worse when the gearbox in his McLaren began to fail and the skies opened. Senna was forced to fight his car in the slippery conditions for the remaining laps as he started losing gears. The almost superhuman effort it took Senna to hang on for victory by just 2.9 seconds from Ricardo Patrese took it's toll. Senna had to be lifted from the McLaren, an exhausted and emotional wreck.
2003: Wild weather produced one of the most unpredictable races of recent memory at Interlagos in 2003, handing Giancarlo Fisichella the first of his three F1 wins in controversial circumstances. The race was marred by a series of heavy crashes in the treacherous wet/dry conditions. Rubens Barichello looked set to take a hugely popular local win before his engine failed on lap 47. Seven laps later the race was red-flagged after Mark Webber, then Fernando Alonso, hit the wall heavily on the final corner. Confusion reigned after the race. The initial decision to award Kimi Raikonnen the win was overturned after the results were examined by an FIA court in Paris five days later.
2008: The world driver's title went down to the wire at the 2008 Brazilian Grand Prix. A young Lewis Hamilton was the favorite, but local hero Felipe Massa still had a chance if he won (with Hamilton lower than fifth.) As is so often the case at Interlagos, weather played a big part. Torrential rain struck Interlagos, delaying the race start. Once underway, it was a race of strategy as the track quickly dried. Massa led and Hamilton was sitting in a championship-winning fifth before rain struck again just five laps from the end, shaking up the running order. Massa won and thought he'd done enough before Hamilton snatched a last gasp fifth position from Toyota's Timo Glock on the final corner, claiming his first world championship at the age of 23.
BRAZILIAN GP: DID YOU KNOW?
Five Brazilian drivers have won on home soil since the Brazilian Grand Prix became a part of the world championship in 1973. Emerson Fittipaldi, Nelson Piquet, Ayrton Senna and Felipe Massa took two wins apiece, whilst Carlos Pace won once.
Mark Webber celebrated his final F1 race by removing his helmet on the slow-down lap after finishing second at the Brazilian Grand Prix in 2013
For most of its existence (until 2003), the Brazilian Grand Prix had an early season calendar slot. It only moved to a late-season slot from 2004, holding the calendar's final race for 5 years until Abu Dhabi joined the calendar in 2009.
Alain Prost is the most successful driver with six Brazilian Grand Prix victories between 1982-1990, five of which were at the Jacarepaguá circuit in Rio (his sixth and final was came at Interlagos in 1990.)
Circuit Name
Autodromo José Carlos Pace (Interlagos)
Race first held
1972
Track Length
4.309km (15 turns)
Race Distance
71 laps (305.909km)
Lap Record
1:11.473, Juan Pablo Montoya (Williams 2004)
2017 Results
1st Sebastian Vettel (Ferrari) 1:31:26.262
2nd Valtteri Bottas (Mercedes) +2.762s
3rd Kimi Räikkönen (Ferrari) +4.600s
What was your favorite Brazilian Grand Prix? Leave a comment below!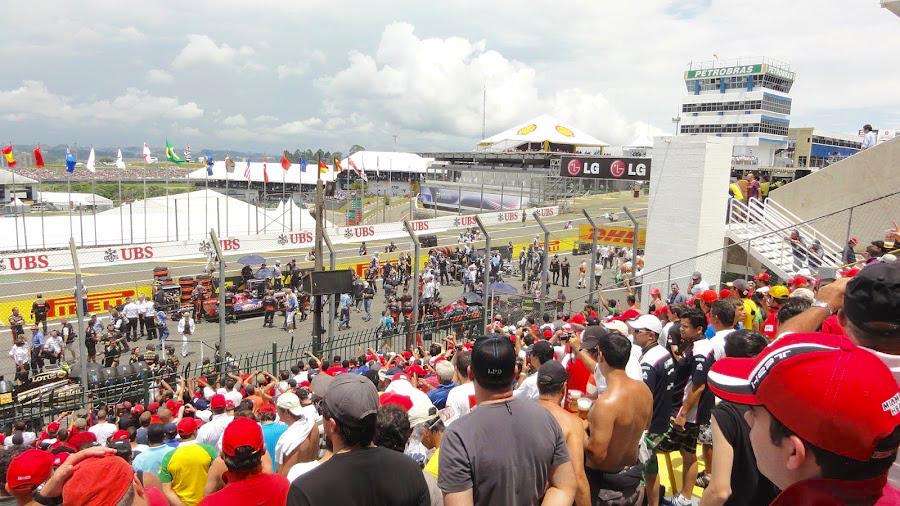 Your guide to buying tickets and the best places to watch the action at the Interlagos circuit for the Brazilian Formula 1 Grand Prix. This year's race is on November 9-11, 2018.
Tags: brazilian formula 1 grand prix, brazilian grand prix facts, history brazilian grand prix, history of interlagos, interlagos facts