The Bahrain Grand Prix was the first Formula One race to be held in the Middle East when it joined the calendar in 2004. The 2019 Bahrain Grand Prix is on March 28-31.
Bahrain International Circuit (otherwise known as "Sakhir") was designed by Hermann Tilke and built in just 16 months at an estimated cost of $150m USD. The tarmac of the track is made from imported graywacke aggregate from Shropshire, England. The first race in 2004 was won in dominant fashion by Michael Schumacher in the Ferrari F2004.
The circuit has a variety of layouts for different events. For 2010, organisers decided to use the 'endurance' layout of the circuit to celebrate Formula 1's diamond anniversary. The lengthened track was met with negative reaction from the drivers and was never used again in F1. The Bahrain Grand Prix was first held under floodlights in 2014 partly to provide a better spectacle and more comfortable conditions for spectators, but also to give the race a better time slot with important TV audiences in Europe.
The track has a seating capacity for 45,000 spectators, including 10,500 in the main pit straight grandstand. The circuit also features a distinctive 8-storey VIP tower. According to the circuit's website, there are over 4700 staff working at the circuit on Grand Prix weekend, including 1800 police & security staff, 600 track marshals and 25 doctors.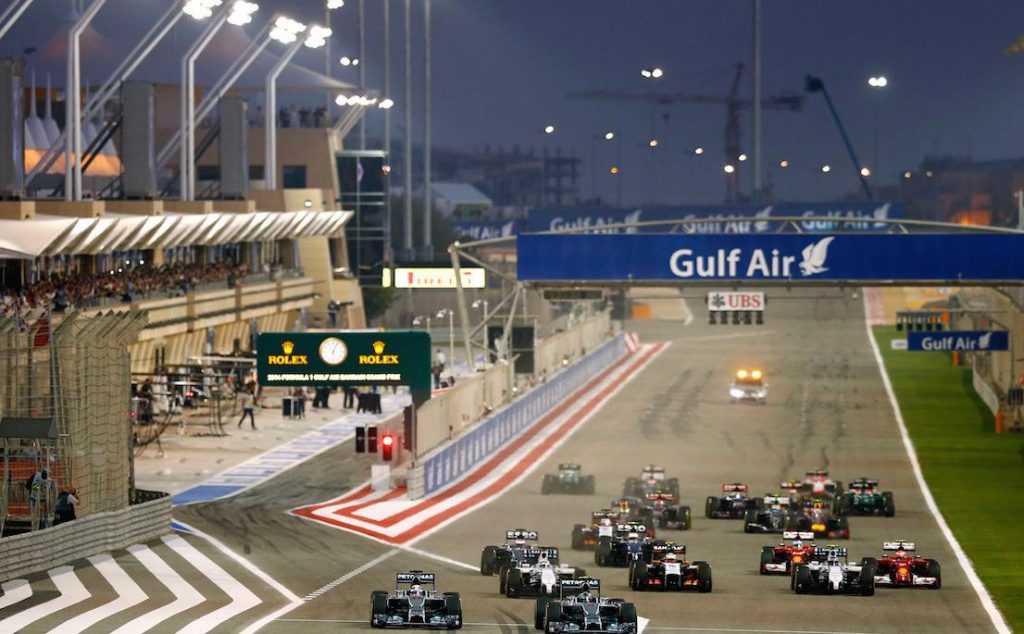 Bahrain's Memorable Moments
Bahrain Grand Prix Facts
Circuit Name
Bahrain International Circuit (Sakhir)
First Race
2004
Track Length
5.412km (15 turns)
Race Distance
57 laps (308.405km)
Lap Record
1:31.447, Pedro de la Rosa (McLaren 2005)
2018 Result
1st Sebastian Vettel (Ferrari) 1:32:01.940
2nd Valtteri Bottas (Mercedes) + 0.699s
3rd Lewis Hamilton (Mercedes) +6.512s
Here's everything you need to know ahead of the 2019 Bahrain Grand Prix weekend!
Tags: 2019 bahrain grand prix, bahrain f1 grand prix, bahrain grand prix, bahrain grand prix guide, history bahrain grand prix