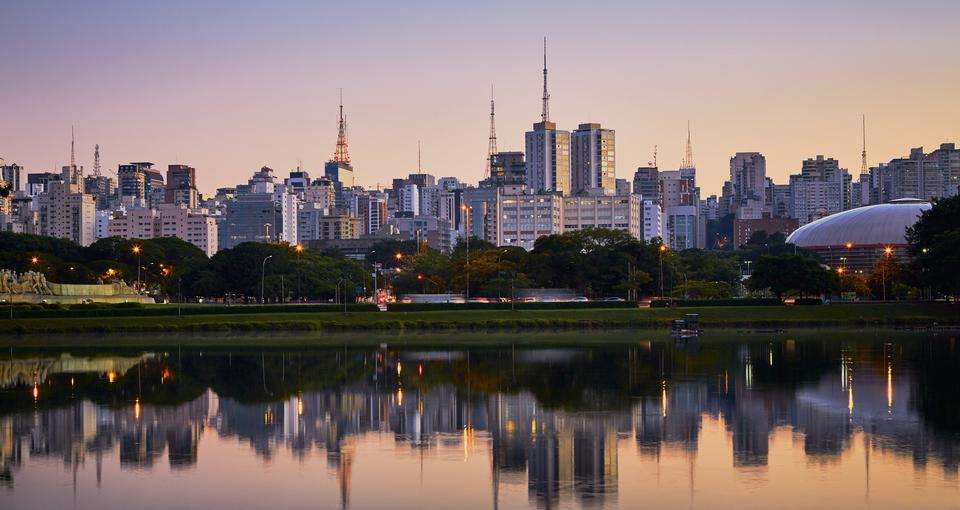 Your guide to the best things to do in São Paulo away from Interlagos. The next Brazilian Grand Prix is on November 14-17, 2019.

There is so much to see and do in São Paulo, so we urge you to book some time out to discover this spectacular city either before or after the Grand Prix weekend. While its prettier sister Rio de Janeiro has sea, sun and sand, São Paulo is hugely cultural and fabulously foodie, with a thriving club scene. Comparable to New York as Rio is to LA, this sprawling city is architecturally fascinating: edgy and very design-focused with stunning graffiti art everywhere. Here are some must-see trips for your stay in São Paulo. If you're going to travel this far, why not make a proper holiday of it? Internal flights to other must-sees in Brazil are cheap and plentiful, so we've also provided you with a little inspiration.
SAO PAULO: PLACES TO VISIT
Visit Ayrton Senna's grave: surely a must for any F1 fan – Senna's grave is located under a tree just 100 meters from the entrance to the Morumbi cemetery in the south of the city. Typically, you'll find his grave festooned with Brazilian flags and garlands of flowers. Go and pay your respects to one of Brazil's best-loved heroes, and a motor racing legend.
Mercadao – Sao Paulo Municipal Market: this undercover market stocks everything from spices to fruit, vegetables, nuts, sweets, seafood, flowers – you name it. The 'mortadella' sandwich is a local delicacy: layers of Italian meat with cheese, pickles, mustard and pretty much anything else you fancy. The Hocca Bar is a good place to head for as it overlooks the market. The Mercado is a great place to try other Brazilian delicacies, too: coixinhas (deep fried chicken and cheese balls), pastelle (pastries filled with meats and cheeses, also deep fried), feijoada (stewed meat, rice and black beans), Moqueca de Camarão (shrimp in coconut milk) and of course the national cocktail of Brazil: the Caipirinha. Enjoy!
Rua 25 de Março, Centro: a fun place to shop for souvenirs, bargains and general tat. Its architecture is an attractive mix of nineteenth century European style with a Latin American influence, with plenty of gothic-style graffiti everywhere. A fun place to experience São Paulo's street life by day, though this area can be a little dodgy by night.
Ibirapuera Park: a lush expanse of green in the middle of miles of concrete jungle, Parque Ibirapuera is a South American version of Central Park. Deeply cultural with performance spaces, monuments and museums – including a Museum of Modern Art and the Afro-Brazil Museum – this is a day out in itself. Rent a bike when you get there to make the most of it all. Parque Trianon is another little gem in the heart of the city if urban rainforests are your thing.
São Paulo Cathedral: the largest cathedral in South America, which can accommodate a whopping 8,000 visitors at once. Surprisingly, it was only completed in 1954 but takes inspiration from gothic and renaissance styles of architecture.
Samba: you can't leave Brazil without having danced a little samba. Head to Vila Madalena – a trendy neighbourhood in the Pinheiros area of the city – and celebrate the end of the Grand Prix with a night of bar-hopping and caipirinha-drinking, before getting down to some sexy samba beats in the small hours.
Churrascaria: we told you Sampa is foodie, so we can't help making more than one food-related recommendation for your stay. An evening meal at a churrascaria is the Brazilian food experience: an indoor BBQ where waiters will come to your table offering juicy cuts of meat skewered on massive swords. You'll be given a two-sided coin to place next to your plate: the red side means STOP… and you can guess what the green side means. Arrive hungry.
Been to Sao Paulo or Brazil? Comment with your travel recommendations!
How to get to São Paulo for the Brazilian Formula 1 Grand Prix, plus the best ways to get to the Interlagos circuit.
Tags: 2019 brazilian grand prix, brazil grand prix activities, brazilian grand prix, sao paulo tourist activities brazilian grand prix, things to do in sao paulo