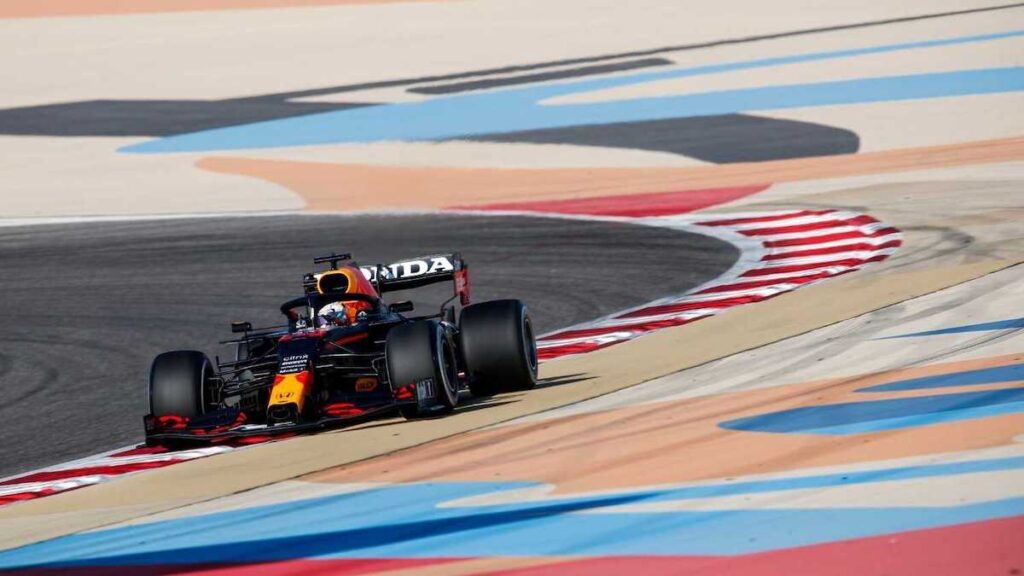 Formula 1's highly anticipated, record-breaking 23-round season is just days away from beginning. Here is your guide to the new rules, calendar, teams and drivers in the 2021 Formula 1 season.
What's new in Formula 1 for 2021?
New cars, new rules and new weekend formats. While 2022 will be Formula 1's latest revolution, there are a few significant changes in the 2021 evolution of the rules. The most important changes are outlined below.
Car changes
Though there are no major changes for 2021's Formula 1 cars – with some teams even calling their 2021 cars a B-spec of their predecessors – there are some subtle, and important, differences. This year's cars will have less downforce than last year, leading to slower lap times but potentially closer racing.
The cost cap
For the first time, F1 has a $145 million cost cap, brought in to lower the financial strain on the sport's smaller outfits. Teams risk sporting consequences should they exceed the limit on spending.
Tyre Allocations
Unlike in previous seasons, where teams could make their own selections of tyre compounds, Pirelli will now dictate the number of tyres the teams will receive each race weekend. Each team will be supplied with two sets of hard tyres, three sets of mediums and eight sets of softs for each event.
Session changes
There are two major changes to the makeup of a Formula 1 weekend in 2021. The first is that Friday Practice sessions – formerly 90 minutes – have been cut to just a single hour each. Meanwhile, for three yet-to-be-confirmed rounds, F1 will trial "sprint qualifying". At those three races – the first of which is expected to be the British Grand Prix at Silverstone – the traditional qualifying hour will be held on Friday afternoon, with a 100km sprint race held on Saturday to determine the final grid order for Sunday's Grand Prix.
Calendar changes
It is hoped that Formula 1 will reach the full quota of a record-breaking 23 races in 2021. However, with the uncertainty surrounding the ongoing coronavirus pandemic, nothing can be taken for granted. While F1 will return to two of 2020's stand-in venues (Imola and Portimao, hosting the second and third rounds of the season), the sport is scheduled to add two new races in 2021. One year on from its original scheduled return, Zandvoort is due to host the Dutch Grand Prix in early September, while the all-new Jeddah Street Circuit joins the calendar to host the 2021 Saudi Arabian Grand Prix as the penultimate round of the year. Read more about attending a Formula 1 race in 2021..
There have been plenty of personnel and driver changes at F1's ten teams over the winter break. Below, we take a look through each team, outlining their recent form, their performance in pre-season testing and what to expect from them in 2021.
Mercedes have been the team to beat since the dawn of the V6 hybrid era. They have achieved unparalleled success in recent years, winning both the Drivers' and Constructors' Championships in all of the last seven years.
What's changed since 2020?
Newly-knighted Lewis Hamilton and his team-mate Valtteri Bottas remain team-mates for a fifth season– though Hamilton's signature was not confirmed until well into the new year. Meanwhile, sponsor INEOS confirmed they had become a 33% stakeholder in the team. The deal, announced in December 2020, sees Toto Wolff remain as Team Principal.
How did testing go?
The usually unflappable reigning champions seemed to struggle more than we've grown accustomed to over the three days of pre-season testing. After Bottas was kept in the garage for most of the first morning due to a gear shift issue, when the W12 did appear on track, it looked unstable. Hamilton suffered two notable spins – one on day two which caused one of only three red flag periods in the test, and the other as he was setting up a flying lap in the final hour of the final day. Mercedes have been known to sandbag in testing in recent years, but this appeared a more genuine issue.
What to watch for in 2021?
More major records are on offer for Mercedes this year. As they defend the title for a seventh consecutive year, star driver Hamilton could become the first man to surpass 100 Grand Prix wins. Questions will be raised over Hamilton's one-year contract and whether 2021 will be his final hurrah. If it is, George Russell – who impressed on deputising duties at the 2020 Sakhir Grand Prix – is in the prime position to replace him. And if Hamilton remains, could Mercedes opt to replace Bottas with Russell? The team could be key to this year's "silly season".
Red Bull were the only team other than Mercedes to record multiple wins in 2020. The team ended the year on a high with a dominant display by Max Verstappen in the Abu Dhabi Grand Prix. Red Bull have lacked the pace and consistency to be a real title challenger to Mercedes – but could 2021 be the year that changes?
What's changed since 2020?
There's change on the driver front at Red Bull. Alex Albon has been demoted to reserve driver for 2021, with Sergio Perez joining Verstappen in the race seats.
How did testing go?
Red Bull ended pre-season testing looking like the team to beat. Verstappen and Perez completed plenty of running with nothing in the way of reliability issues. Unlike in previous years, their car appeared to be stable from the off – aside from a few minor spins for Verstappen. Some estimates put the team at five tenths ahead of Mercedes on pace; a massive turnaround if anywhere near correct.
What to watch for in 2021?
This will be Red Bull's last year with support from Honda. The Japanese manufacturer will bow out of Formula 1 at the end of the season but Red Bull announced over the winter that they will continue to use their technology as part of a new company named Red Bull Powertrains Limited. It will be fascinating to see how Perez – highly regarded as the best midfield driver of recent years – compares to Verstappen in equal machinery, and if the Mexican's efforts can help Red Bull in their quest for their first Constructors' Championship since 2013.
Since their struggle in the Honda years of 2015-2017, McLaren are well and truly back on the road to success. In 2020, Lando Norris and Carlos Sainz recorded a podium finish each for the team, with Sainz very nearly winning the Italian Grand Prix. The duo secured third place for McLaren in the Constructors' Championship at the final round of the year; the team's best championship result since 2012.
What's changed since 2020?
McLaren were the team with the biggest technical challenge for 2021. Despite there being no major regulation changes, McLaren had to adapt their 2020 car to house a Mercedes power unit, rather than a Renault one. McLaren enjoyed great success with Mercedes in the late 1990s and early 2000s. The partnership is rekindled in 2021 as Daniel Ricciardo joins the team in place of Ferrari-bound Sainz.
How did testing go?
McLaren were happy with their running. They did the third-least laps of any team, but without any major issues – not an easy feat considering they were running with a new engine in the car. Data suggests that McLaren were on par with the Mercedes works team on pace over the test: an encouraging sign, if accurate.
What to watch for in 2021?
The Norris and Ricciardo pairing is perhaps one of the most intriguing in 2021. While Ricciardo has proved himself against the likes of Sebastian Vettel, Max Verstappen and Esteban Ocon, Norris' only point of reference so far in his two seasons in the sport is Carlos Sainz. With test pace proving promising and with a Mercedes power unit in the back, could this be the year McLaren become regular podium contenders again?
The Silverstone-based outfit has long been regarded as the best pound-for-pound team in Formula 1. Despite controversy over their "copies" of Mercedes' machinery in 2020, Racing Point powered to fourth place in the Constructors' Championship – which could easily have been third if not for two engine failures in the final three races of the year for Sergio Perez. Perez gave the team their first win since 2003 with a stunning drive from last to first in the Sakhir Grand Prix.
What's changed since 2020?
Team Silverstone is barely recognisable from its former Racing Point guise. Now named Aston Martin – marking the British manufacturer's return to F1 after a 61-year absence – the team sports a striking new green livery along with a new driver line-up. Lance Stroll remains with the team for a third year and is joined by four-time World Champion Sebastian Vettel – the signing making a clear statement of intent by Aston Martin.
How did testing go?
It was a far from ideal test for Aston Martin. Vettel completed the least laps of any 2021 driver, touring the circuit only 117 times. He admitted that he has a "steep learning curve" in the opening rounds of the year. The car was kept in the garage for long periods due to gearbox issues and their final evening of running came to a premature end due to a loss of boost pressure.
What to watch for in 2021?
Their lack of running in testing leads to plenty of questions over where the team will rank in the competitive pace order. They had a car which was able to pick up podiums last year – but will that be the case again in 2021 and, if it is, will Vettel solidly out-perform Stroll on track?
Under their Renault guise, Team Enstone finished fifth in the Constructors' Championship last year. While their final placing was perhaps a disappointment, the team returned to the podium with Daniel Ricciardo recording two top three results and Esteban Ocon recording their best result of the year with second place at the 2020 Sakhir Grand Prix.
What's changed since 2020?
Another team who've changed their name since the end of 2020 – Renault becomes Alpine in 2021. Cyril Abiteboul has left the team and there's a new power structure in place. Most notably, former Suzuki MotoGP boss Davide Brivio joins as Racing Director. He will report to new Alpine CEO Laurent Rossi. While Esteban Ocon remains at the team, two-time World Champion Fernando Alonso makes his comeback to the sport after a two-season absence. Alonso suffered a cycling crash over the winter, with a fractured jaw hindering his preparations for the season ahead.

How did testing go?
The Alpine car looked pretty decent on track – and not just because of its new blue paint job. The team were just short of completing 400 laps, the fourth most of any team. Alonso appeared to be back up to speed in no time at all.
What to watch for in 2021?
The return of Alonso is one of the most hotly anticipated stories heading into the 2021 season. Will it be the same Alonso we saw in his first career, when he could drag even a poorly performing McLaren into strong positions? If so, will that help Alpine in their battle to move up the Constructors' Championship – and could Ocon's reputation be damaged by Alonso's performances?
After having the pace to challenge for the championship in 2019, Ferrari had a nightmare season in 2020, recording their worst championship result in 40 years. Charles Leclerc and Sebastian Vettel took three podium positions between them, all as a result of good fortune rather than the outright speed of the Ferrari.
What's changed since 2020?
Ferrari think they've made improvements in straight line speed since 2020, which in theory will allow them to challenge for higher positions. Power unit upgrades may also help in their fight back to the front of the field. Carlos Sainz joins the team in place of Sebastian Vettel, with Ferrari sporting one of their youngest ever driver line-ups and their first without a previous World Champion since 2007.
How did testing go?
Other than a few fast times on the final day, it seems that we didn't see the full potential of the SF21 in testing. Leclerc said he was happy with his performance and that the car was where he expected it to be. Sainz seemed to struggle getting comfortable with the new machinery, inheriting Vettel's tendency to spin – perhaps showing that the car is still unstable.
What to watch for in 2021?
How Sainz compares to Leclerc will be another of the more interesting intra-team battles of the season. Data from testing suggests that Ferrari have indeed made steps forward in straight line speed. But to what extent that will move them up the competitive order remains to be seen. Surely Ferrari cannot endure another year as bad as 2021.
The Red Bull junior team re-branded as AlphaTauri last season. They finished the year seventh in the championship for the fifth time in the last seven years – but scored more points than they had done in any previous season. Pierre Gasly recorded a shock win at the Italian Grand Prix and consistently out-performed team-mate Daniil Kvyat throughout 2020.
What's changed since 2020?
Daniil Kvyat was ousted from AlphaTauri at the end of 2020. While he joins Alpine as Reserve Driver in 2021, Yuki Tsunoda joins the Red Bull junior team. The highly-rated Japanese driver finished third in last year's F2 championship.
How did testing go?
The new AlphaTauri car ran with no problems; the team completing the most laps over the three days of testing. Tsunoda impressed, setting the second-fastest time on the final day – albeit on a qualifying simulation run. Save for a spin on Day 3, Tsunoda looked unphased by the step up to F1 machinery, perhaps helped by extensive running in older-spec cars over the winter.
What to watch for in 2021?
So just how good is Tsunoda – and how will Gasly compare to his new team-mate? Those will be the two main questions for the team heading into this season. Gasly will be keen to maintain his form from last year; and the team themselves will be hoping to score at least one podium finish for a third successive year.
Alfa Romeo scored only a handful of points in 2020. In a largely disappointing year for the team, Kimi Raikkonen and Antonio Giovinazzi recorded only five top ten finishes between them. Despite scoring almost 50 points fewer than in the previous year, the team remained eighth in the championship. 
What's changed since 2020?
Nothing much has changed at the team since last season. Despite strong performances from Ferrari's junior drivers in the lower formulas last year, Raikkonen and Giovinazzi remain together at Alfa Romeo for a third season.
How did testing go?
Along with AlphaTauri, Alfa Romeo completed the most laps of any team over the course of testing. The team largely went under the radar, but Kimi Raikkonen raised eyebrows by heading to the top of the timesheet on the final afternoon – though it seems unlikely the team will challenge anywhere near the top this year. Nevertheless, it was three days of trouble-free running for Alfa Romeo. 
What to watch for in 2021?
Although Alfa Romeo aren't expected to challenge further up the field than they were last year – with Haas and Williams – it seems likely that the team could be further ahead in that trio. That would help them be in the position to pick up points more regularly – which must surely be their number one priority after a disappointing 2020. Meanwhile, Raikkonen will reach his 350th race start this year. Could this be the Finn's F1 swansong?
Haas endured their worst season yet in 2020, finishing ninth in the championship and scoring only three points. Romain Grosjean, who recorded the team's best result last year with ninth at the Eifel Grand Prix, made international headlines following a miraculous escape from a fiery crash at the Bahrain Grand Prix.
What's changed since 2020?
Haas have an all-new rookie driver line-up in 2021. Reigning Formula 2 champion Mick Schumacher joins the team alongside Nikita Mazepin in the first all-rookie affair since Toro Rosso's 2015 line-up. The team also has a new sponsor, thanks to financial backing from Mazepin's billionaire father. While all is new on the driver front, little has changed on the car. Haas say they will instead focus their development efforts on their 2022 machine.
How did testing go?
Haas completed just short of 400 laps over the three days of testing, with the two rookies gaining valuable experience. Schumacher appeared the more comfortable of the duo in the new car, with Mazepin frequently locking up under braking. Schumacher suffered a hydraulic issue on the first morning, completing just seven laps, but the rest of the test passed without problems. 
What to watch for in 2021?
Could Haas replace Williams as F1's backmarkers in 2021? With a rookie driver line-up and no developments other than the upgraded Ferrari engine, it's entirely possible. While Mazepin has a lot to prove, given both his on and off track behaviour last year, the media attention will doubtlessly be on Schumacher, as he follows in his 7-time World Champion father's footsteps.
Williams have finished last in the Constructors' Championship in all of the last three seasons. In 2020, the team failed to pick up a single point over the season; the first time that had happened in their long history. Nevertheless, there were signs of progress last year, with George Russell regularly reaching Q2 on Saturdays. Off track, it was a year of major change, with the Williams family stepping away from the team following new investment from Dorilton Capital.
What's changed since 2020?
In their first full season under new management, Williams has a new CEO. Former McLaren boss Jost Capito steps into the role for 2021, while Simon Roberts remains as Team Principal – a position which he inherited following Claire Williams' departure in September last year.
How did testing go?
In their new blue and yellow livery, Williams put in plenty of laps in testing. The running was split between test driver Roy Nissany, Nicholas Latifi and George Russell, with each having a full day in the car. While Latifi suffered a major spin and subsequently a tyre delamination, Russell looked most confident in the car. He set the team's fastest lap on the last day of the test.
What to watch for in 2021?
With Haas opting to not develop their car for 2021, there is a clear opportunity for Williams to make up at least one position in the Constructors' Championship – though Ferrari's step up in the engine department could be a cause for concern. The clear target is to pick up points, and if they can do so regularly, then it will be mission complete for Williams in 2021.
What are you most looking forward to about Formula 1 in 2021? Leave a comment below.