I must admit to having supported Gilles Villeneuve when the late Canadian and his teammate Jody Scheckter were duelling for the 1979 Formula 1 World Championship at Ferrari. In the end, Scheckter won. Sitting in front of the television as 14-year-old boy in Hungary, I never dared consider meeting the South African. But that's what happened last weekend when he welcomed me to his Laverstoke Park Farm in West Sussex, England.
After a one hour train journey from London Waterloo to Overton, I was advised to take a taxi from the local station to Scheckter's farm. The weather was typically autumnal for this part of South East England. Wind and drizzle. After a short delay, we arrived at the main building of the 2500-acre organic farm to meet the Champion. Jody Scheckter, 68, is fit and could easily pass for 15 years younger.
His first-floor office lacks any sense of extravagancy – though, for me it was incredible to discover his racing helmet and models of his F1 cars. McLaren, Tyrrell, Wolf and finally Ferrari, even the dreadful 312 T5. On the walls, drawings in red frames of former Ferrari World Champions, from Ascari to Lauda and Scheckter. "They were free," he says with a waggish smile. Soon I can sense the Champion, who is often described as an introvert, actually has a wicked sense of humour. After presenting him with a copy of my Gilles Villeneuve interview book (there's a chapter devoted to Scheckter) I start with a loaded question.
When will you write your autobiography?
No idea. if I was to do it, it wouldn't only be about my Formula 1 years. Racing was only one part of my life. After that came my first business career in the USA and now I have the third one with Laverstoke Park. [Scheckter developed and sold a defence company in the USA before moving to the UK to take up organic farming.] All these are me, not only the racing driver, which means a complete book must include everything. But when? Really, I have no idea when I will have enough time for it.
You've got a good story to tell, like when you signed for a new team in 1977, Walter Wolf Racing, and almost claimed the Driver's Championship in that first season.
Yeah, the first one with Wolf was a good season. If only I hadn't retired in Belgium… I was leading then felt a bang-bang-bang from the engine, as it began to twitch due to a fuel pick-up problem. The guys did everything to cure it for future races, but it still caused us headaches. Starting from pole in Hockenheim, I had the same issue and had to settle for 2nd behind Lauda.
I've always wondered how racing drivers can remember races, or even single laps, of their career 30 or 40 years later. Is it a special capability?
No, nothing serious [wink]. One year when I was living in America, CBS invited me to be their guest at the Canadian Grand Prix. Why did you think of me? Because you won in Canada, came the reply. Did I really? I just did not remember it.
On the other hand, some drivers have a great memory. I once had dinner with John Surtees. I asked him about his racing past and he began to speak about his motorbike racing career. Three hours later, he still hadn't got around to talking about F1. I told him to spare the rest for another occasion!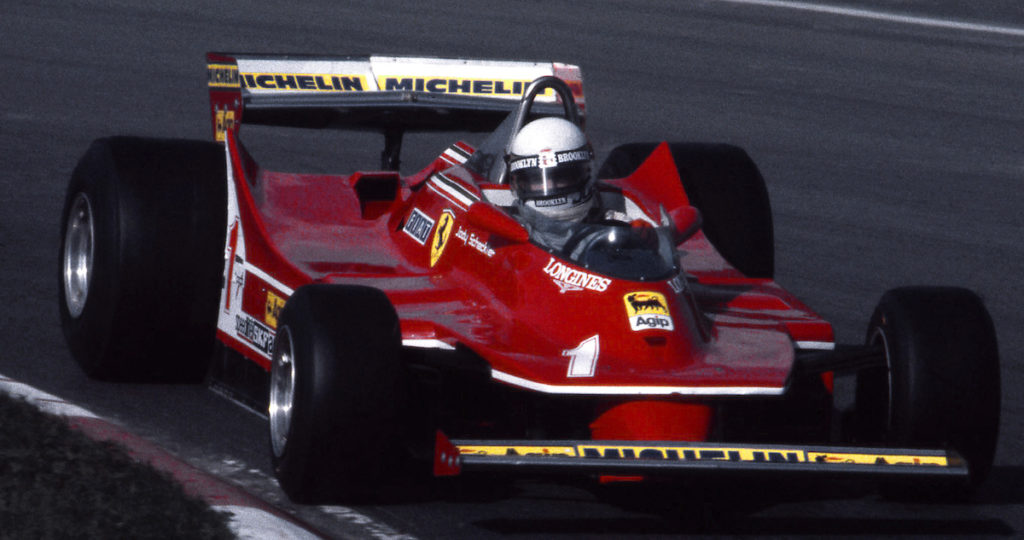 After two years with Wolf you switched to Ferrari in 1979. Why not earlier?
We'd only had small talk so far. But for 1979 it became more serious. I was brought to Enzo Ferrari. Into his dark and bleak office with the old, white furniture… it had a special atmosphere for sure. But he was very straightforward and asked me immediately; how much do you want? I just smiled modestly. I was too young to put money above the privilege of driving for Ferrari.
You won the title in your maiden year with Ferrari in 1979. You were crowned champion at the best location possible, Monza, but Villeneuve seemed keen to pass you. Could he have done?   
He couldn't have done, never! [suddenly vehement]. This race was decided during practice. Gilles put on one set of qualifying tires after the other to produce fast laps for the crowd. I tested with normal tires and set up the car perfectly. When qualifying came I was quicker and I also stayed in front of him after the start. I pushed for the first couple of laps but then leaned back and for most of the race it was an easy procession. For the last two or three laps, I sped up again. Gilles had no chance that day! 
You were defending champion in 1980, but the Ferrari 312T5 was not very good. When it was evident that the car was going to be miserable, did you think of retiring?
No, never. It never crossed my mind. How could I have done this? I had a contract with the team for the whole season. I took this seriously.
Separately, I had decided quite early on to retire at the end of that season. I'd achieved what I wanted. I had become World Champion. Winning two or three more titles never interested me. In 1979, I had a few rough nights when I woke up thinking about the next race, the set-up of the car or whatever. There was nothing like that in 1980, I was relaxed. I also wanted to survive. Too many of my fellow drivers were killed in F1 during this period. I was tired of the traveling, too. I really only liked the racing. I was happy it was over.
You don't seem to seek out the limelight that comes with being a living legend who won the World Championship for Enzo Ferrari. Are you frequently asked to attend F1-related events? 
Yeah, I get some invitations. But why should I go just to stand there grinning and get some applause? Frankly, I am not tempted any more. I had my own racing period which lays deep in the past. I feel perfectly okay at home, having a whiskey. I have a lot to do with the farm, my life is about that nowadays.
Do you still watch Formula 1?
Sure, I usually watch the races. It is still how Formula 1 has always been. Sometimes very interesting and sometimes a little bit dull.