There's a classic mantra among photographers that says '80% of a great image comes from behind the camera, while 20% happens inside it.' While this is a nice concept, it's not strictly true in the case of demanding subjects like motorsport.
Advice is relevant for all forms of motorsport photography, not just F1. All photos by Jonny Henchman / Fireproof Creative. Follow on Instagram, Twitter or Flickr.

Read Part 2: Getting the shot / Part 3: Capturing motion
No amount of professional gear will make you a good F1 photographer, but it does have a huge influence on image quality, consistency and processing potential. That said, if you are conscious of the limitations of your equipment and instead play to its strengths, the only thing stopping you getting great images is your own ability.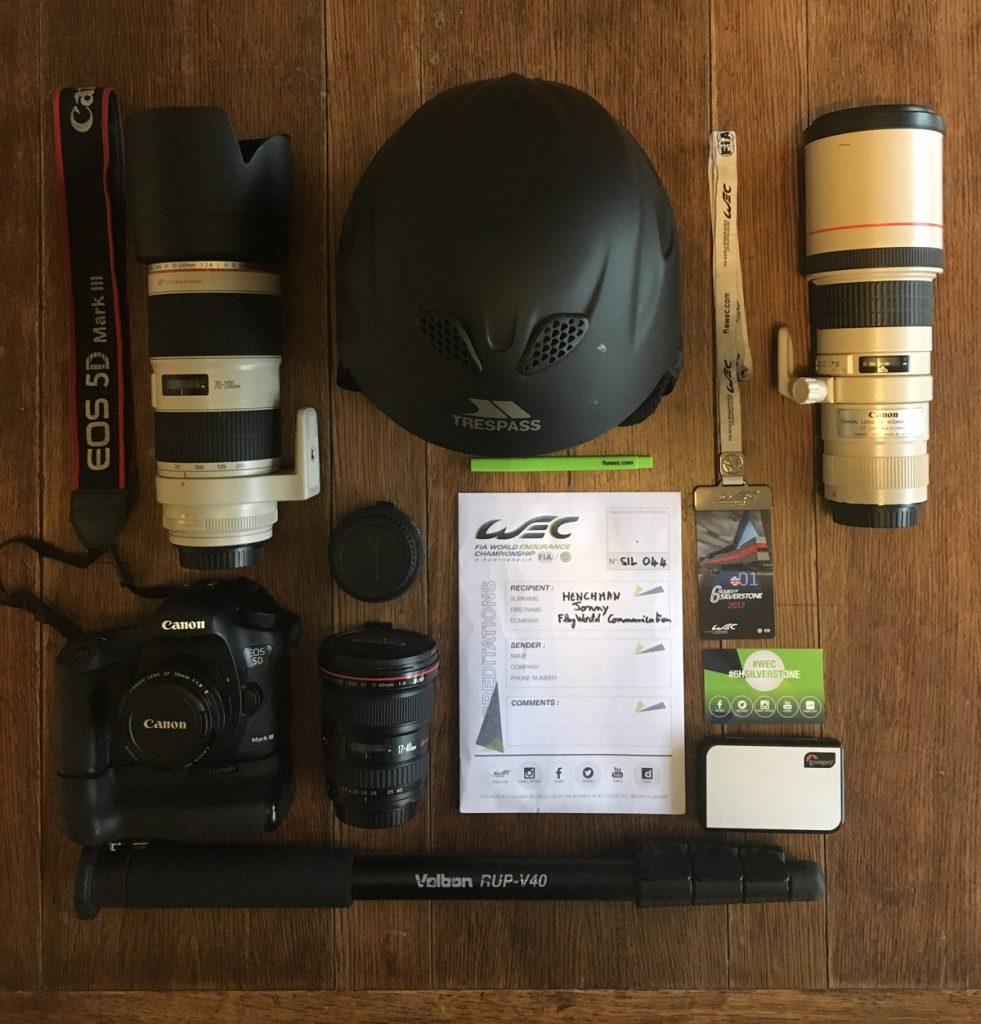 Having some of the following camera equipment available will make the task easier, but you should view this as a recommended list rather than a must have:
A DSLR with a fast, reliable auto-focus system. This becomes invaluable when working with subjects moving at high speed. While manual focus can be a viable option, it tends to be much more hit and miss vs. modern auto-focus systems and invariably results in a reduced success ratio (practice can of course, offset this to an extent).
A decent burst rate of 6+ fps. While I'd always advise against 'machine gunning' the whole time, it can be really helpful when trying to capture slower shutter speed pans as you are more likely to get at least one good shot in a burst. It's also useful if your auto-focus system is not the most reliable, manually pre-focusing can be a preferable option where a burst will give you a better chance of success.
Fast glass will give you the best chance of dealing with weather, catch fencing and accurate focus. Unfortunately, it also tends to be prohibitively expensive for most spectators. For most modern dedicated F1 circuits, you'll want a telephoto lens of at least 300mm with a minimum aperture of at least f5.6, but f4 or f2.8 will give you much more scope for flexibility. A good wide angle is another useful addition to the gear bag to make the most of atmospheric and paddock opportunities.
A sturdy monopod. While many photographers prefer to shoot hand-held, a monopod will dramatically increase your hit ratio when working at telephoto distances, even if image stabilization is available to you. Speaking from my own experience I prefer to turn off any stabilization as I find it interferes with my ability to track a subject smoothly. A monopod is easy to carry around and takes up little space. Don't be tempted to use a tripod as they are often bulky, irritating to other spectators and encourage you to stay in one place.
A circular polarizer and a couple of medium strength ND filters will be useful in cutting out glare and boosting colors as well as allowing the use of wider apertures on bright days. Be aware that certain racing series like GTs, employ Perspex windscreens that will cause a rainbow effect when shot through a CPL. This can be fixed to a degree in post but it can require a fair amount of work and you may prefer to shoot without one if that's something you are worried about.
One other piece of equipment that can be both a blessing and a curse is the infamous camping step. While you may not want to be 'that person,' a little extra height can open up quite a few opportunities that would be otherwise unavailable. Some of the televised events encourage the circuit to place advertising hoardings in front of the Armco around various sections of the track, these tend to be the perfect height to block the average spectator's view.
A step in these situations can provide just enough elevation to give you your own private viewing spot. My friends affectionately call mine 'the smallest grandstand in the world'. The trade-off of course is that you have to lug it around with you and the health risk if balance and coordination are not your thing. Do be aware though that depending on how much the security teams on the gate wish to assert their own importance, you may or may not be restricted from bringing these steps into the venue – a Cheap $10 plastic step works well and won't leave you too disappointed if you have to leave it behind.