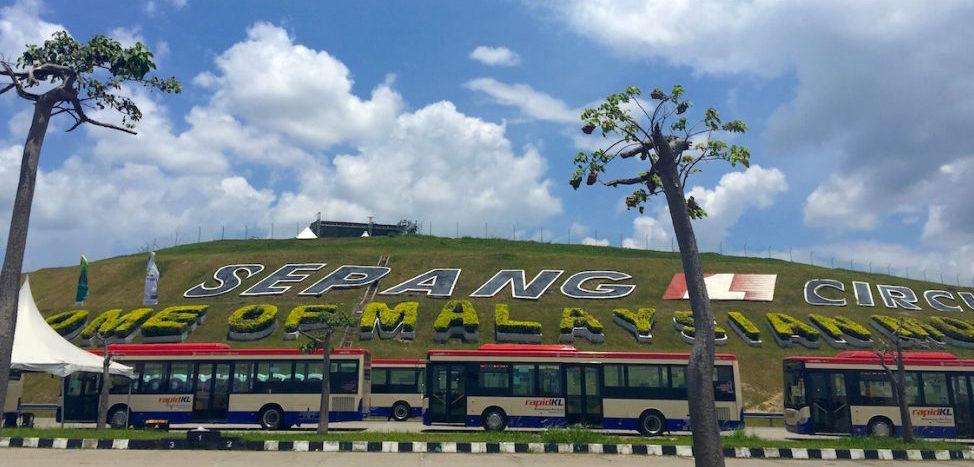 The best ways to get to Kuala Lumpur for the Malaysian Formula 1 Grand Prix plus advice on getting to the Sepang circuit. The next race takes place from September 29 to October 1, 2017.
All photos

©

f1destinations.com. The Editor attended the 2015 Malaysia Grand Prix at Sepang.
With the Sepang circuit located right next door to the Kuala Lumpur International Airport (KLIA), it couldn't be more convenient to get to the Malaysia Grand Prix. The airport (code KUL) is the world's ninth largest by passenger numbers and is the hub for the national carrier, Malaysia Airlines. Many other large international airlines also fly direct to KLIA. Kuala Lumpur is also the home of Air Asia, the largest budget carrier in the region which flies into KLIA2, a short drive (or one stop on the train) from the main KLIA terminal. If you are searching for the best flights deals, you should also look at flying into other South East Asian hubs such as Singapore or Bangkok; there are cheap daily flights to Kuala Lumpur from all the major cities in the region. Whilst it is possible to stay close to Sepang (at an airport hotel for example), you'll have a much better weekend if you stay downtown. The best way to get to the circuit is via the KLIA Ekspres fast train. This runs between KL Sentral train station and KLIA airport (after this you take a shuttle bus to the circuit). The 55 km trip from the centre of KL to the Sepang circuit normally takes anywhere from 1-2 hours depending on where you are staying, your chosen mode of transport and traffic.
Flights from Europe
Major European hubs: London, Paris, Frankfurt, Amsterdam.
Airlines flying to Malaysia from Europe: Malaysia Airlines, Lufthansa, Emirates, Qatar. KLM, Air France, Turkish Airlines
Flight times: Direct flights from Europe take around 12-13 hours (Europeans also lose approximately 6 hours with the time difference)
Average return economy fare cost: approx €600-800
Flights from the USA
Major North American hubs: LA, San Francisco, NY, Dallas
Airlines flying to Malaysia from North America: Malaysia Airlines, Singapore Airlines, Cathay Pacific, Delta, China Eastern/Southern, Eva Air
Flight times: there are no direct flights. Most airlines transit in China or Japan for a combined flight time of 20+ hours (Malaysia is 15 hours ahead of West Coast USA)
Average return economy fare in $USD: $800-1200
Flights from Australia
Major Australian Hubs: Perth, Adelaide, Melbourne, Sydney, Brisbane
Major airlines flying to Malaysia from Australia:  Malaysian Airlines, Qantas, Singapore Airlines
Budget airlines flying to Malaysia from Australia: Air Asia (direct), Jetstar and Scoot (both via Singapore).
Flight times: 7-8 hours for direct flights from the East coast and 5.5 hours from Perth.
Average return economy fare in $AUD: $600-900 for major carrier / $400-700 for budget carrier.
Regional Flights
Major Asian Hubs: Singapore, Bangkok, Hong Kong, Tokyo.
Major airlines flying regional routes to Malaysia: Qantas, Singapore Airlines, Malaysian Airlines, Cathay Pacific, Thai Airways.
Budget airlines flying regional routes to Malaysia: Scoot, Air Asia, Tigerair, Jetstar.
Flight times: from less than an hour up to 3-4 hours.
Average return economy fare: $300-500 USD for major carrier / $100-300 USD for budget carrier.
Trains to KL
The rail network in SE Asia is surprisingly comfortable and represents great value. If you have time and want to see more of this fascinating part of the world, its easy to travel by train to Sepang for the Grand Prix from either Singapore, Bangkok or a host of destinations in between including Penang and Koh Samui. It takes 6-8 hours to reach Kuala Lumpur from Singapore in the South by either day or night train. Regular services also head north from Kuala Lumpur to Bangkok via Penang and the southern islands of Thailand. Learn more on
Seat61
.
Buses to KL
Singapore is just 300km south east of Kuala Lumpur. We already mentioned flights and trains connecting the two cities, but it's also worth considering taking a bus. Several bus services run regular routes between Singapore and KL, with the trip taking around 5 hours. Tickets are cheap and the buses can be surprisingly luxurious.
Click here
or
here
for more information and to book tickets.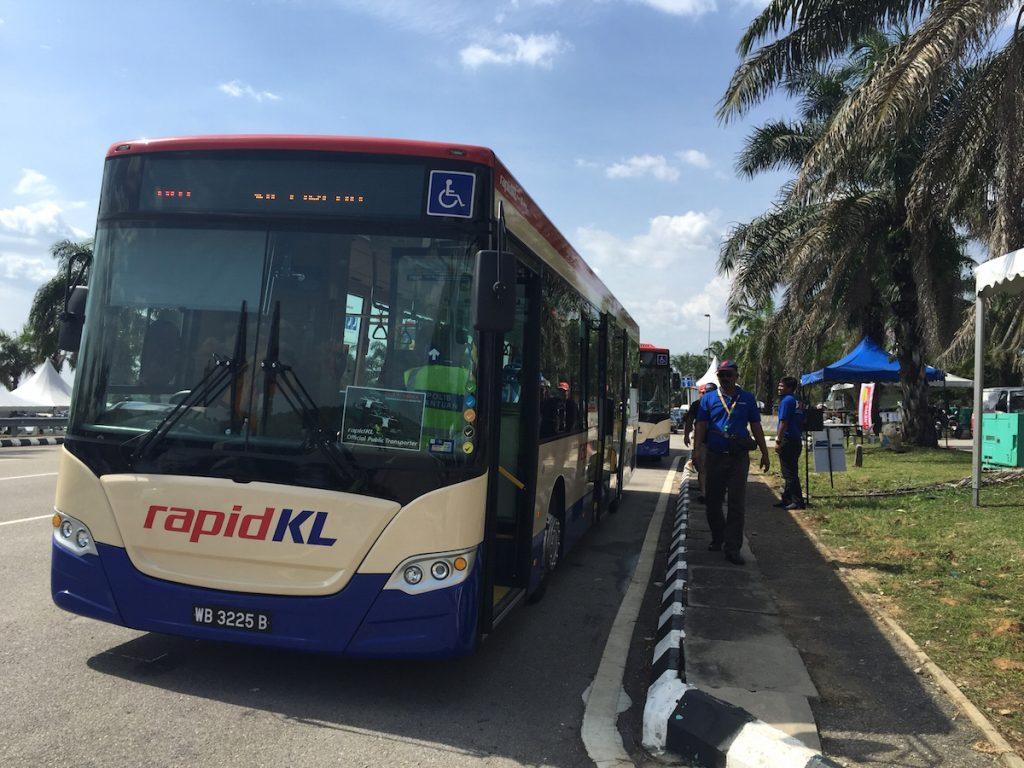 KLIA Ekspres to Sepang
The
KLIA Ekspres
train runs between the main Sentral train station in Kuala Lumpur and the airport (KLIA). The journey  takes around 30 minutes. It runs daily between 4:30am and midnight, with trains every 15-20 minutes. Standard fares have risen since the last race to 55 RM ($13 USD) one way and 100 RM ($24 USD) return. Special fares are offered for F1 fans each year with the KLIA Transit Transfer Package. For 2016, weekend tickets (Saturday and Sunday return) cost 170 RM or about $40 USD and three-day tickets (Friday to Sunday return) cost 200 RM or $50 USD. The tickets include a shuttle bus from the airport to the circuit. After alighting the train at KLIA,  you need to follow signs for the bus terminal on the ground floor. The shuttles from the airport to the circuit (which should take around 20-30 minutes depending on traffic) operate from 08:30-19:00 on Friday, 08:30-19:30 on Saturday and 08:00-23:00 on race day. Buy your tickets at the KLIA Ekspres booths at either the airport or KL Sentral.
Click here
for more information.
Bus to Sepang
RapidKL
, the state transport operator, offers regular bus services on Grand Prix weekend between the city and Sepang circuit. The travel time from the two pick up points in the city (KL Sentral and KLCC) to Sepang is around 75 minutes. Tickets cost 20 RM one way and 35 RM return and buses run every 30-45 mins, with more available on race day. RapidKL also offers transfers from KLIA2 to Sepang for 12 RM.
Click here
for more details.
Skybus
,
operated by low cost airline Air Asia, runs 24 hours a day on a regular 30-minute timetable between KLIA2 (the budget carrier airport terminal and the city – KL Sentral train station and 1 Utama shopping center. The trip takes around 75 minutes (longer on race weekend). Tickets cost from 9.50 RM one way and 19 RM return when bought online or slightly on the spot.
Taxi to Sepang
It's also worth considering taking a taxi to the circuit and back each day, particularly if you are travelling as a group and can split the fare. It's possible to negotiate a round trip cost of approximately 300 RM (less than $70 USD) and the driver will wait for you at the circuit when you are ready to come home. though there is still the chance of getting stuck in traffic leaving the circuit.
Getting Around in Kuala Lumpur
Malaysia's transport network is cheap to use and well developed. Getting around Kuala Lumpur is easy with a Light Rail Transit (LRT) system which includes a monorail serving the best downtown sites. Taxis are also abundant and affordable, provided you get the driver to use the meter or negotiate a fair price upfront. Kuala Lumpur can also be a great city to explore on foot. The downtown area is well signposted with wide pavements but try to avoid walking too far during the heat of the day (11am-3pm) and be careful when crossing the road, as traffic can be unpredictable.
KL Taxis
There are two types of taxis in Kuala Lumpur. Fares for the cheaper red and white taxis start with a 3 RM flagfall and cost less than 1 RM per kilometre. Blue executive taxis are less numerous and more expensive. with a 6 RM flagfall and a slightly higher charge per kilometre. Be aware that not all drivers are completely honest or particularly knowledgeable about how to get to your destination. If your driver refuses to use the meter, negotiate the fare upfront or move on to the next taxi. Remember that during peak times when traffic in central KL is congested, it may be quicker to get to your destination using the monorail or LRT. Taxis have a 50% surcharge for fares after midnight. Be wary of drivers who approach you outside the airport or train station, and always have a map or directions to your destination handy in case the driver doesn't know the way. Your best bet to get from the airport to the city centre is to purchase a pre-paid coupon for a budget taxi which costs around 75 RM (under $20 USD). Ignore the touts in the arrivals area who will offer to take you into the city at inflated prices.
KL Monorail & LRT
Kuala Lumpur has a well developed Light Rail Transit (LRT) system consisting of three lines, one of which is a Monorail. It is cheap to use the LRT in Kuala Lumpur (one-way tickets cost from 1.20 RM) and you can also purchase a pre-paid Touch'n'Go card from as little as 10 RM which is valid for all lines (apart from the KLIA Ekspres to the airport) and can easily be topped up with more credit as required. The monorail is a great way to get around the popular Golden Triangle area of the city and also serves KL Sentral – from where you can take the KLIA Ekspres train to the circuit each day. Beware that the monorail can be a little unreliable and wait times for trains can be longer than expected.
Click here
to download a current map.
Click here
for more information on the network and tickets. Here are some of the stations in central Kuala Lumpur you will need to know:
Bukit Bintang for shopping in the Golden Triangle
Bukit Nanas for nightlife and clubs at P. Ramlee
KLCC for the Petronas Twin Towers and the Suria KLCC shopping mall
KL Sentral for intercity trains and the KLIA Ekspres to the airport and Sepang circuit
Masjid Jamek for Chinatown and Little India
Car hire in Malaysia
Hiring a car is worth considering, particularly if you are planning to see more of the country. Being an ex British colony, the Malaysians drive on the left side of the road (and the steering wheels are on the right side of the car). Petrol is cheap and all the major hire car companies such as Hertz and Avis are represented in the country. The roads are modern and well signposted in both Malay and English. Many large hotels in central KL offer free parking for guests but try to avoid driving in the city centre at peak times when the traffic can be horrendous. The trip from downtown KL to the Sepang circuit is via a motorway with tolls. The easiest way to pay the tolls is by purchasing a
Touch'n'Go
card at a petrol station which can also be easily topped up. There is ample (paid) parking at Sepang for fans who drive their own cars to the circuit, but as we mentioned, traffic can be congested when leaving the circuit at the end of each day.
What's your advice on getting to Sepang? Leave a comment below.