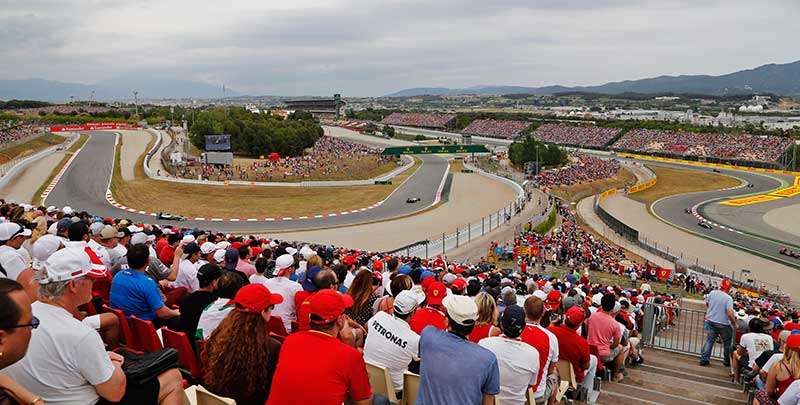 Like us, you probably enjoy drinking a cold beer or two at the track when you are watching the action. This wasn't possible at last weekend's Spanish Grand Prix, where organisers angered many fans by enforcing a total alcohol ban.
The following text appeared on the Circuit de Barcelona-Catalunya website this year, though the majority of fans failed to notice it before arriving at the circuit:
The sale of and access to Circuit de Barcelona-Catalunya with alcoholic beverages is forbidden. Soft-drinks and alcohol-free beer will be available for sale at the different sales points inside the facilities. In order to access Circuit de Barcelona-Catalunya with beverages, please be reminded that following the regulations of Royal Decree 203/2010 from 26 February, the containers must be made of plastic, laminated paper or similar material and in no case may be heavier than 500 grams in weight or 500 millilitres in volume.  The security and control staff at the access gates reserves the right to take off the caps and covers of the containers. Containers made of metal, glass, ceramics, wood or any other similar material cannot be taken into the facilities.
The reasons for this year's 'dry' race remain unclear, but we have been told unofficially that it was the result of a 'licensing issue'; the venue had failed to secure the right permits to sell alcohol at the race in 2015, for whatever reason. Our request for an explanation from the Spanish Grand Prix organizers has not been answered.
Understandably, this decision angered many fans, some of whom have taken to social media and other online forums to complain. Many fans also felt 'duped' for not being made aware that the overpriced beer on sale inside the circuit (at up to €11 for a large) was of the alcohol-free variety. The insistence from trackside workers that the screwtop lids be removed from all drink containers further enraged many fans.
Here's what some of you said (originally comments were posted on our Trackside guide to the 2015 Spanish Grand Prix and our Facebook page):
'A lot of people were duped last weekend into paying

€

11 for a non-alcoholic beer. The food offering was dreadful and I think it lead to a very flat atmosphere within the circuit. The no bottle cap rule is crazy, it makes no sense at all. We had a good weekend overall, but a very disappointing experience from the circuit. Possibly one to avoid for next year unless they get their act together.' Steve

'I went today and didn't know about it. We wandered in expecting to grab a beer and sit in our seats. We got to the 'bar' and saw the 3 beer sizes and I thought, that's expensive. Then the guy next to me says to me it's alcohol free, I said WTF!?

Came all the way from Australia for this race and we're totally pissed off . We'll NEVER be back to Spain after this. I urge every F1 fan to boycott this race and plan to go to a more fan friendly Europe F1 that let's you have a beer/wine/spirit.  At least the weather and the seats we have are awesome….' Sos

What do you think? Would you still go to a 'dry' Grand Prix? Leave your comments below.
Tags: 2015 spanish grand prix alcohol, alcohol ban spanish grand prix, no alcohol circuit de catalunya, no alcohol spanish grand prix