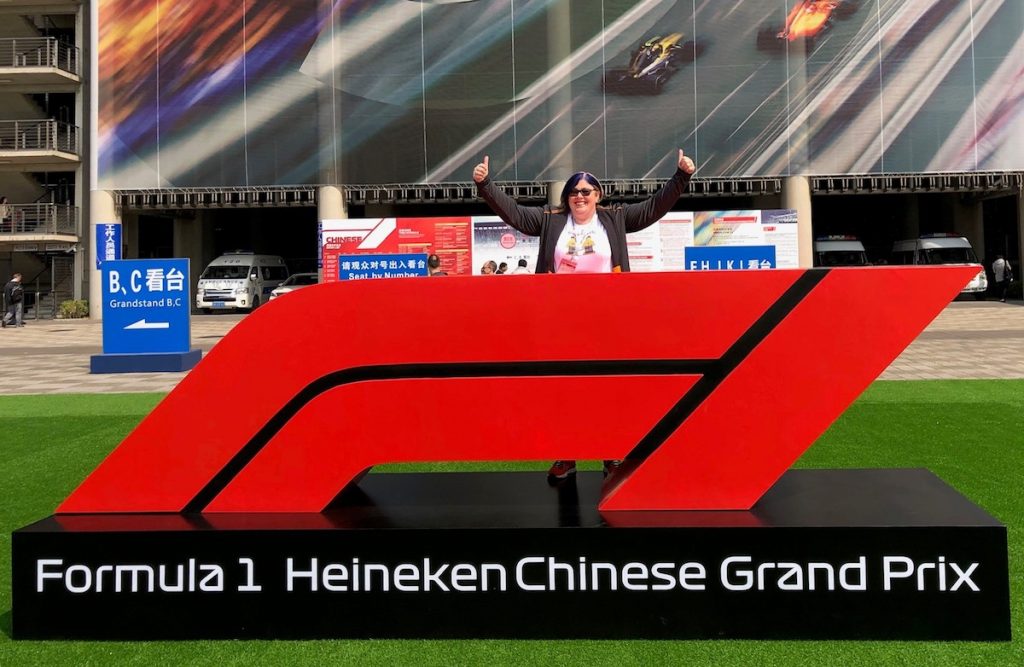 Sarah Merritt and her husband traveled to the historic 1000th Formula 1 race in Shanghai last month. Read all about their experience at the 2019 Chinese Grand Prix, including lots of useful advice for fans considering visiting Shanghai International Circuit.
I love to travel to races and use it as an excuse to see some of the world at the same time. When I heard that the 1000th Grand Prix was going to be in China, it seems like a perfect opportunity to aim to be there, and see some of the things we had on our bucket list too!
We booked our flights with Virgin and these were direct, which British Airways also offer. The flight time to Shanghai from London Heathrow was around 11.5 hours, and we transitioned quickly to the local time, which is 7 hours ahead of the UK (although getting back to normal when we returned home has been so much more difficult!). We arrived at Shanghai Pudong airport, which is on the outskirts of the city. This is on the Metro network, but there is also the opportunity to use the superfast Maglev train from the airport into the city centre, travelling at 270mph!
Using the Metro to travel around Shanghai is by far the easiest way to travel as traffic can be heavy and journey times long. We used a travel card that was very similar to an Oyster card, and could be loaded with money at the customer services desk at the Metro stations, and this suited us being there for a longer period. You can also buy individual journey tickets at the machines in the station, and these do have a "change language" option to assist you, as well as 72 hour tourist tickets.
Once on the Metro itself, announcement, digital signs and maps are also in English, and we found traveling really easy. The Explore Shanghai Metro app was useful too, allowing you to view a map and also plan routes and journey times. Take note, people will board the train before you get off, and push you out of the way! We also found a lot of older people staring at us on the train, something that is mentioned in the guidebooks. It is not meant rudely, but with interest, and we had a few people ask to have a photo with us. Taxis are also quite cheap compared to the UK, and there are efficient queuing systems at major railway stations etc because the queues can be quiet long.
The city centre has many hotels, but we opted to stay nearer to the circuit in Nanxiang (three stops on Metro Line 11). My advice would be to position yourself near to the line 11 for ease of transport. Most western chain hotels have a presence here, and as normal, the best rates can be achieved by booking early.
Shanghai is a beautiful city, and truly a mixture of the traditional and the modern. One thing that all tourist places had in common, was that the tickets to enter are incredible cheap, most were only the equivalent of £4-5. People mention pollution, but we found it to be about the same as being in London.
We enjoyed our time in the city visiting the Yu Yuan Garden with it's beautiful Dragon walls and pagoda's from the Ming Dynasty, and joining the queue to cross the zig-zag Jiu Qu Bridge, which has nine corners as it is thought that evil spirits cannot go around corners! There was also a fabulous steamed dumpling restaurant near here – Nanxiang steamed buns are very famous! We took time to visit the Jade Buddha Temple, and I would also recommend booking onto an excursion to any of the nearby traditional Water Villages if you can fit that in.
On the modern side, the easily recognisable skyscrapers dominate any walk along the Bund, and allow for the required tourist photo to be taken (my tip – see these in both daylight and night). We visited the observation decks of World Financial Centre, and these afforded a wonderful view from above of the Oriental Pearl TV Tower (which also has a revolving restaurant which is also worth a visit).
The Nanjing Road shopping district is Shanghai's version of the West End, but with double the amount of people! Be patient, and follow the flow of people. The markets at the Shanghai Science and Technology Metro stop on line 2 are also worth a visit  – be ready to barter for the best price! There is also a large Zoo in Shanghai, which is your chance to see a Panda if you aren't able to make the onward journey to Chengdu.
Shanghai International Circuit
The Shanghai International Circuit is located to the north-west of the city, about an hour out from the city centre on Line 11 if travelling by Metro, but much longer by car due to the heavy traffic. The Metro station is located near the main entrance, and when leaving on race day, and efficient queuing system is put in place.
Upon arrival, you'll be greeted by channels leading to security checks with X-ray machines for bags, and scanners. Security is quite strict, and the guys we encountered did not speak much English, but there were English speaking staff around to assist with any communication issue. We had one, as the rules say no glass, and I had a souvenir mug in my bag which they classed as glass…a bit odd as these were being sold onsite in the circuit gift shop! Luckily, the solution was to collect any such items in an area to pick-up on your way out, and your ticket number was written upon it. You will also be asked to take a drink from any plastic drink bottles you have to proof that it is indeed a drink.
The fan village was large, containing the usual Heineken stands, as well as many food outlets selling both traditional food, and the usual burgers/pizza's. We thought these were somewhat cheaper than other races we had attended, and better quality! There were also many automotive stands for brands linked to the F1 teams.
The circuit has its own gift shop underneath the main Grandstand, and this I would highly recommend. If you love a souvenir as much as me, you'll be in heaven with their range of fridge magnets, keyrings, mugs and even circuit shaped paperclips! There are even postcards already with a stamp affixed, although nowhere onsite to post them that we could find. They do stock other items such as ½ scale helmets, but these were not competitively priced.
Where to sit at the Chinese Grand Prix?
The main grandstand at the Shanghai International Circuit is huge, and the tiers range from cheapest in the lower to more expensive in the higher ones. We loved the fact that the circuit actually informs you which seats will be opposite the team of your choice, and for us, to sit in the lower tier amidst the McLaren fans worked out to be £140 each. The fencing did not inhibit our view, and the position of the garage meant that we had the start gantry to our left, pole position to our right, and the red carpet was rolled out for the national anthem right in front of us.
There are many screens on the pit building across the track, so wherever you are sat in the main grandstand, you should be able to see one. The atmosphere is amazing as supporters in each block are cheering, and I have to say the Kimi fans next to us were some of the most passionate! Also, the whole grandstand came alive when Damon Hill took to the track in his father's Lotus 49B.
Although you cannot walk the whole circuit like we do at some races we visit, it is essential that you walk along to Turn 1 and view the series of corners there. I can only liken it to watching an F1 car driving around a snail shaped track, but what I didn't realise until seeing them in the flesh is that there is such a height change as the cars progress through them! We sat on the grass in the GA area opposite and very much enjoyed watching practice here. Make sure you do it! Are there any negatives to visiting this race? Well, there are few support races, no access to the track after the race for the podium, and no public pit walk, only one held for limited ticket holders and competition winners. There was also limited team merchandise – only Mercedes, Ferrari and Red Bull were up to date, and in other cases, they were selling last year's team kit to fans who didn't seem to realise. The 1000th GP t-shirt that F1 had advertised was not available anywhere. These things are all just worth knowing to save your time and help with planning, but didn't detract from the positive overall experience for us.
Where next? Onward travel
Whilst you are visiting this beautiful country, it would seem a great opportunity to visit other places and make the most of your trip. We took the bullet train to Beijing – 4.5 hours and £60 for a 2nd class ticket, which was larger than an airline seat, and faced the direction of travel. Attendants walk the train selling ice cream, pot noodles and popcorn, and it was a smooth journey, with great views of some different scenery as we whizzed along at 347km/h.
This gave us the opportunity to stay in Beijing and visit Tiananmen Square and the Forbidden City, which had a really useful audio guide with a map upon it. The Olympic Park and Birds Nest Stadium are worth an evening walk, and I'd say you must take a day trip to the Great Wall. (Recommendation – go to Mutianyu, not the busier Badaling, and take the toboggan down afterwards! It is ace!). We also visited the Chinese Acrobat show that is in all guide books, and it is well worth the experience, but get to the theatre early to buy tickets at the box office as it sells out.
The Subway in Beijing is easy to negotiate and cheap to use. If you are at a main station with suitcases, you will find that porters in red caps will ready to assist you with your luggage for a small charge. However, just be aware that we found taxi drivers in Beijing were not as nice to tourists, pollution was far more than we experienced in Shanghai, and the toilet situation was more daunting. I'd advise to carry some toilet paper and if the toilets are the kind that require you to have the ultimate in balance, use the disabled one!
Don't forget to look into what Visa you require for travel to China. Our tourist visa required filling out some lengthy forms online with employment/education/family information, and then booking an appointment to attend the Chinese Visa Centre in London with evidence of our flights, hotels and travel.
Buy your race programme at the circuit on Friday. These had all sold out by Saturday!
Try all the food you can. Don't be shy – go for it! Especially a "hot pot" restaurant and the steamed buns.
Smile, and learn to say hello (nǐ hǎo), goodbye (zài jiàn), and thank you (xiè xiè). Have Google Translate handy for any situations where you need a bit of assistance!)
If someone asks for a photo with you, embrace the moment!
It's a great race and a great country!